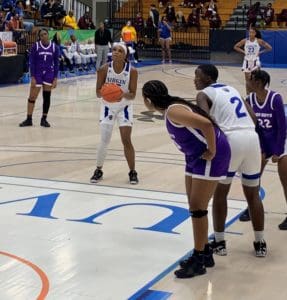 The University of the Virgin Islands Women's and Men's Teams were both tested on the opening day of the UVI HBCU Basketball Tournament on Wednesday at the Sports and Fitness Center.
UVI 58 – Arkansas Baptist College 52: UVI Women's Basketball Team remained undefeated as they overcame a slow start to earn a tough 58-52 victory over the Buffaloes of Arkansas Baptist College Wednesday. Arkansas Baptist jumped out the gate quickly scoring 21 points in the first quarter. The Buccaneer defense buckled down in the second and third quarters allowing only nine and six points respectively, giving UVI a slim one-point margin going into the fourth quarter. The Bucs had to play smart for the entire game as they only suited up six players. This slim margin came into sharp focus when starter Keani Berry received a technical foul with 4:57 left in the third quarter giving her four-personal fouls for the game. Berry scored eight points in the final frame before fouling out with less than one minute to go in the game. Berry scored a total of 15 points and grabbed 24 rebounds. Kaya Evans added 15 points for UVI. The Bucs will host Wilberforce University Thursday at 6 p.m.
Wilberforce 101 – UVI 67: In men's basketball, the Wilberforce University Bulldogs were educating the Buccaneers all night long as the Bulldogs utilized a full-court press that yielded them 46 points from 41 Bucs turnovers. The young Buccaneers roster includes seven freshmen of which three were in the starting lineup. Despite UVI's ball control troubles, the Bucs featured a balanced attack with all five starters scoring in double digits led by Jamal Norris 14 points and St Thomas native Denny Gonzalez with 13. Eliyah Stevens brought much-needed energy off the bench grabbing a team-high 10 rebounds. The Bucs will take on Warner University at 8 p.m. Thursday night.
In the first two games of UVI's HBCU Basketball Tournament, Wilberforce University defeated Huston-Tillotson University 69-58 in the opening women's match-up. Warner University had its way with Huston-Tillotson University with a 74-51 win in the first men's game of the tournament.
Action continues Thursday at 2 p.m. at the Sports and Fitness Center.
2 p.m. – Arkansas Baptist College vs Huston-Tillotson University – Women
4 p.m. – Huston-Tillotson University vs Wilberforce University – Men
6 p.m. – University of the Virgin Islands vs Wilberforce University – Women
8 p.m. – University of the Virgin Islands vs Warner University – Men
This event is an all-vaccinated function. Spectators will be required to prove that they have taken the COVID-19 vaccine before they will be allowed to enter the premises.
Day tickets are $15. Tournament passes are $30. USVI high school students and UVI staff and faculty are just $5. All vaccinated residents are encouraged to come out and support the UVI Buccaneers.
Editor's Note: This story has been changed to correct the name of UVI Women's Basketball team member Kaya Evans.