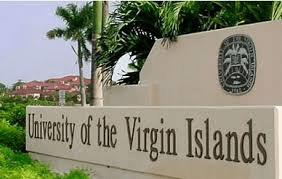 UVI CELL and UPR Awarded 5-Year Grant to Launch U.S. Caribbean Regional EDA University Centers The University of the Virgin Islands Center for Excellence in Leadership and Learning (UVI CELL) and the University of Puerto Rico (UPR) have been awarded a five-year grant from the U.S. Economic Development Administration (EDA), through the 2021 University Center Economic Development Program competition. As co-applicants, UVI CELL and UPR will receive $260,000 per year over five years. The EDA is providing a total of $7.4 million in grants to 25 colleges and universities in 17 states, Puerto Rico and the Virgin Islands to administer programs, leverage assets, promote innovation and strengthen regional economies.
Grant funding will allow the launch of the UVI CELL EDA University Center, which will be one of many national programs aimed at building strong regional economies and supporting community-led economic development. The University Center will work with entrepreneurs and assist growing businesses through one-on-one technical assistance, educational workshops and courses, and mentoring opportunities.
"We are thankful to the EDA for awarding this grant that will allow UVI CELL to transform lives," said Suzanne Darrow-Magras, Ph.D., UVI CELL director. "This year marks the 20th anniversary of UVI CELL's service to the community. As we celebrate, it is fitting that this year we will expand our workforce development programs to meet the needs of entrepreneurs and small businesses."
With this grant, participants will also have the opportunity to connect with our OSHA Consultation program, Safety in Paradise, and receive free, confidential safety and health workplace assessments.
More information is available in a news release on the Media Section of the UVI Website www.uvi.edu/
UVI Mourns the Loss of Dr. Athniel C. "Addie" Ottley The University of the Virgin Islands (UVI) joins the Virgin Islands community in mourning the loss of Athniel C. "Addie" Ottley, Ph.D., legendary broadcaster whose voice was known and loved throughout the Caribbean and beyond. For more than 50 years, Ottley passionately served the V.I. community as a broadcaster, government leader and ambassador of goodwill. In recognition of his lifelong service to the community, UVI awarded Ottley an honorary doctorate degree in 2018.
"Dr. Ottley was a consummate Virgin Islands treasure, an icon, culture bearer, an avid supporter of the University of the Virgin Islands, but for my part, I will miss my friend," said UVI President Dr. David Hall. "Addie welcomed me to the Virgin Islands through his voice, kindness and deep commitment to making the Virgin Islands a better place for everyone. I always felt at home in his presence. He had no agenda other than progress and love for all," remembered Dr. Hall. "On behalf of the university, I offer my deepest condolences to his family. His passing has left an enormous hole in our hearts."
From a very early age, Ottley showed an interest in communications. He built and operated his own ham radio station, becoming the first teenager to be granted such a license in the Virgin Islands. He attended the RCA Institute of Technology in New York majoring in electronics and subsequently attended Indiana Institute of Technology majoring in electronics and engineering. In 1965, Ottley returned to St. Thomas where he worked at WSTA and was later promoted to manager. During this period, he started his widely popular and respected radio program and extended his community involvement by hosting the weekly television series Face to Face produced by WTJX the Virgin Islands Public Broadcasting Station.
Over the decades, Virgin Islanders relied on Ottley for the news of the day, spirited interviews, live Carnival parade commentary and critical information in times of crisis. In the aftermath of Hurricanes Hugo, Marilyn, Irma and Maria, people everywhere tuned into Ottley for help finding loved ones and neighbors, to seek medical attention, for important recovery updates and for reassurance and comfort.
More information is available in a news release on the Media Section of the UVI Website www.uvi.edu/
UVI School of Business in Conjunction With VI SBDC to Host its Fourth Webinar in a Series Benefiting Small Businesses The University of the Virgin Islands (UVI) School of Business, in conjunction with the U.S. Virgin Islands Small Business Development Center (SBDC), will host its fourth webinar in the series of business-related seminars entitled "Small Business Conversations from the Frontline." The upcoming webinar will be held from 5:30 to 6:45 p.m. AST, Thursday, March 3, and will focus on, "Supply Chain Challenges and Opportunities During COVID."
Featured speakers will share insights that pertain to supply chain challenges, while also addressing opportunities that have arisen from those challenges. Attendees will have the opportunity to gain basic knowledge of how to mitigate the challenges and leverage the opportunities.
"The continuing effects of the pandemic are palpable for small businesses. Supply chain issues are one of the manifestations of those effects," said Kendra Harris, Ph.D., dean of the School of Business. "The School of Business at the University of the Virgin Islands and the Small Business Development Center continue to work with businesses in the USVI on their challenges in this environment. Our webinars continue to be one of the ways we are providing that support."
To register for the webinar, click School of Business Webinar For more information, contact Dr. Renel Smith at renel.smith@uvi.edu
Registration Now Open for the Junior Ocean Explorers Summer Program The Virgin Islands Marine Advisory Service (VIMAS) announces the opening of the Junior Ocean Explorers Summer Program registration. This program is open to Virgin Islands youth in grades 3-6; it will focus on teaching the fundamentals of swimming, marine animal identification and enhancing STEM skills.
Two, one-week sessions will be hosted:
June 13-17, 2022 – Session 1
June 20-24, 2022 – Session 2
For more information about this and other VIMAS programs, log on to www.vimas.uvi.edu
Registration Now Open for the Youth Ocean Explorers Summer Program Reconnect with Nature this Summer!
Registration for the 2022 Youth Ocean Explorers Summer Program on St. Thomas and St. Croix is now open until May 1. The program will be conducted from July 11 to Aug. 5. Students in grades 7-12 are eligible to apply. Scholarships will be available to USVI residents to cover registration and scuba certification costs. Log on to the link and register today.
https://www.uvi.edu/community/virgin-islands-marine-advisory-service/default.aspx.
For additional information, contact Howard Forbes Jr. at 693-1672 at the Center for Marine and Environmental Studies or email howard.forbes@uvi.edu