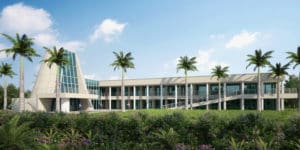 Caribbean Exploratory Research Center (CERC) and V.I. Department of Health (VIDOH) to Host the Walkability Summit on July 19 and 20 The Caribbean Exploratory Research Center (CERC) and the V.I. Department of Health (VIDOH) will host the Walkability Summit on July 19 from 9 a.m. to 4:30 p.m. (in person). On July 20, the morning and afternoon sessions will be virtual. The summit's purpose is to expand on the results of studies done to improve walkability in the territory and to create action plans for further improvement.
The Walkability Summit will take place at the University of the Virgin Islands Administration and Conference Center (ACC) 1st floor conference room.
To register and to obtain additional information visit: https://www.usviwalkabilityinstitute.com/
Walkability Summit Registration Form Survey (surveymonkey.com)
An invitation is extended to the general public.
For additional information, contact Ariana Athanase at 693-1011 or email ariana.athanase@uvi.edu.
UVI Unveils Medical Simulation Center Designed to Improve VI Healthcare Education and Attract Medical Education Tourism The University of the Virgin Islands (UVI) celebrated the grand opening of its state-of-the-art medical simulation center realizing a major objective in its goal to improve medical education and healthcare in the Territory. At the ribbon cutting ceremony on June 29 at the Albert A. Sheen Campus on St. Croix, UVI President David Hall urged supporters to "keep breathing life into the vision of enhanced healthcare in the V.I."
"The Medical School and this Simulation Center were not envisioned just so that we could unveil a first class and impressive facility," said Hall. "The vision is focused on improving the quality of healthcare for the Virgin Islands and stimulating and diversifying the economy of the Virgin Islands. The existence of this facility will ensure that our local medical practitioners and medical students will receive the most up-to-date training available so that they can serve the people of this territory."
Simulation is a tool for training and education that allows students to go through clinical experiences safely without putting patients at risk. The modern, 21,920-square-foot Medical Simulation Center features trauma and hybrid operating rooms with 18 surgical skill lab areas. Using virtual reality, life-like mannequins and other technology, students can learn to treat patients for a variety of issues. Simulation labs, trauma moulage and patient exam rooms are also on site. The facility has an auditorium with an atrium, office, and dining hall with catering kitchen.
"We know that medical simulation as an educational methodology has proven benefits, including increased patient safety, better patient outcomes, improved resource and reliability management," said Charlene Navarro, Medical Simulation Center executive director. "Local healthcare professionals will benefit from valuable training and resources that have only been available off-island until now," she said. "The UVI Medical Simulation Center will also support STEM programs for our youth with exposure to education in healthcare, medicine, science, technology, engineering and robotics."
More information is available in a news release on the Media Section of the UVI Website www.uvi.edu/
 New COVID-19 Student Vaccinate Policy to Substitute Testing Protocol Instead of Vaccination The UVI the Board of Trustees approved a revised vaccination policy that permits a testing protocol to substitute for the vaccination requirement for unvaccinated students. In making this decision, the board considered improving health conditions in the territory and the transition from a pandemic to an endemic phase of COVID-19. With the changes to the policy, unvaccinated students can attend in-person classes and participate in other campus-based activities. However, to live in the residence halls, students still must be vaccinated.
Unvaccinated students who desire to attend in-person classes will have to submit to testing on a periodic basis, the regularity of the test will be determined based on an agreement between the UVI Administration and the Department of Health. It is anticipated that the testing will be twice a month initially but will be reduced to monthly as conditions continue to improve.
This testing exception does not apply to employees, though they are encouraged to be tested as appropriate. In addition to vaccinations and testing, all students and employees are encouraged to continue to take precautions and utilize masks, social distancing and sanitation measures.
Register Today to Become a Certified Fundamental Critical Care Support Trainer Are you qualified to become a Fundamental Critical Care Support Trainer (FCCS)? The University of the Virgin Islands Medical Simulation Center is offering a FCCS course on July 26-27, on the Albert A. Sheen Campus on St. Croix.
Learn to teach the technical skills needed to provide critical care and support during the first 24 hours after injury. Teach other healthcare professionals on a state-of-the-art high fidelity interactive learning environment.
The course offerings include:
Mechanical Ventilation I and II
Basic Trauma and Burn Support
Critical Care in Pregnancy Shock
Ethics in Critical Care Medicine and more
Become a certified Society of Critical Care Medicine (SCCM) trainer. This course is free for eligible VI Veterans and UVI faculty.
Register today at www.uvi.edu/msc/
For more information, email medicalsimulationcenter@uvi.edu.
This activity is approved for AMA PRA Category 1 Credit™ USF Health is accredited as a provider of nursing continuing professional development by the American Nurses Credentialing Center's Commission on Accreditation.
For more information, contact Charlene Navarro at the Medical Simulation Center or emailcharlene.navarro@uvi.edu