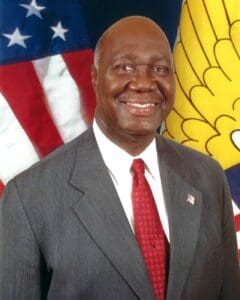 The University of the Virgin Islands (UVI) joins the Virgin Islands community in mourning the passing of Charles Wesley Turnbull, Ph.D., former governor of the U.S. Virgin Islands, who was a professor of history at the university from 1977 to 1998.
In addition to his public service, holding the territory's highest elected position from 1999 to 2007, the late Dr. Turnbull had a long and distinguished career as an educator and historian and was widely revered for his role as a culture bearer.
"Ralph Waldo Emerson said that an institution is the lengthened shadow of one man, and that is certainly true in the case of the Virgin Islands and our most esteemed colleague, champion, leader and friend Dr. Charles Wesley Turnbull. Ever true to his heart of service, through his leadership, he set in motion many of the changes, upgrades and reforms that were essential to ensuring Virgin Islanders received an excellent education and learned a history of which they could be proud," said UVI President David Hall. "His loss is deeply felt within the UVI community and throughout the Virgin Islands."
Retired UVI Professor of History Marilyn Krigger, Ph.D., said, "Dr. Turnbull enjoyed getting to know his students and was always a much-loved professor known for his jovial personality." She added, "Dr. Turnbull grew up poor and was fascinated by how education changed his life. I think his aim was to do that for his students."
Carrying on the tradition of annual UVI Charter Day dinners at Krigger's home, Gov. Turnbull invited faculty and students from the Social Sciences division to his Catherineberg residence for his entire tenure as governor.
UVI Professor of History Malik Sekou, Ph.D., said, "For our students, this expression was meaningful and helped them to persist in our programs and after graduation achieve greater success."
In 2011, the Legislature of the Virgin Islands awarded Turnbull with the Virgin Islands Medal of Honor, the territory's highest honor, in recognition of his outstanding public service to the people of the Virgin Islands.
In 2015, the university bestowed an honorary doctorate upon Gov. Turnbull in recognition of his legacy of service to the people of the Virgin Islands.
For more information, contact the UVI Public Relations Office at pr@uvi.edu.