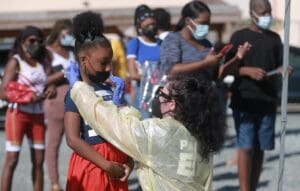 The V.I. Department of Health informs the public of the scheduling changes for obtaining routine childhood vaccinations and COVID-19 pediatric vaccinations as students return to school.
Regular Childhood Vaccination Services are as follows:
On St. Croix – Tuesday and Thursday from 9 a.m. to 1 p.m. at the Maternal Child Health Clinic in the tent at the Charles Harwood Memorial Complex. Call 718-1311 ext. 3895 or 3822 for information or to make an appointment.
On St. Thomas – Maternal Child Health Clinic in the Elanco Building. Telephone 777-8804 ext. 2600 for appointments and information.
o Monday and Friday from 1:30 p.m. to 3 p.m. for transfer of records, clearance forms and new cards.
o Exemptions- Tuesday and Thursday by appointment only.
o Fridays is fast track by appointment only
On St. John – Vaccines and Immunizations are done by appointment only. Telephone 776-6400 for an appointment.
To accommodate the needs of both childhood and COVID-19 vaccines, the St. Croix Maternal Child Health is now seeing pediatric patients with appointments for COVID-19 vaccines on Thursdays between 9 a.m. and 1 p.m. The public is reminded that appointments are recommended.
Commissioner of Health Justa Encarnacion thanks the public for their understanding during this period of high demand and asks for the public's continued patience.
For the public's convenience, the following schedules are listed below:
COVID-19 Vaccines for children on St. Croix and St. Thomas will be provided at the Maternal Child Health clinics:
Pediatric (age 5 to 17 years old) and infant (age 6 months to 4 years of age) parents/guardians are asked to bring an ID for themselves, the child and child's birth certificate.
On St. Thomas – only on Tuesdays and Fridays at Maternal Child Health (MCH Clinic) from 8 a.m. to 4 p.m. Please call for an appointment at the 777-8804 ext. 2600.
Walk-ins are always welcome.
On St. Croix – operating under a tent adjacent to the CHMC site on Thursdays only from 9 a.m. to 1 p.m. Telephone 244-0016 for appointments or information.
On St. John all vaccines and boosters for all age groups are by appointment only at the Morris F. DeCastro Clinic. Telephone 776-6400 for an appointment.