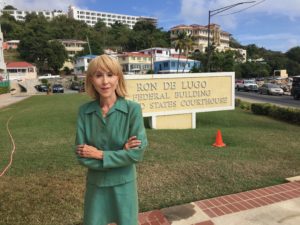 Federal and territorial officials and law enforcement officers convened virtually this month to take the fight against health care fraud to the next level, U.S. Attorney Gretchen Shappert announced.
In a news release issued Monday, Shappert said the first meeting of the Virgin Islands Health Care Fraud Task Force was conducted on a virtual platform, permitting the participants to share information and develop strategies for the territory.
"We all share the same concerns about the devastating effects of health care fraud," Shappert said. "We are committed to protecting potential victims, safeguarding taxpayer dollars and ensuring the integrity of our health care system."
The task force is composed of representatives from the U.S. Attorney's Office, Centers for Medicare and Medicaid Services, the FBI and the Office of the Inspector General for the Department of Health, Medicaid Fraud Control and Human Services.
Representatives from the U.S. Virgin Islands included Julita de Leon, coordinator of the V.I. Medicaid Fraud Control Unit; Gary Smith, director of the V.I. Medicaid Program; and Aimee Griles, senior Medicare Patrol project director.
The V.I. Medicaid Program received $126 million in federal funds for the 2020 and 2021 fiscal years. The 2020 COVID-19 Families First legislation provided the Virgin Islands with additional federal funds totaling $2.9 million for FY2020 and $1.9 million for FY2021, according to the news release.
"With these increased levels of funding in the territory, the task force is an important step in our efforts to increase our collaboration with the Virgin Islands Justice Department, health care agencies and law enforcement partners," Shappert said. "The fight against criminal and civil health care fraud is a top priority for my office, and the task force strengthens our capacity to fight health care fraud through a collaborative approach."
Shappert said anyone who wants to report suspected health care fraud can contact the Health and Human Services Office of the Inspector General at 1-800-447-8477 (1-800-HHS-TIPS), NYCOIFOSanJuan@oig.hhs.gov or the FBI at 340-777-3363 or tips.fbi.gov.