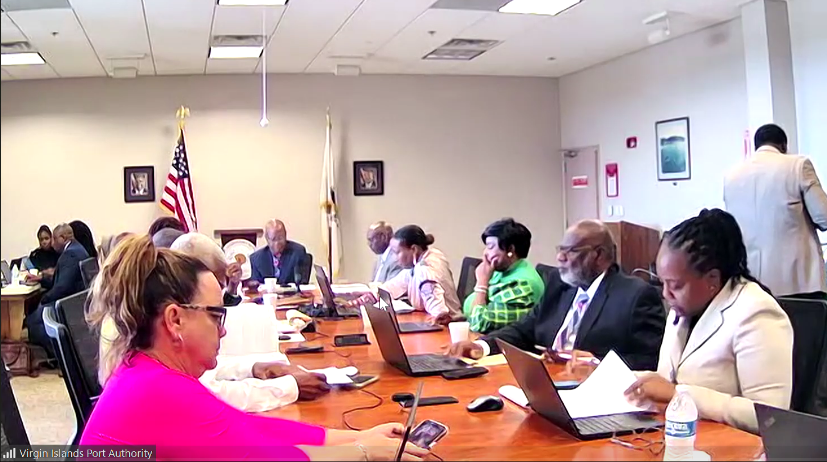 The V.I. Port Authority Board met on St. Croix Wednesday for their monthly board meeting filled with approvals on several action items for the territory, including FAA grants, lease agreements, and a capital cost recovery charge to Royal Caribbean Group.
During executive session, the board authorized Executive Director Carlton Dowe to implement a $5 capital cost recovery charge to Royal Caribbean Group and its affiliates' cruise ships that berth at the Austin "Babe" Monsanto Marine Terminal in Crown Bay and the Ann E. Abramson Marine Facility in Frederiksted on St. Croix.
Relating to projects, Director of Engineering Preston Beyer said the first phase of the Cyril E. King Airport parking garage — floors two and three — should be available for public use beginning this November.
"As it stands, their [contractor] schedule still shows that the entire project will be complete in April of 2024, and they're working to tighten that timeline as best as they can," said Beyer.
Additionally, the Bournefield demolition project is out for bid for remediation of vacant units. Board member Celestino White inquired about replacement homes for Bournefield residents. Senior staff attorney Vincent Frazer replied that it would essentially "require FAA approval."
Beyer further mentioned that on St. Thomas, a possible three-month delay is anticipated to complete the Taxi West Reconstruction project. According to Beyer, 40 percent of the project is completed and could be completed between January and April 2024. This project will rehabilitate the western portion of Taxiway Alpha.
On St. John, Beyers said the Enighed Pond Community Park project is "progressing." Geotopical surveys and schematic design projects are in the works, with an anticipated public meeting to be held in November.
On St. Croix, several Henry Rohlsen Airport projects are also in the works. The board approved a master services agreement with Stantec Consulting Services, LLC, to provide architectural and engineering services and approved a task order with Island Roads Corporation for paving.
Also, according to Dowe, cruise travelers at the Ann Abramson Facility will "now have transportation to and from the ship on the pier." This is due to the purchase of a 20-passenger trolley.
Dowe opened the board meeting applauding the authority's homecoming welcoming of two Virgin Islands pilots this month — U.S. Air Force Capt. Orchydia Sackey and Gleason Thompson Jr. Board members then dove into action items.
Members unanimously voted to ratify several poll votes. The first awarded a time and materials contract with Vivot Equipment Corporation LLC for a period of one year with an option to renew for two additional one-year periods. The contract will provide marine salvage services in the district of St. Croix.
The second ratified the executive director to execute the Fourth Amendment to the memorandum of understanding with Royal Caribbean Group for the development of the Crown Bay District in Sub Base on St. Thomas.
Additionally, a few FAA airport improvement grants were approved. The first agreement, No. 3-78-0002-046-2023 HERA, was approved for the Reconstruction of the Commercial Apron – Phase II Construction Project in the amount of $3,982,159.
The next agreement, No. 3-78-0002-047-2023 HERA, was approved for the Update of the Airport Master Plan Project in the amount of $417,497. Another agreement, No. 3-78-0001-055-2023 CEKA, was approved for the Update of the Airport Master Plan Project in the amount of $924,704.
Agreement No. 3-78-0002-048-2023, approved in the amount of $539,429, was designated for the HERA Runway–10/28 Rehabilitation Design Project. Lastly, agreement No. 3-78-0002-045-2023, in the amount of $12,465,793, was approved for the HERA Commercial Apron Reconstruction Phase I Project.
Resolution No. 006-2023 was also approved, which authorizes the executive director to execute the non-federal limited design and implementation reimbursable agreement between the Department of Transportation, FAA, and Port Authority for the Cyril E. King Airport for the relocation of REIL, GS, PAPI, and ASOS due to the displacement of the runway 10 threshold.
Lease agreements were also approved for L.S. Holdings Inc., also known as Little Switzerland, and Shopper's Haven Inc. in Crown Bay Center. Joseph Harrigan, also known as Uncle Joe's Barbecue, was approved to renew their lease at the Loredon Boynes Sr. Dock in Cruz Bay, St. John.
Board members Willard John, Kevin Rodriquez, Ariel Smith, Esq., Lionel Jacobs, Leona Smith, and Celestino A. White Sr. were present.
Wednesday's meeting was the last meeting Jacobs served as a board member. Jacobs served on the board for three years.