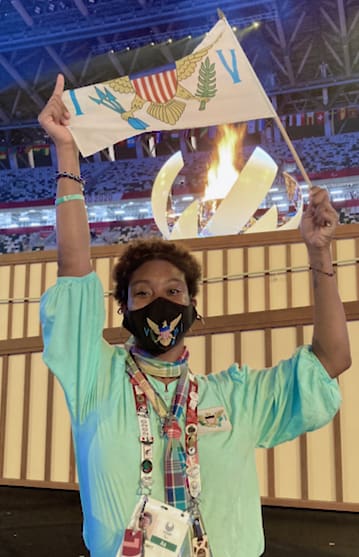 The United States Virgin Islands' sole Paralympian, Jahmaris Nesbitt, set a personal-best time on Saturday at the 2020 Paralympic Games in Tokyo, Japan.
Competing in the women's 100-meter race in the T-38 division at 10:38 a.m. in Japan on Saturday (9:38 p.m. Friday in the Virgin Islands), Nesbitt came in seventh in her heat but set a personal-best time of 17.14 seconds.
Sophie Hahn of Great Britain went on to win the gold with a time of 12.43 seconds; Darian Jimenez Sanchez of Colombia, silver with a time of 12.49; and Lindy Ave of Germany, bronze with a time of 12.77.
Due to COVID-19, the 2020 Paralympic Games was delayed for one year, as the Olympics were, and had its opening ceremony on Tuesday at Tokyo's Olympic Stadium.
Nesbitt qualified for the Games at the Desert Challenge Games in Mesa, Arizona, by finishing third with a time of 17.33 seconds. She said she was competing "for my love of running and due to my distance times when I ran with other cadets of JROTC."
In an interview prior to her race, Nesbitt said she hoped to return to the territory with a medal, but that the most rewarding aspect of her Paralympics journey was her own self-improvement.
In the Paralympics, the athletics sport class consists of a prefix "T" or "F" and a number. The prefix T stands for track and jumping events, and F stands for field. The 30s sport classes are allocated to athletes with involuntary movements, uncoordinated movements and/or muscle tension. Athletes in the sport classes 35-38 show a better function in their legs and better trunk control and therefore can compete standing, for example, in running events, long jump or throwing events.
Nesbitt's impairments include cerebral palsy, hip dysplasia, hyperextensions, and slightly uneven legs.
"The most challenging part of my journey I must say, is when my muscles and tendons tighten up to the point I can barely move," Nesbitt said. The Paralympian said she has to "massage them and take ice baths to relax."
However, for 21-year-old Nesbitt, she said the best part of being able to run and compete is self-improvement.
"The best part [is] knowing my body has been improving," Nesbitt said, "due to the reduction of my muscles tightening and feeling even better after each training session."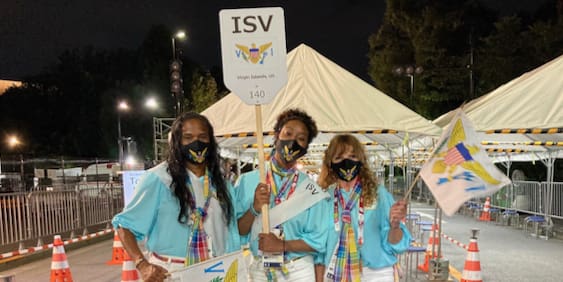 When asked why she chose to compete in the 100-meter races and not another distance, Nesbitt said, "My team and I chose to begin with the 100-meter race, and as I improve and over time will branch out to other distances. But we are beginning with the basics."
Nesbitt said she was excited to compete and represent the Virgin Islands. She encouraged everyone to have ambition and work towards a goal.
"You only live once! Never give up for you too are capable of more than what people expect and limit you to. That's the message I want to give to readers," Nesbitt said.
Nesbitt graduated from the St. Croix Educational Complex High School and currently attends the Bel-Rea Institute of Animal Technology in Denver, Colorado.
Nesbitt can be followed on Facebook, Instagram, and Twitter. For more information on Nesbitt's Paralympic activity, visit the Paralympic Games website.
Editor's Note: This story has been updated to reflect the results of the women's 100-meter race in the T-38 division.