Nearly 90 sailors from the U.S. Virgin Islands, Puerto Rico, the United States, Argentina, France, and Italy competed in a three-day regatta of the 30th International Optimist Regatta in St. Thomas from June 16 to 18.
Jackson Wilcox, 15, from Sarasota, Florida got off to a great start, getting ahead and quickly rebounding from a broken mast on the last day of sailing is what led Wilcox to win the 30th Regatta.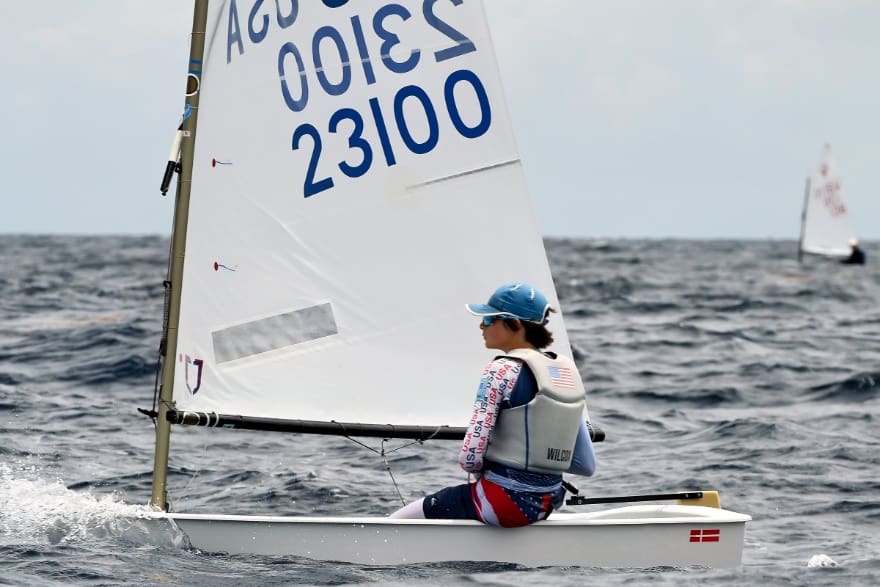 "I sail better in oscillating wind, sailing from one wind pressure to the next, and that's how I worked to stay ahead. In the second to last race, I was sailing upwind when the mast snapped, so I scored a DNF (did not finish) in that race. Luckily, my coach, Pilo (Rocha), was able to go back to shore, bring out another mast and we quickly rigged. Then, I just concentrated on getting a good start and sailing fast in that last race," explained Wilcox. 
Congratulating the competitors of the competition Joseph Boschulte, V.I. Department of Tourism Commissioner shared a few remarks and invited the sailors to return to the Virgin Islands "to sail our pristine waters again or simply enjoy the beauty and hospitality of our islands" he said.
"Your skill, determination, and sportsmanship have been truly inspiring. As we commemorate this special anniversary, we reflect on the rich legacy of this event and the incredible impact it has had on our islands," said the commissioner.
Wilcox's first place overall also put him at the top of the 13- to 15-year-old Red Fleet, after 11 races in the Championship fleet, according to press release.
Also in the red fleet and coming in fifth place was Audrey Zimmerman, 14, from St. Thomas, who earned the Top Female award and the perpetual Founders Trophy. 
"I focused on myself and what I was doing rather than focus on the fleet," said Zimmerman.
In the age 11- to 12-year-old Blue Fleet, Howard Zimmerman, also representing St. Thomas came in first.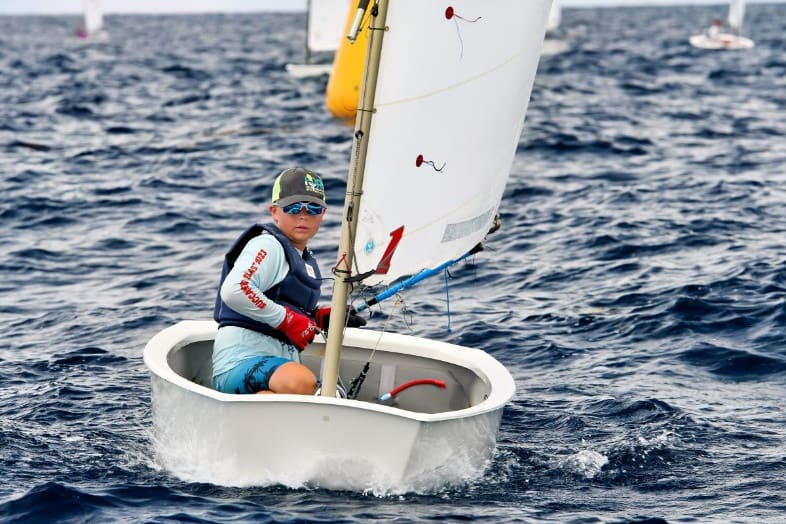 "I looked at what the top sailors were doing, like sailing close to the committee boat side at the starts, and I did that too. It helped me stay near the top," says Zimmerman.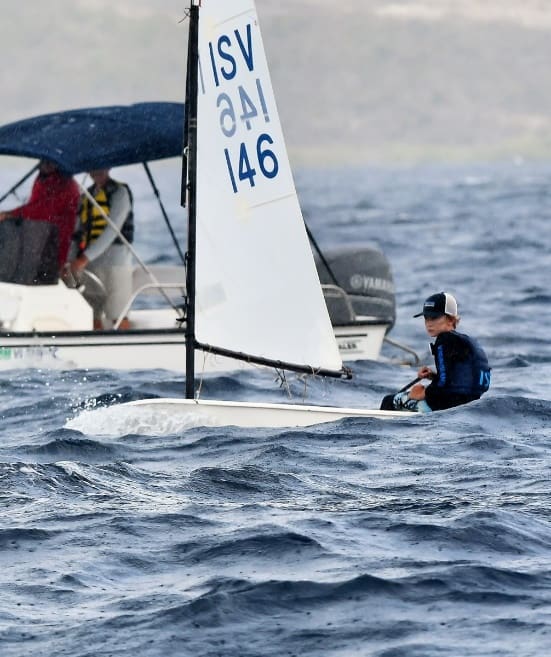 "Sail fast, that's it. And get good starts. That was my plan," said Finn Hodgins from St. Thomas who solidified the White Fleet as the Championship Fleet. 
Among the other winning sailors, representing Miami, Florida's Coral Reef Yacht Club was the winner of the Beginner Green Fleet Julia Bernstein, 12 with a total win of 22 races.
"There was a two-point gap between myself and the leader, then 15 points until the next boat, so I knew it would be between myself and the leader. It came down to the last race and I beat him by one point," says Bernstein.
In other awards, John Hartney, representing St. Petersburg Yacht Club, earned the Pete Ives Award, given for a combination of sailing prowess, sportsmanship, determination, and good attitude both on and off the water. Hartney also finished second overall and in Red Fleet, according to press release.
The one-day TOTE Team Racing Championships took place on June 15. Out of over a dozen teams, the winner was Team JK Sailing Manny. Team members were John Hartney, Ethan Wenokur, Joshua Wenokur, and Amelia Woodworth, said IOR.
Winners in the Red (ages 13-15), Blue (ages 11-12), and White (age 10 and under) fleets will receive signature Virgin Islands'-styled Lite Up Watches from Cardow Jewelers, each in coordinated Red, Blue, and White colors. Perfect for junior sailors, the kid-favorite timepieces are water-resistant and feature a silicon band, flashlight, light-up feature, and an outline of all three U.S. Virgin Islands on the face, said regatta representatives.
TOP 5 FINISHERS BY FLEET 
RED FLEET
1. Jackson Wilcox, LYC, USA (14)
2. John Hartney, SPYC, USA (31)
3. Brayden Zawyer, CRYC, USA (50)
4. Coby Fagan, STYC, USVI (54)
5. Audrey Zimmerman, STYC, USVI (55)
BLUE FLEET
1. Howard Zimmerman, STYC, USVI (107)
2. Diego Rivera-Hermida, TeamPUR, PUR (131)
3. Rafa Vazquez, CNSJ, PUR (146)
4. Joshua Wenokur, Team Manny, USA (159)
5. Constantino Conrad, DIYC USA (167)
The IOR is sponsored by TOTE Maritime, the U.S. Virgin Islands Department of Tourism, Simmons Boatworks, Cardow Jewelers, K3 Waterproof Gear, MSI Building Supplies, and the St. Thomas Restaurant Group, according to IOR.
For more information call (408) 314-7119, or email: internationaloptiregatta@gmail.com.  For the Notice of Regatta, results, and other information visit the St. Thomas Yacht Club website at stthomasyachtclub.org/sailing/regattas/international-optimist-regatta or Regatta Network: www.regattanetwork.com/event/25798