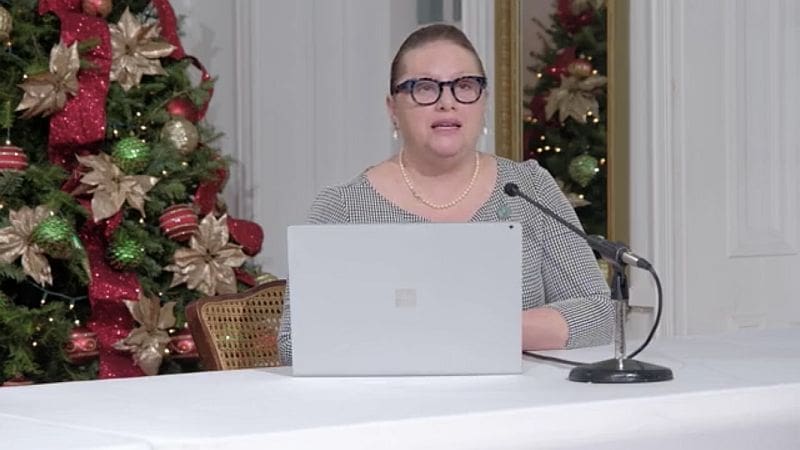 Due to travel and gatherings for the holidays, the last two days have turned up 50 new COVID-19 cases in the territory, prompting Gov. Albert Bryan Jr. to ask residents on Thursday to prepare for a new surge over the next two weeks.
Overall, the government is tracking 127 active cases, Bryan said at Thursday's weekly press briefing. He added that 874 individuals have been tested since Dec. 31 and of those, 78 have tested positive.
"Our numbers are rising, due to all the holiday travel and the many gatherings held both legally and illegally," he added. "I can't stress enough the need to follow the guidelines. We have been enjoying some good fortune because many of us have been following the guidelines, but some of us are not. It is not hard to tell when you've got new positives in the timeframe. We are just seeing the head of a new surge we're going to be experiencing, and we're going to see it for probably another two weeks, so wear your mask and prepare."
Health Commissioner Justa Encarnacion said a large portion of the population has to be vaccinated to achieve herd immunity. Immediately receiving the shot will not prevent anyone from becoming exposed to or infected by the virus.
"The purpose of the vaccine is not to prevent you from becoming infected with COVID, it is to prevent the development of symptoms and death," she said. "If you are exposed, you can indeed still become infected with the virus and still spread the disease, though for a shorter time. And it does not mean that you do not have to wear a mask or practice social distancing. Testing and mitigation requirements will only be altered when herd immunity is achieved."
There has been a positive response from Virgin Islanders interested in receiving the vaccine, and Encarnacion said that since the rollout of Health's mass vaccination plan in mid-December, 1,571 vaccines – out of a total 4,825 doses between Pfizer and Moderna – have been administered to date.
"In the last few days, we advanced our phase-based COVID-19 vaccination plan from 1A to 1B," Encarnacion said. "We continue to meet often with vaccinating providers to navigate challenges and to ensure that prioritized groups are the only people being vaccinated at this time."
Phase 1A includes clinical health care staff, residents and staff in long-term care facilities, residents in need of special care, staff in congregate living facilities (outside of nursing homes), patients on dialysis and the elderly throughout the territory.
Phase 1B includes first responders, grocery store and pharmacy staff, teachers, residents with immunocompromised conditions and front-line staff of select local and federal, public and private agencies or entities that regularly engage with the public. Encarnacion said phases can be rolled out simultaneously and that the next phase, 1C, covers employees who work in water and waste management, food services, shelters and housing, finance, information technology, communications, energy, legal services and media.
At this point, there have been no reports of serious side effects, and Encarnacion said it's important for those who have received the shot to sign up for VSAFE, an electronic monitoring tool that enables Health to collect and track data on any reactions that may occur.
"We expected some vaccine hesitancy for the initial rollout, but during the second week of vaccinations, we saw a tremendous increase in scheduling and acceptance of the vaccine. Many people have shown an interest in being vaccinated," she said. "We have had zero reports of serious side effects from the vaccine, with one report of a very mild allergic reaction. We will continue to update you on any other side effects seen."
Asked about the efficacy of the vaccine against new strains seen in England, and now potentially South Africa, Bryan added that the public should continue to wear masks, socially distance and avoid mass gatherings, as the virus is not expected to "go anywhere anytime soon." Getting the vaccine, however, decreases the risk of death and should be considered, he said.
For information about the vaccination plan, VSAFE, vaccination providers and persons who are eligible to schedule vaccinations, visit the Department of Health's vaccination webpage at covid19usvi.com/vaccines.