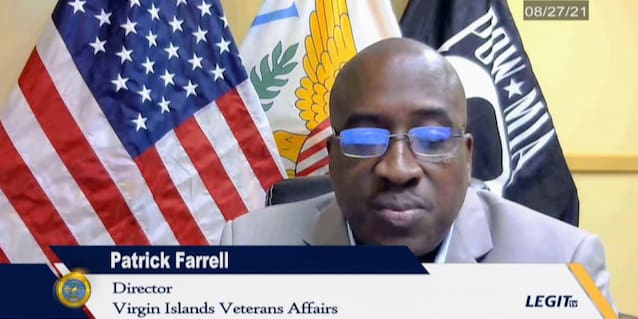 V.I. Veterans Affairs Director Patrick Farrell told the Senate Committee on Government Operations and Consumer Affairs Friday that the office has nearly completed constructing a second set of veteran-reserved crypts on St. Thomas, and is awaiting grant funding with the hopes of building a Veterans Affairs State Cemetery on St. Croix.
"We are very close to the construction of a second crypt on St. Thomas and the first one on St. Croix," Farrell said. "These crypts are our best option until the start of construction for our very first 100-percent federally funded Veterans State Cemetery in the Virgin Islands."
Farrell said the office has met all the requirements of the V.A. Cemetery Grants Program and is awaiting the results of the fiscal year 2022 priority list. Though he said the office is "awaiting patiently," the project has become pressing due to a dwindling availability of veteran-reserved crypts.
"I know your concern is that the present veterans' section within the Kings Hill Cemetery in St. Croix is just about filled," Farrell said, addressing Sen. Novelle Francis Jr. "In the interim, we have identified where we can use monies to build a crypt similar to the one in nature built on St. Thomas … until we get the state cemetery rolling and built."
Francis asked what name the cemetery would be given, but Farrell said, "We're still going through a process. I will be glad to release that name at the appropriate time."
While most were in support of the office's efforts, Sen. Franklin Johnson said he does not support the "rather large area" designated for crypts on the island of St. Croix because the government already has "some land available for individual gravesites" and in his opinion people prefer a traditional burial space than a crypt for purposes of communing to grieve.
Sen. Javan James Sr. inquired about how the office was keeping records of burial plots, but Farrell said that responsibility falls under the Department of Public Works.
"But with the building of the crypts, our office has a very good record of who is in the crypts. But other than that, in the other spaces around the territory that's the responsibility of Public Works," Farrell said.
James said that the V.I. Code does specify any veteran burials occurring in the territory should be recorded by the office. However, Farrell said when a veteran dies the family has the option to bury that person elsewhere, and the veteran's family is not required to report that to the office.
The hearing was conducted to garner insight into the achievements of the office, but no action or votes took place during the hearing.
Sens. Marvin Blyden, Novelle Francis Jr., Alma Francis-Heyliger, Javan James Sr., Franklin Johnson, Carla Joseph, and Milton Potter were present for the hearing. Additional non-committee members also attended the hearing.