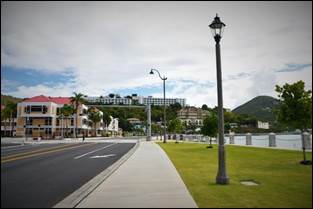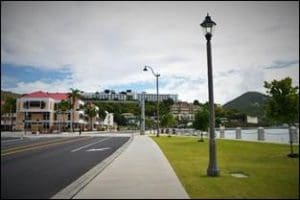 In a brief Thursday morning ceremony, Gov. Albert Bryan Jr. and Public Works Commissioner Derek Gabriel snipped the ribbon on a roadway improvement project in downtown Charlotte Amalie. Dozens of government officials, lawmakers and private sector partners who helped spur completion of the first phase of improvements to Veterans Drive gathered under a tent in the Fort Christian Parking lot to celebrate the achievement.
Contractors and Public Works employees spent roughly four and a half years expanding the roadway and creating a scenic promenade along the waterfront from the old pump house site to the Legislature. The pump house was demolished as one of the first steps in reconstruction.
An engineer working with the main contractor, American Bridge Company, said Phase 1 of the road improvement project cost an estimated $48.5 million. Gabriel and Bryan both said that talk of improving Veterans Drive began in 1986 and slowly made progress through the administrations of four governors: Charles Turnbull, John deJongh Jr., Kenneth Mapp and Albert Bryan Jr.
"It takes that long to do great things," Bryan said. He noted the community's appreciation of the project as it came to fruition, saying it had become a daily gathering spot for joggers, picnickers, photographers and at least one wedding party.
[adrotate group="6"]
Senate President Donna Frett-Gregory, leader of the 34th Legislature, located in the project's neighboring property, said the roadway project has served to enhance the area's appearance. "This expansion places this 32 square-mile island on a whole 'nother level, because this phase is a new tourist attraction," Frett-Gregory said.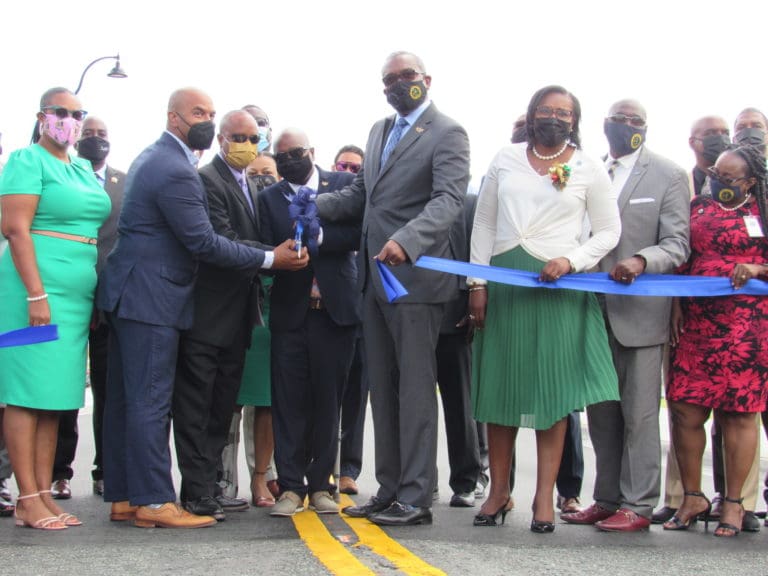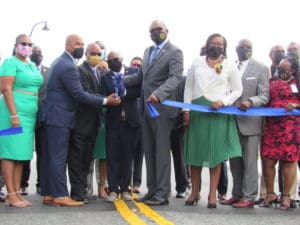 Nestled in one seat in the audience was Tyrone Martin, a former Public Works planner, who proudly showed off newspaper clips from the late 1980s when he helped to work on the roadway's design phase.
"This project is part of what was put together by a strategic planner, as part of a long-range plan to develop a traffic corridor from downtown Charlotte Amalie to Raphune Hill," explained Martin. "Since then, we have completed Alton Adams Sr. Drive, which is in front of (Charlotte Amalie) High School. We completed William G. Lewis Lane, which is Barbel Plaza. We completed Centerline Road, in front of Kmart, and we also completed Edwin Wilmoth Blyden Road."
All of those roadways, inclusive of the intersections — Mandela Circle, Long Bay, Lover's Lane — this now adds another leg to the corridor to what was planned from downtown Charlotte Amalie to Raphune Hill.
"This is phase one," Martin said.
Gabriel said he wanted to thank all of the banks, contractors, sub-contractors and former Public Works commissioners whose contributions helped bring the roadway improvement project to this juncture.
"Everyone here should be truly proud of this achievement," he said.