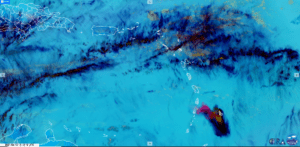 While Virgin Islanders saw some hazy skies on Tuesday, it was from Sahara dust, not the continuing major eruption of La Soufriere volcano in St. Vincent, almost 400 miles southeast of the U.S. Virgin Islands.
According to the National Weather Service, a westerly mid-to-upper-level wind pattern will prevail through the end of the week. That wind pattern should keep the ash plume away from Puerto Rico and the USVI, blowing it mainly over Atlantic waters.
At lower levels, calm to light winds with a southeasterly component on Tuesday, winds will shift from the north to northeast tomorrow and onward due to an approaching frontal boundary. Satellite images continue to indicate the plume moving eastward, well southeast of the region, reaching heights of up to 40,000 feet.
Tuesday's hazy skies are due to the arrival of the remnants of a Saharan Air Layer. At this moment, the Weather Service still projects no impact to the immediate region around the USVI and Puerto Rico.
However, if there are more eruptions during the next several days; and the low-to-mid-level winds increase significantly, then there is the possibility for some of the suspended ash to move closer to the region.
The major eruption began on Friday and has forced thousands to evacuate the area around the volcano. A blanket of volcanic ash has impacted air travel and contaminated drinking water in the area, leading to concerns of water shortages.