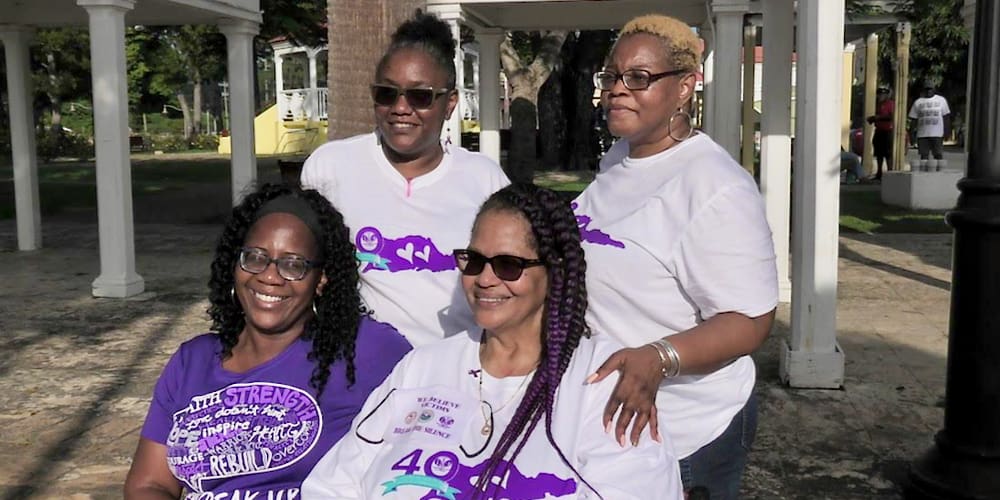 The "Drive Out Domestic Violence Motorcade" started Saturday at DC Canegata Ballpark in Christiansted. It progressed along Centerline Road to the Eliza McBean Clock Tower on Strand Street in Frederiksted.
Participants decorated their vehicles in purple, the theme color for domestic violence awareness.
The motorcade was the final event in the Women's Coalition Events for Domestic Violence Awareness Month. Debra Benjamin, communications coordinator for the coalition, said she was pleased that the V.I. Cycling Federation, the Jeep Club, the V.I. Domestic Violence & Sexual Assault Council and Legal Services were represented along with individuals who chose to participate. Additional participants were the Department of Justice, Department of Education and Mango Tree Riders.
On hand at the end of the motorcade were Clema Lewis, executive director of the Women's Coalition of St. Croix; Temara Honore, transitional housing case manager; outreach worker Darlene Springer; and crisis counselor Sheelene Gumbs.
Clema Lewis said "October is Domestic Violence Awareness Month. Today was our last event, the theme was Drive out DV Motorcade. Our purpose was to raise awareness around domestic violence and show support for victims and survivors with the support of our community partners. The motorcade also demonstrated to the community that WCSC Has other agencies that work with us to rid our community of domestic violence and keep victims, survivors and their families safe."
Victims of domestic violence or sexual assault can call the coalition at 340-773-9272.