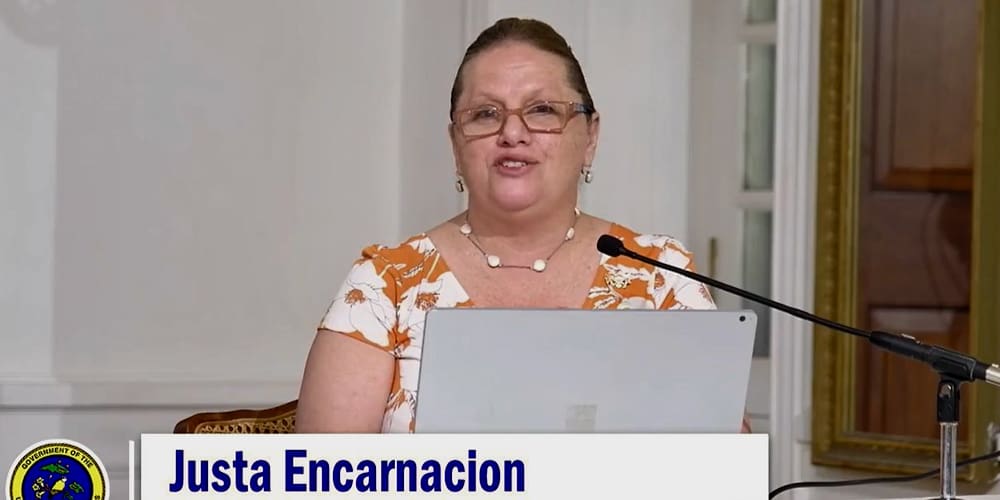 The number of COVID infections continues to be much higher on St. Croix than on St. Thomas and St. John, Health Commissioner Justa Encarnacion lamented at Tuesday's weekly Government House news briefing.
"The number on St. Croix remains a concern," she said. "I ask that you continue to protect yourself and put yourself in your hands."
There were 24 new cases in less than 24 hours as of Tuesday morning, which the commissioner attributed to social gatherings. Total cases were 82 infections on St. Croix, seven on St. Thomas and none on St. John. There was one person on a ventilator Tuesday at the Gov. Juan F. Luis Hospital on St. Croix and there were no COVID patients at the Schneider Regional Medical Center.
Encarnacion introduced the director of the COVID task force, Wanson Harris, who talked about policies and procedures. The task force comprises staff from the V.I Police Department, the Departments of Health, Planning and Natural Resources, Licensing and Consumer Affairs, Waste Management, the Taxi Cab Commission, Fire Service and Superior Court Marshals.
Harris said the group is charged with enforcing the governor's COVID-19 executive orders and the V.I. Code.
"Their job is not to shut businesses down. Their job is to keep people safe," Gov. Albert Bryan Jr. said at the briefing.
Harris said most of the coronavirus infractions have involved mass gatherings and people not wearing masks. First, the proprietor is warned and educated about the law. Then each incident is recorded and reported to Harris daily.
If necessary, the business is issued a cease and desist order and the owner must come up with an action plan on how they will comply in the future. It is reviewed by the Health Department and the Department of Licensing and Consumer Affairs.
If the behavior continues, the business faces losing its business license and/or health permit. Harris said some repeat offenders have been warned five times or more. There are two to three cease-and-desist orders issued every week, he said.
"The COVID task force enforces in a way where they give the warnings first. They go to the establishment, see the violation, talk to them, educate them, give them a warning. Every interaction with a business owner is documented by what we call a day activity report, a DAR," he said.
Harris outlined some of the recent rules that were relaxed by the governor last week that are being enforced. He emphasized that mass gatherings still are not allowed.
– Although dancing is now allowed, participants must wear masks and maintain social distancing from other couples dancing. All others must be seated.
– Bars must space chairs four feet apart and food is to be served only to patrons who are seated. Bars are allowed to seat 75 percent of their capacity or 50 percent according to their license, whichever is less.
– Businesses, including taverns, can resume regular hours based on their license and the 11 p.m. moratorium has been lifted, Harris said. Instead, they must close at 1 a.m. except on Saturdays, Sundays and holidays when they can close at 2 a.m.
– Night clubs, businesses with the capacity for at least 30 persons, seated at tables, with a bar and bartender, table service and dancing or other entertainment will be allowed to close at 4 a.m. If the establishment is entirely enclosed, it can close at 5 a.m. every day. However, nightclubs within 100 feet, on any two sides of two dwellings must close at 1 a.m. and 2 a.m. on weekends and holidays.
The U.S. Food and Drug Administration approved the emergency use of the COVID-19 vaccine for children, aged 5-11, last week and the Centers for Disease Control is expected to approve the shots as early as Tuesday. Encarnacion announced that vaccines have been ordered for children along with more doses for adults.
"We're making it easier for you. Now you make it easier for us," she said.
Other subjects talked about during the media briefing included Bryan announcing that the eight percent back pay will be distributed next week. Prospective beneficiaries must register at www.dopusvi.org.
He also said his goal is for St. Croix to hold its annual Agriculture Fair in February and St. Thomas to host Carnival in April. It all depends on the coronavirus statistics and number of cases, he said.
"COVID isn't going anywhere," he said. "Today I'm asking you, the people of the Virgin Islands, to work with me."