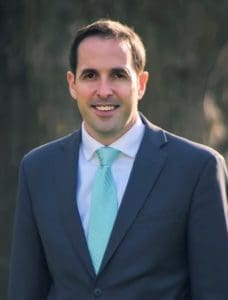 The Virgin Islands Economic Development Authority (VIEDA) applauds the appointment of Nathan Ohle, an internationally recognized expert in economic development and a leader of public, private and nonprofit organizations, as the new president and CEO of the International Economic Development Council (IEDC). Ohle began in his new role on Feb. 7.
"Congratulations to Nathan Ohle for beginning his new role as president and CEO of the IEDC. Nathan has been a leader in economic development for more than a decade, and we look forward to working alongside him. As the lead organization for economic development in the U.S. Virgin Islands, the VI Economic Development Authority team and I join other jurisdictions on the U.S. mainland in welcoming Nathan Ohle as he takes the helm of the IEDC," said Wayne L. Biggs Jr., chief executive officer of VIEDA.
Ohle, who until recently served as CEO of the Rural Community Assistance Partnership (RCAP), takes over from Jeffrey Finkle, IEDC's longtime chief executive.
"I am honored and excited to be president and CEO of this exceptional association devoted to providing leadership and excellence in economic development," Ohle said. "The responsibility to lead IEDC is humbling, but I am certain that in partnership with the IEDC team, board and members, we will continue to drive equitable economic opportunity in communities of all sizes."
Todd Greene, IEDC's board chair for 2022, said that Ohle "has an innovative mindset and dynamic worldview that will ensure IEDC's commitment to propel economic progress for IEDC's extensive membership and stakeholders." Greene is executive director of WorkRise and an institute fellow at the Urban Institute.
The IEDC's partnership with VIEDA includes its recent consultation for Vision 2040, the 20-year economic plan for the U.S. Virgin Islands that was released in 2021, along with a consultation on the Agro and Food Innovation Center that is being developed in Frederiksted, St. Croix, USVI.
The IEDC is currently partnering with VIEDA to develop a marketing strategy for the South Shore Trade Zone on St. Croix and a new Strategic Plan for the authority. Following the devastation of the 2017 hurricanes Irma and Maria on the USVI, VIEDA worked with the IEDC in 2018 in partnership to ascertain solutions for the territory's economic challenges.
Sharing a long-standing, mutual passion for educating communities about economic development and supporting small-business growth and resilience, both the IEDC and the VIEDA partnered to host and conduct a comprehensive economic development training course for USVI residents, titled "Introduction to Economic Development," in 2014 as well as a four-month virtual e-Marketing and communication strategy training series for local entrepreneurs during the global coronavirus pandemic in 2021.
The IEDC is a non-profit, non-partisan membership organization serving economic developers. With nearly 5,000 members, it is the largest organization of its kind.
While leading Rural Community Assistance Partnership, Ohle almost tripled the organization's budget and team, expanding work in economic development, access to safe drinking water and sanitary wastewater, disaster recovery, and capacity building for rural and tribal communities across the country.
He led Rural Community Assistance Partnership's operations and strategic planning, serving more than 3.4 million rural and tribal residents in 2020. He was also recognized as one of "40 Under 40 Rising Stars" in economic development internationally.
Ohle has been a leader in economic development for more than a decade at both the federal and state levels, serving as the senior advisor at the U.S. Economic Development Administration and at the Michigan Economic Development Corporation.