The Virgin Islands National Park has been running with a reduced staff since Hurricanes Irma and Maria hit the territory in September.
Before Irma, the park had almost 50 employees. As of this week, only 35 are on duty. Many were given temporary assignments elsewhere when their housing was damaged or park programs for the public were canceled.
Acting Superintendent Steve Black said he expects that all employees who have been off-island will be back by July.
One reason they aren't hurrying back is the lack of Park Service housing, he said. Six units of park housing remain completely uninhabitable and several others still need repairs.
The first returnee from the Interpretation Division started back on the job several weeks ago.
"We're happy to have her back," said Black, adding that she's now stationed at the Visitors Center in Cruz Bay, because "we don't have enough staff for walks and talks."
Trail crews hired by the Friends of the Virgin Islands National Park are still clearing trails. Black said the park has been working with the Friends/VINP to begin a trial run of the popular Reef Bay Trail hike. That hike includes a return trip by boat from Reef Bay on M/V Sadie Sea. Black said the boat has some minor damage from the storm but is seaworthy.
Although park programs have been canceled since September, volunteers – including a retired park ranger – have been filling in by offering a weekly astronomy program at 7:30 p.m. Wednesdays at Peace Hill.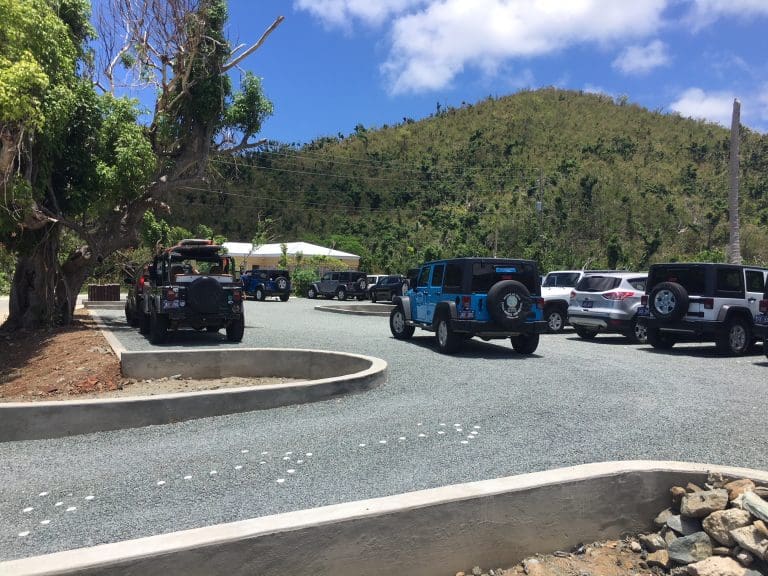 Black did report progress concerning hurricane damage to infrastructure. Road repairs along the shoreline at Maho Bay have been completed, and two lanes are now restored. The new parking lot at Maho Bay has been opened, "So expect to get a ticket if you park along the road," said Black.
The showers and bathrooms at Trunk Bay are now fully operational, and the VINP is still not charging an entrance fee.
Beachgoers who prefer the more remote beaches, however, will be disappointed to hear that scheduled repairs for the road to Lameshure Bay did not take place in February and March.
"The contractor walked," said Black. "We have to find a new contractor. That road is in bad shape."
Shared content for St. John Tradewinds and Virgin Islands Source.