Pictured above: Brion Fitzgerald poses in front of the Virgin Island's National Park Visitors Center in Cruz Bay. Fitzgerald marked the end of a 38 year career with the National Park Service on Jan. 3.
Photo courtesy of www.nps.gov.
CRUZ BAY — By the time the cake was cut in the second floor conference room, it was already official. Brion Fitzgerald, superintendent of the Virgin Islands National Park, was a retiree.
The big day came Jan. 3, after 38 years in the National Park Service and four as the head of the park on St. John. Not bad for a guy who started his career trapping wild boar in the Great Smoky Mountains National Park.
Park staffers and volunteers from Friends of Virgin Islands National Park and St. John Historic Trust gathered for the Jan. 12 farewell party. Together they did what they could to keep the day to day operations of the park up and running.
[adrotate group="6"]
On the wall of the conference room was a homemade poster. A slim, athletic figure wearing a campaign hat, holding a Captain America shield stood at the center. Overhead, a slogan, "Cheers to the Years."
Those who knew Fitzgerald recognized his tall, athletic build and his almost daily habit of donning black and neon green tights and shades, to set out on his morning run. Neon green, Fitzgerald said, because his brother had been struck by a car while out on a run.
That was about the only way the park superintendent chose to stand out. He spent much of his four years keeping a low profile.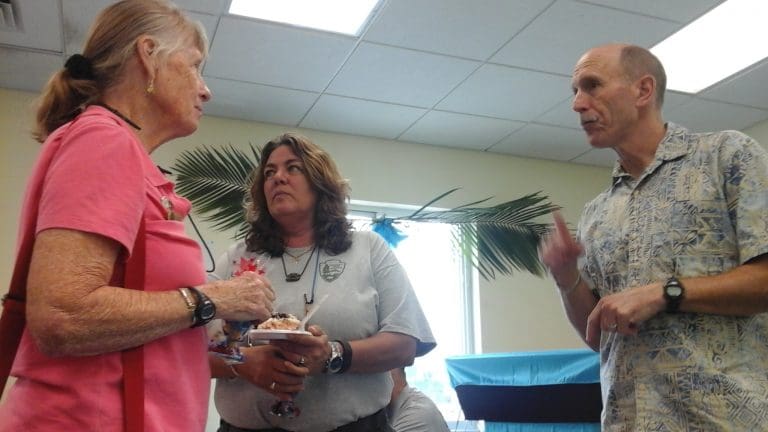 But when the profile was raised, the tan felt, dimple peaked campaign hat sat high on top. Most notably in August, when school children gathered to help celebrate 100 years of NPS and in December, celebrating 60 years of the VINP.
One of his few appearances in the spotlight was at a town meeting hosted by St. John Administrator Camille Paris, Jr., in 2015. Fitzgerald listened as residents spoke about fishing in park waters, boat mooring policies and changes in park concessions. He answered some questions, said he'd look into other questions and come back with his best understanding.
He also talked about trying to keep the grass cut around the visitor's center and keeping the water running in the public bathrooms. He discussed the attrition of VINP staff and budget cuts making it important to get more done with fewer people.
Those who paid tribute to him at the retirement celebration shared some mutual admiration. "Those who worked with or for Brion know him to be one whom never shied away from dealing with the difficult issues on a local, regional or national level. He asked tough questions, gave thoughtful and reasoned analysis and was rarely, if ever, outworked," said a Dec. 27, 2016 article published on www.nps.gov.
That article included highlights from his years of service in the federal government, including duty as a captain in the Coast Guard; the introduction of Incident Command emergency response system to the NPS Mid-Atlantic Region; and the oversight of a construction project that created a new visitor's center at the Gettysburg National Park.