The Virgin Islands Port Authority (VIPA) has issued an invitation for contractors to bid on a project to renovate the restrooms the Urman V. Fredericks Marine Terminal in Red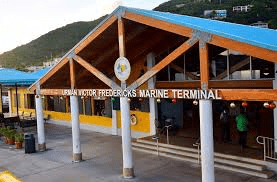 Hook, St. Thomas. An invitation to bid on the UVF Terminal Restroom Renovation Project is posted on VIPA's procurement site, https://viportbids.ionwave.net. Responses will be accepted by VIPA until 2 p.m. (AST), Aug. 16.
A non-mandatory pre-bid meeting will be held at 10 a.m., July 26, at the UVF Marine Terminal. Questions regarding this bid should be submitted via e-mail to vipaprocurement@viport.com.
This project will be funded via VIPA's operating budget. The UVF Marine Terminal was built in
2007 and is VIPA's busiest passenger ferry port. In addition to the thousands of residents and visitors that use this facility to travel between St. Thomas and St. John every day, over 290,000 visitors and residents traveled between St. Thomas and the British Virgin Islands through Red Hook annually prior to the COVID-19 pandemic.