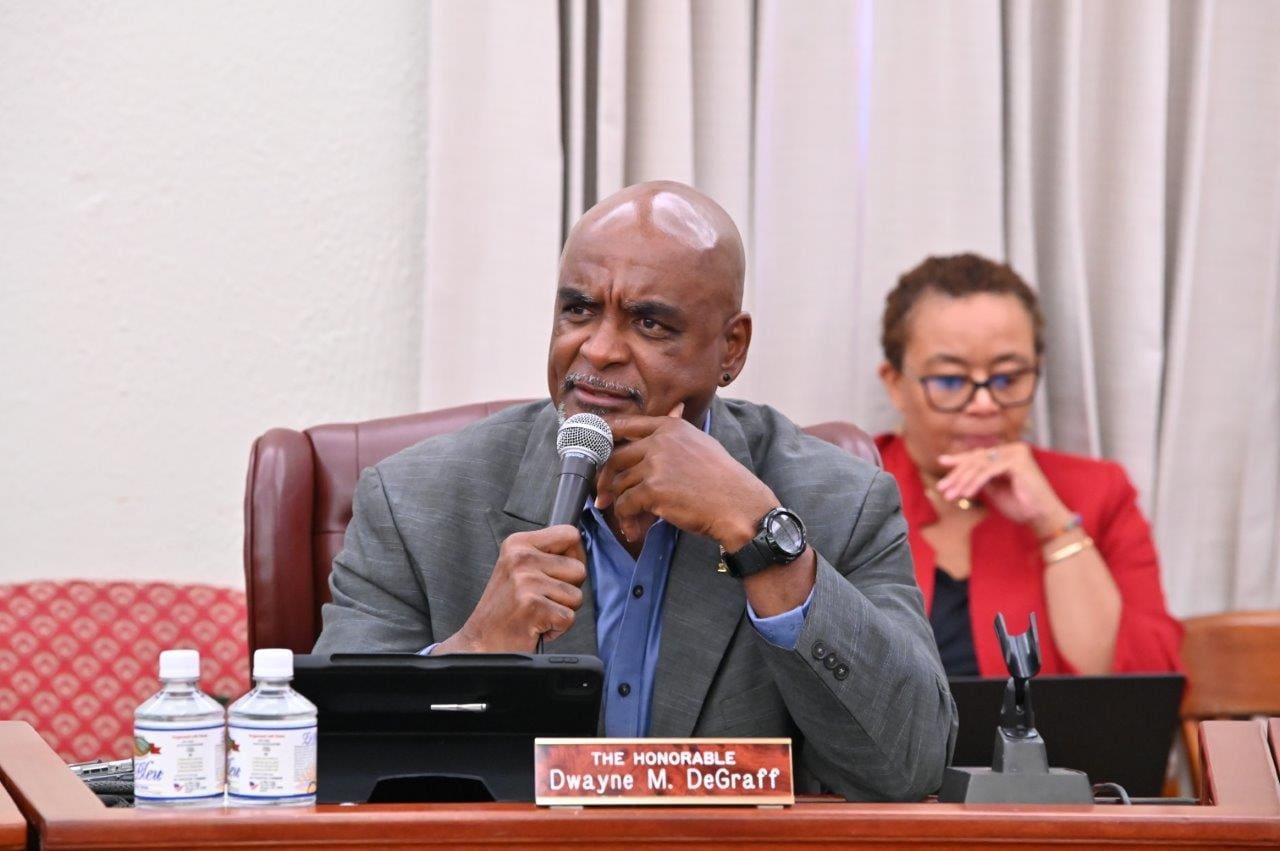 Legislators' concerns were heightened on the subject of job compliance and the lack of manpower for the Virgin Islands Police Department during Wednesday's hearing of the Committee on Homeland Security. Sen. Kenneth L. Gittens asked VIPD if they have a time frame for when they will see headway on reducing the 12-hour shifts of local officers and improving their manpower numbers.
The committee received overview testimony from the V.I. Office of Highway Safety and the V.I. Police Department regarding updates on the office's and commission's operations, capital projects, initiatives, disaster recovery, deployment strategies, and training and recruitment efforts.
Sidney Elskoe, acting commissioner of the VIPD, said, "Recruiting has been a challenge, and an aggressive recruiting effort has begun. The department has also held sensitivity training and active shooter training in both districts." 
In each district, there are classes being held with recruits: Seven for the Police Auxiliary position, nine candidates on St. Thomas and four on St. Croix for the position of police officer, and the remaining candidates are being trained for various government agencies in peace officer roles.
"VIPD made progressive advancements in how they serve the public. The department continues to address the number one problem in the community, gun-related violence. The operations division have made significant advances in solving and preventing crimes by nurturing a closer relationship with the Virgin Islands community," said Elsoke. 
Daphne O'Neal, director of V.I. Office of Highway Safety, a unit within the V.I. Police Department, stated that the agency currently has six territorial vacant positions. 
In terms of the hiring process, it was placed on the record that all applicants for OHS are being screened through Government House and candidates for consideration will be forwarded to the department. If no applicants are selected, then advertisements for the positions will be processed by the Department of Personnel.
Senators were in agreement that the process is backward and should be advertised through Personnel and the agencies themselves and forwarded to Government House for consideration.
According to testimony, in terms of progress, OHS has awarded 17 projects totaling $3,131,743 in sub-recipients comprising both public and private entities. The major focus of the unit is primarily education and outreach and provides training and certifications for child passenger safety technicians, drug interdiction assistance certifications, commercial vehicle inspectors, VIPD staffers on data-driven approaches to crime and traffic safety, and officers on the use and deployment of the intoximeter instrument. 
Capital projects undertaken by VIPD include the Patrick Sweeney Police Headquarters, for which a concept design has begun, and a conceptual design package is underway. The Alexander Farrelly Justice Center is pending FEMA Program Delivery Management Group review and is estimated to be completed in 2026. The Leander Jurgen Command Police Station on St. John awaits the completion of as-built drawings. 
Sen. Javan James Sr. gave high regard to the working projects and stated that the focus needed to be more geared toward government agencies owning their own buildings versus leasing. 
Among the other key projects of VIPD is to purchase more than 200 cameras, which would be placed in key locations in the territory, totaling $1.5 million. 
A goal of the department is for all sworn personnel and officers of the VIPD to be equipped with a body camera to support daily operations. Additional funding has been requested through the Bureau of Justice Assistance to expand the program to outfit all sworn personnel with a camera, but not limited to loaning to officers from outside agencies that partner with the VIPD. 
The department also is working with the Bureau of Information Technology and Property and Procurement for an in-car mobile routing and network connection. This will allow police access to resources such as incident and accident report systems while out in the field and allow officers to write reports in their vehicles.
Sen. Dwayne DeGraff encouraged the general public "to use the buddy system, don't go to ATMs at night alone, and if you see something, say something."
Sens. Kenneth L. Gittens, Javan E. James Sr., Franklin D. Johnson, Dwayne M. DeGraff, Angel L. Bolques Jr., Alma Francis Heyliger, Ray Fonseca, Diane T. Capehart, Novelle E. Francis Jr., and Carla Joseph were present at Wednesday's hearing.