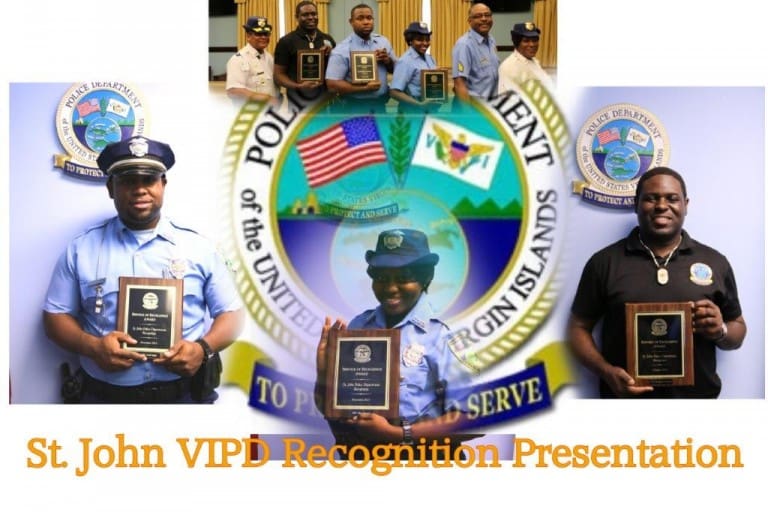 St. John Tradewinds
On Thursday, January 7, at 11 a.m., officers attached to the St. John Leander Jurgen Command hosted their Quarterly Recognition Presentation, providing acknowledgement to those outstanding officers covering the period of October through December 2015.
VIPD St. John Deputy Chief of Police Arlene Chalwell continues to build the moral of the officers under her command, by continuously sharing sincere words of encouragement and presenting each officer chosen with a Plaque of Appreciation along with a hearty round of applause for their dedication.
VIPD Officer Thompson Alexander received the Officer of the Month Award for October, for exemplifying great potential for leadership, as he's always reliable and reports for duty on time. While on duty Officer Alexander is able to take charge and lead others by carrying out the duties of a supervisor in their absence. Officer Alexander was also tasked with heading up the New Year's Eve Initiative and recording the Action Plan.
VIPD Officer Josiah Angol received the Officer of the Month Award for November, as he continues to always lend a helping hand when needed. Officer Angol reports for duty on time and has always shown initiative by being an officer who is dedicated and dependable.
VIPD Officer Mitsy Prescod received the Officer of the Month Award for December, for always being ready to assist her fellow officers and exemplifying outstanding dependability by always being ready to take on a second shift when man power fails. Her impeccable service contributes to a positive work environment. Officer Prescod went above and beyond her duty as she transformed the Front Desk Operations by implementing a more direct and simplified method to operate the Front Desk.
The presentation was at the St. John Legislative Building in Cruz Bay and was very enjoyable as each officer selected felt appreciated for their service.
[adrotate group="6"]