Two Virgin Islands health professionals were honored during graduation exercises held this week at the University of the Virgin Islands. Health Commissioner Justa Encarnarcion and medical researcher Marcella Nunez-Smith gained recognition for their work during the Covid-19 pandemic and the two-year national health emergency that followed.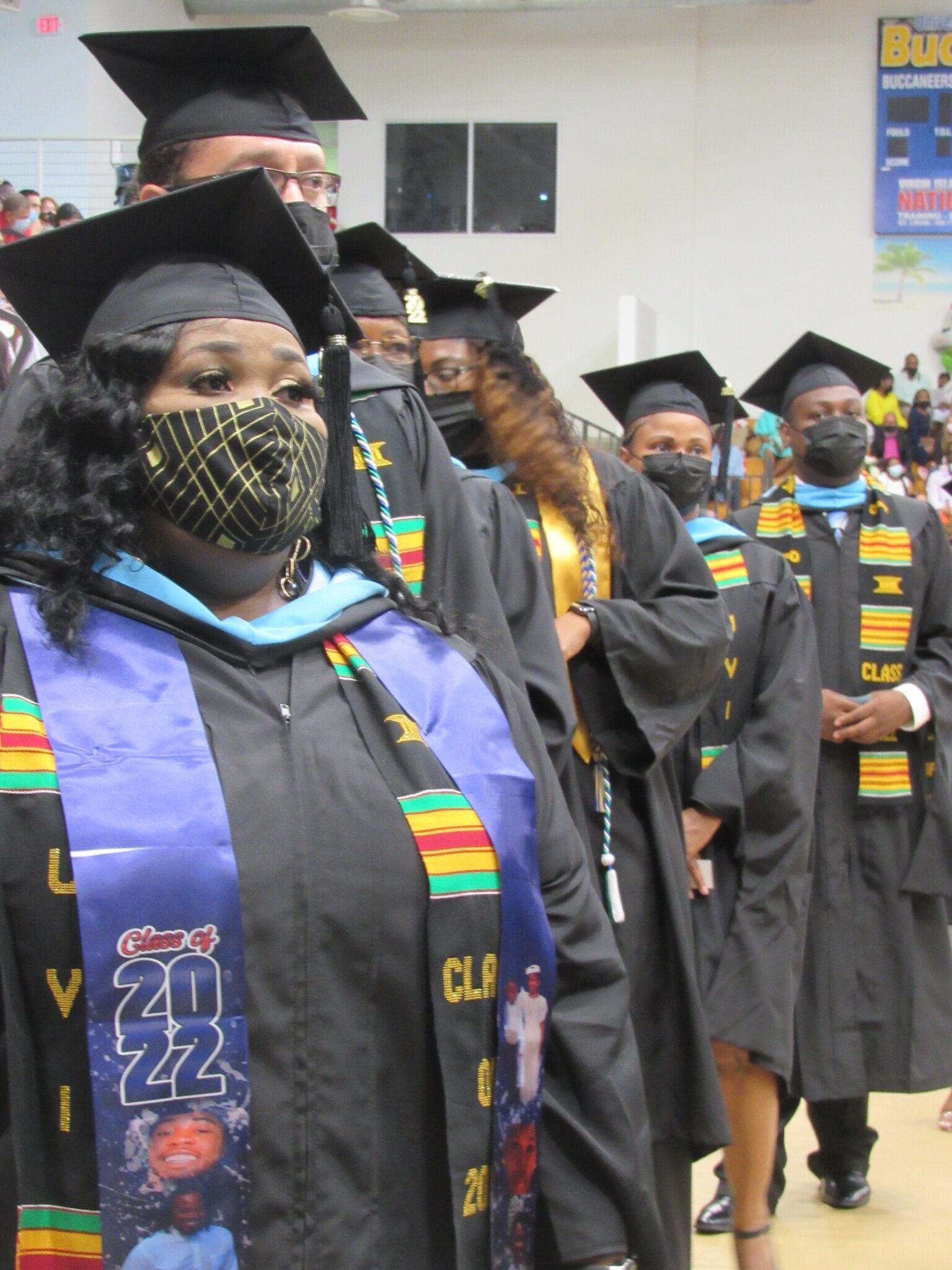 Encarnacion and Nunez-Smith received doctorates of humane letters along with the 2022 keynote speaker, Dr. Robert M. Franklin. A former president of Morehouse College in Atlanta, Franklin, is an author and currently serves as a senior advisor to the president of Emory University.
Nunez-Smith, a St. Thomian and Yale University medical researcher, was honored as one who recently led the push to overcome shortfalls in healthcare delivery for underserved communities across the U.S. as part of President Joe Biden's Covid-19 coronavirus task force.
Former UVI Nursing Professor Maxine Nunez — the honoree's mother — accepted the award and delivered a message of thanks from her daughter.
"The University of the Virgin Islands was among my own first classrooms. (I was) blessed enough to get to tag along with my mother, spent countless hours right here at UVI as a child studying, for example, the tadpoles outside the Nursing Education building in the pond as you walk towards the library and badgering Ms. Rhymer, who was the librarian at the time with countless questions. I was always met with smiles and the encouragement to be curious," Nunez-Smith said.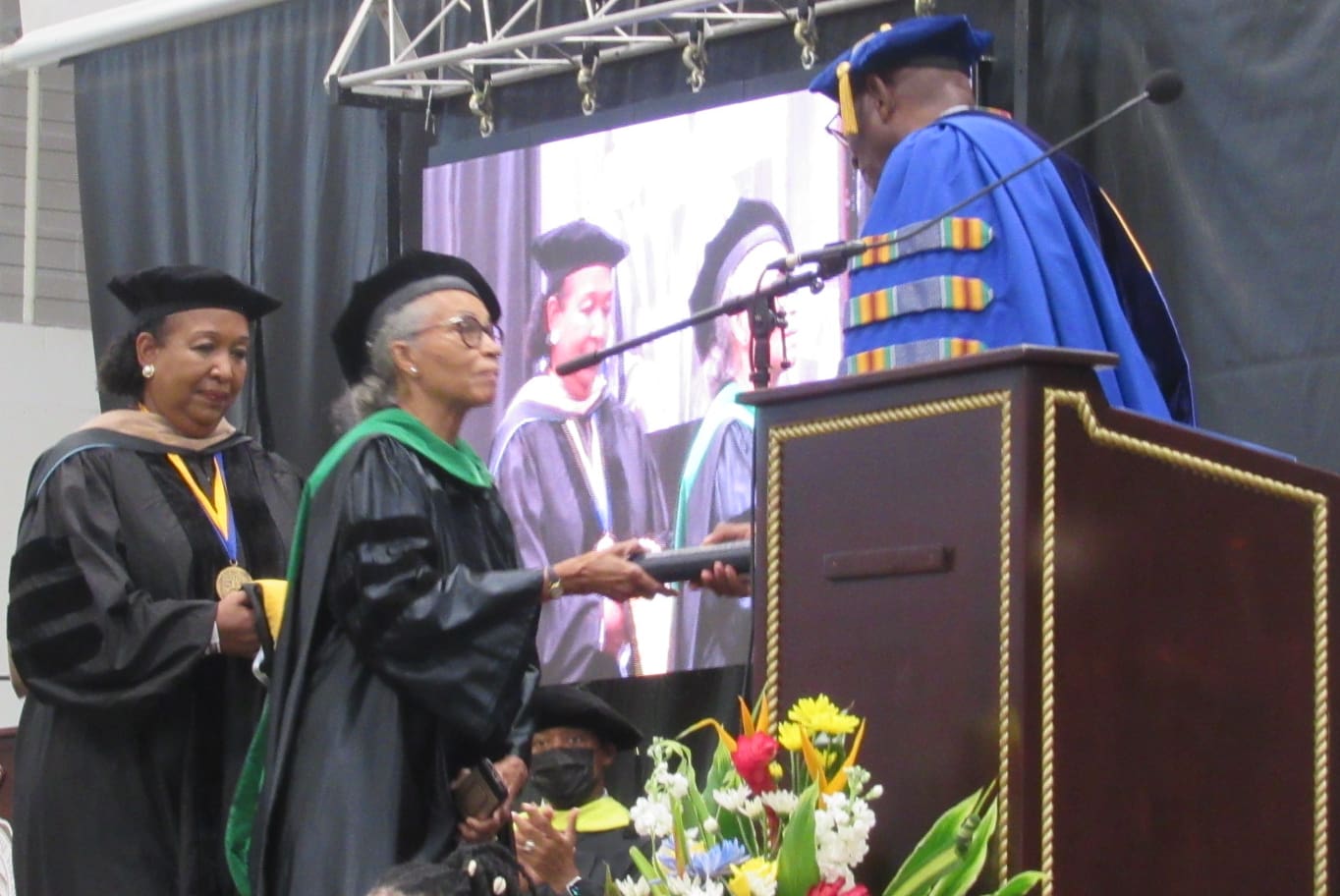 The recognition of Encarnacion's leadership as the incident commander for the Virgin Island's Covid-19 health emergency response, along with Smith-Nunez's contributions, was described as UVI's way of signaling the University's appreciation for their outstanding accomplishments and contributions in their respective fields of professional endeavors.
UVI President David Hall described Franklin as a scholar, academic leader, and theologian who delivered the keynote address at the school's 60th Charter Day event earlier this year. This week marks UVI's 58th commencement and takes place 60 years since the then-College of the Virgin Islands was founded in 1962.
Close to 300 undergraduate and graduate students received diplomas in 2022. Among those receiving degrees were 11 Ph.D. candidates from an accredited creative leadership course launched in 2016. The graduate program in Creative Leadership for Innovation and Change is the school's first doctorate degree program.
In his welcoming remarks, Hall said the occasion reminded him of a song he first heard when he was a college student — the Edwin Hawkins Singers' "Oh Happy Day."
Friends, faculty, and family who supported the candidate's success filled the bleachers at the UVI Sports and Fitness Center on St. Thomas Thursday. The student speaker chosen to deliver the class address described the challenges facing those who made it through their studies that, in many cases, began in 2018, one year after Hurricanes Irma and Maria wreaked havoc territorywide.
Added to that, said 2022 Class Speaker Kasem Thompson, came the losses brought on by Covid-19. "Some of us have experienced some significant loss, the death of family and friends and mentors. But if we continue along this vein of loss, some of us have lost scholarships, means of financing. And yet, in the midst of all this adversity, you were determined to get to this end, regardless of the circumstances.
"You managed to successfully navigate and persevere through the challenges and waves thrown against you. What we lost pales in comparison with what we stood to gain. And those that we lost, their love, devotion, and values propel us to complete this step in their honor," Thompson said.