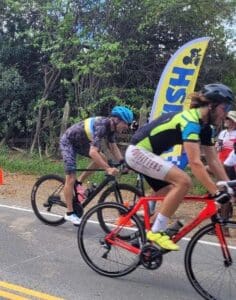 The Virgin Islands Cycling Federation held an exciting event on Sunday morning, which brought 35 cyclists to Castaways in Estate Solitude for the East End Road Race.
A cyclist in the Expert group, Elijah Payeur, moved up to the top category for his first Elite race, so the outcome was truly unknown until they reached the finish line. Mat Porporato, a new guy to watch in the Elite category, was missing from the scene so that squashed suspicions that Porporato would team up with Payeur to dethrone Stephen Swanton. Instead, the trio of Payeur, Swanton and Alex Betancourt rode together for the full 45-mile course.
The Elite course took the riders around the east end three times and up to the top of Point Udall on the first two times around. The podium was decided as they sprinted down the final hill leading to the finish line in front of Castaways. Payeur crossed first, just one wheel ahead of Swanton (2:29:25) and one second ahead of Betancourt.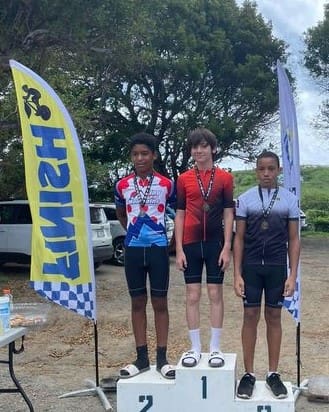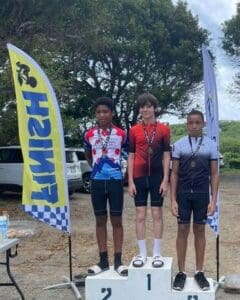 James Bates, the owner of Bates Trucking, secured a first-place win in the Expert category in a time of 1:38:32. Two St. Thomians, Matthew Tavernier and cousin Ben Tavernier, couldn't keep up with Bates for two laps of the east end but still claimed second and third place medals, respectively. Tavernier nudged out Miguel Cruz at the line. The Expert group also climbed Pt. Udall on their first lap, making the total distance 30 miles.
The Sport race was also very exciting with the top three finishers crossing the line within 14 seconds of each other. With having to complete just one lap of the east end, a climb to Pt. Udall was added to the course for an extra challenge. Tom Scull, Chris Dorsey and Brian Otis were the top three finishers in the 17-mile race, respectively.
The Masters and Women started together and completed one lap of St Croix's east end. Brian O'Reilly crossed the finish line alone in 47:08. In her first race since her injury in January, Catherine Seguin claimed the gold medal in the Women's category in a time of 48:17.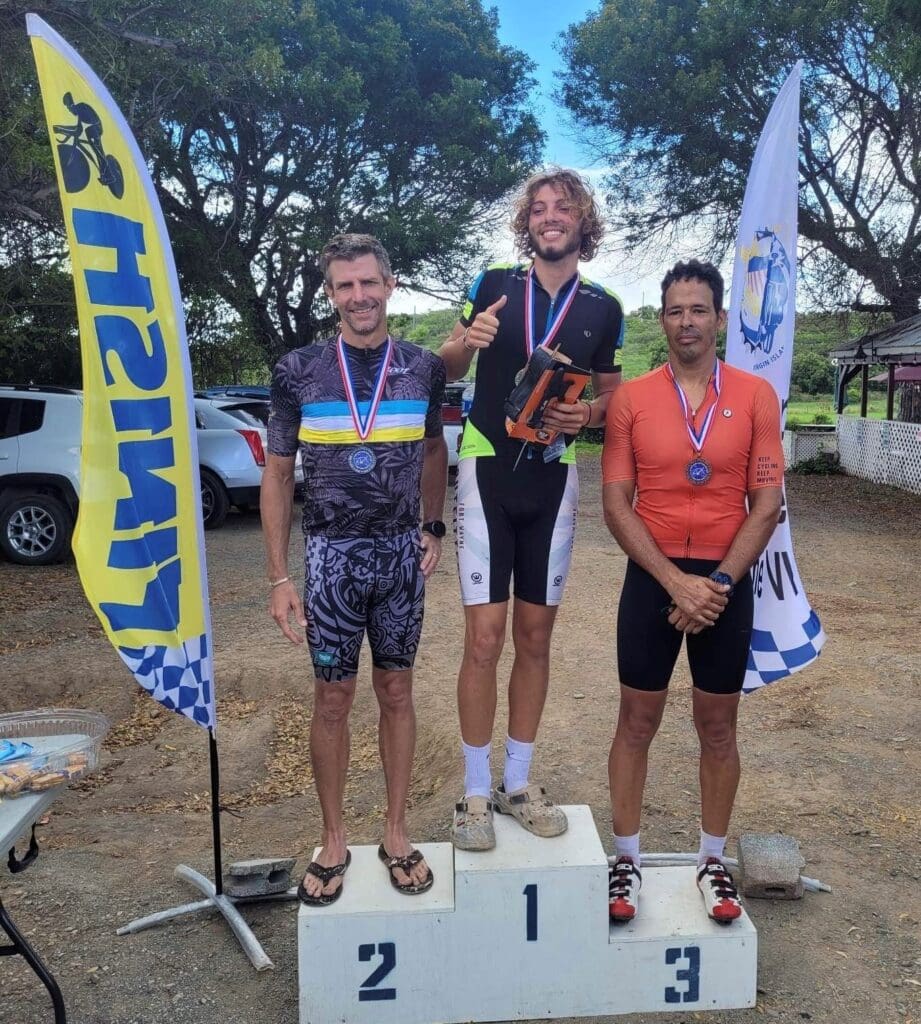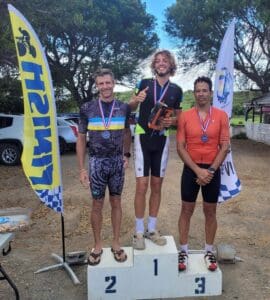 Four Junior riders were accompanied by a handful of volunteers for their 8-mile out-and-back race, which turned around at Union and Mt. Washington.  The Juniors crossed the line, separated by about one minute each, with Xander Morales in first place.  Kolebert Daisley was second; Randy Williams was third.  Annelia Graham, the lone female, was close behind.
The next race is the M to M Time Trial on May 21, which will start at the Welcome Gas Station in Gallows Bay, go over the Christiansted Bypass, left at Cool Out Bar and finish at the former Milgie's on Rt. 624/South Shore.
For more information, contact 643-5050.
East End Road Race — Start/Finish: Castaways
Virgin Islands Cycling Federation April 16, 2023
(near-perfect weather)
Elite 45 miles … TOTAL TIME
1 Elijah Payeur 2:39:25
2 Stephen Swanton 2:39:25
3 Alex Betancourt 2:39:26
4 David Morales 2:48:31
David Parris DNF
Expert 30 miles … TOTAL TIME
1 James Bates 1:38:32
2 Matthew Tavernier 1:40:55
3 Ben Tavernier 1:44:27
4 Miguel Cruz 1:44:28
5 Ted Prosper 1:48:12
6 Kevin Williams 1:49:06
7 Jerry Remie 1:52:06
8 Walter Smith 2:01:07
John Harper DNF
Sport 17 miles … TOTAL TIME
1 Tom Scull 0:59:15
2 Chris Dorsey 0:59:22
3 Brian Otis 0:59:29
4 Justin Johnson 1:04:37
5 Diego Lima 1:05:39
6 Rik Edstrom 1:08:55
7 Angel Ventura 1:10:47
Masters 13 miles … TOTAL TIME
1 Brian O'Reilly 0:47:08
2 Yves Abraham 0:48:57
3 Renwick Lynch 0:52:17
4 André Galiber 1:10:12
Women 13 miles … TOTAL TIME 1
1 Catherine Seguin 0:48:17
2 Laverne Fredericksen 0:48:53
3 Jody Goodrich 0:53:16
4 Judy Gario 1:01:09
5 Tracey Lane 1:01:59
Malika Maynard DNF
Juniors 8 miles … TOTAL TIME 1
1 Xander Morales 0:26:37
2 KoleBert Daisley 0:27:48
3 Randy Williams 0:28:53
4 Annelia Graham 0:29:04