A sculpture unveiled near the Virgin Islands National Park Visitor's Center reveals the image of three men who helped make it happen in 1956.
Photo courtesy of the Virgin Island National Park's Facebook Page. 
ST. JOHN — A small gathering of rangers, interpreters and maintenance workers joined with volunteers from Friends of Virgin Islands National Park under tents on Tuesday, December 13 to celebrate an anniversary. To mark the 60th year since the formation of the park on St. John, park officials dedicated a monolith near the entrance to the visitor's center.
They also paused to remember the efforts of three men they said were instrumental in establishing the 29th park in a 100-year old U.S. institution, the National Park Service.
On each of the three sides of the monolith appeared an image of Laurence Rockefeller, Julius E. Sprauve and Frank Stick. Between them they acquired and donated 5,086 acres between 1954 and 1956.
Paul Thomas, retired VINP interpreter paid tribute to Sprauve, his grandfather. Retired U.S. Geological Survey conservationist Rafe Boulon recalled the efforts of Rockefeller, who he first met as a child. Author Bruce Schoonover read portions of a letter from Rockefeller to Stick, thanking him for his efforts.
Sprauve, a St. Johnian lawmaker donated land and helped pass a bill locally through the legislature. The result, 60 years later, was a park largely preserved in beauty and natural resources. VINP Interpreter Laurel Brannick said she witnessed it over the 24 years she worked at the St. John park.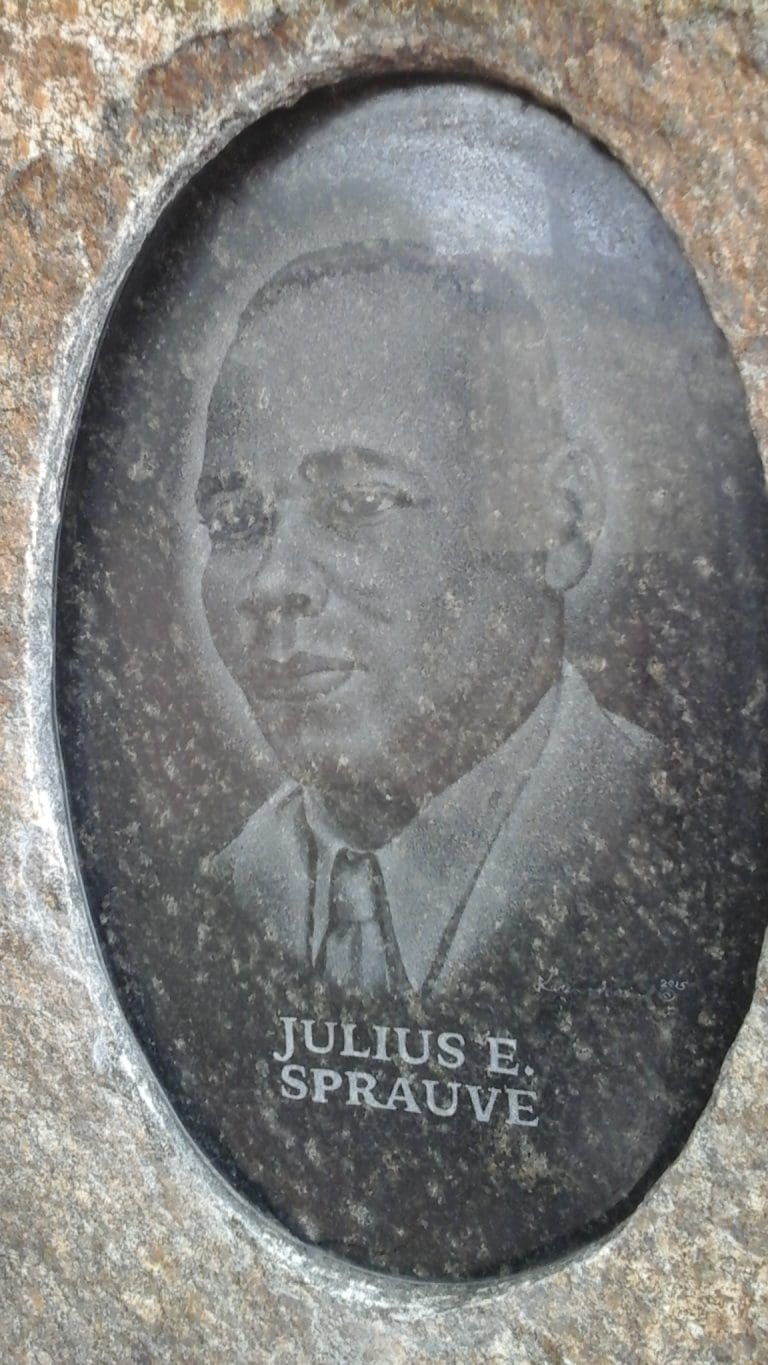 "I can honestly say when I look around, how much St. John has changed since when I came," Brannick said. But within the park's boundaries she said what she saw today remained unchanged. 
Retired park interpreter and spokesman Paul Thomas shared recollections of Sprauve, his grandfather. Thomas recalled him as the patriarch of a large St. John family who spoke little but cared deeply about the people who lived on island and their future.
"He was a very humble man, very, very quiet. I have to admit to you, there were very few times when I saw him smile. But a very, very caring man," Thomas said.
Stick, an artist and illustrator, donated land along St. John's southeastern shore in the area of Lameshur Bay. Schoonover said Stick came to the Caribbean, feeling disillusioned about professional developments on the U.S. mainland at the time.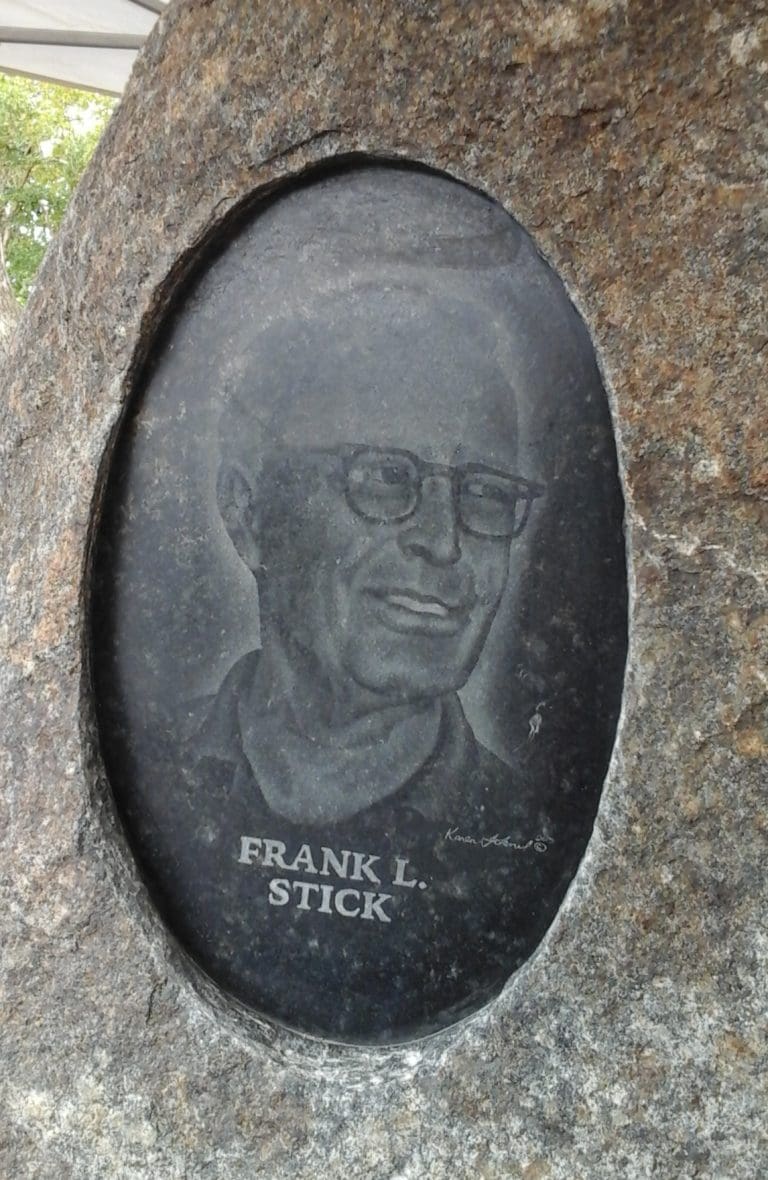 Donating land to the park service was something he had done before. Stick was instrumental in the acquisition of land that became part of the Wright Brothers National Memorial in North Carolina. 
Rockefeller was the grandson of billionaire John D. Rockefeller, founder of Standard Oil and Trust. Together he and Stick spent two years exchanging ideas and looking at plans for large scale preservation. The result was an agreement, leading to formation of the park.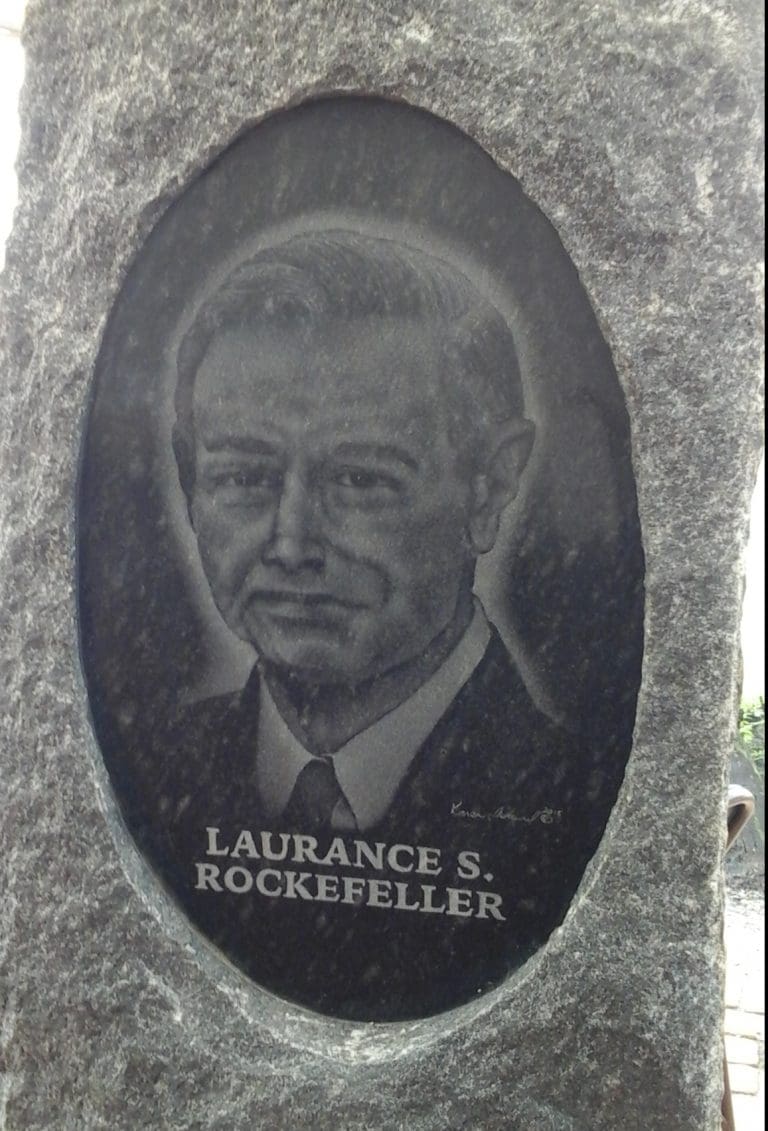 "I am sure that this achievement will be a lasting satisfaction to you," Rockefeller wrote. "The Virgin Islands National Park will, in the years to come, mean more and more to the people there and more to those who come to the Virgin Islands from all parts of the globe."
About 40 people, including members of the friends of the park board of directors listened as Fitzgerald thanked a list of businessmen and artists who helped create the tribute.