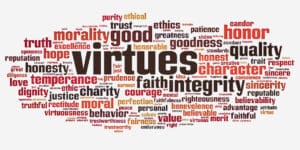 Virtue of the Week: Determination
Virtue of the Week focuses on building peaceful and caring communities through understanding and fostering the practice of virtues. The Source supports the Virtues Project and will publish one virtue developed by the project each week.
Determination is the power of intent that drives our dreams. It is the strength of will to act with resolve. We focus our energy on a purpose and persevere until we meet our goal. Determination is the commitment to follow through, until we accomplish our purpose. We care about something so much that even when difficulties arise, and things don't come easy, we keep on keeping on. If one path doesn't work, we try another way. We don't allow ourselves to get distracted or to go off track. We complete the tasks we choose to do. With determination, we will succeed.
Quote: "The difference between determination and stubbornness is that one comes from a strong will and the other from a strong won't." — UNKNOWN
The Practice of Determination
I am clear about what I want to accomplish.
I am committed to meeting my goals.
I focus my full attention on what is important.
I om what it takes to follow through.
I am flexible and persevering.
I finish what I start.
I am thankful for the gift of Determination.
It is the wind in my sails.
___________Questions for Discussion__________
How may determination help us in our social justice work?
What conditions need to be set so that we can act with resolve?
What may hinder us from staying on our social justice journey? How can we proactively remove roadblocks?
What distractions exist in our community? How do they move us away from our goals?
The Virtues Project is provided by the Community Foundation of the Virgin Islands in partnership with Virtues Matter.
Virtues Matter was started by a wife-husband team of social entrepreneurs seeking to positively uplift as many lives as possible. We aim to inspire and empower, to build capacity, strengthen relationships, and help everyone lead lives of passion and purpose.
Virtues Matter believes in a world where people are committed to kindness and respect, strive to be their best, and live with hope, courage, and in unity. We built the Virtues Cards mobile app, an interactive personal and team development tool, to help people identify and develop key virtues skills. We also offer dynamic workshops, online training, and customized programs to help people cultivate these positive qualities of character. To learn more, visit virtuesmatter.com.