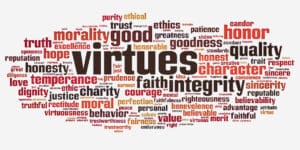 Virtue of the Week focuses on building peaceful and caring communities through understanding and fostering the practice of virtues. The Source supports the Virtues Project and will publish one virtue developed by the project each week.
Mindfulness
Mindfulness is living reflectively, with conscious awareness of our actions, words and thoughts. Awake to the world around us, we fully experience our senses. We are attentive to others' needs. We refuse to rush. Living mindfully lightens our lives by helping us to detach from our emotions. We transform anger into justice. We seek joy instead of mere desire. We cultivate our inner vision, aware of life's lessons as they unfold. Mindfulness brings us serenity.
Quote: "Can you cleanse your inner vision until you see nothing but the light?… Can you step back from your own mind and thus understand all things?"
The Practice of Mindfulness
I seek always to be awake and aware.
I am considerate of the needs of others.
I keep a pace of grace.
I do not allow emotions and impulses to rule me.
I cultivate my spiritual awareness with daily reflection.
I am a lifelong learner.
I am thankful for the gift of Mindfulness. It keeps me present.
What are the needs in our community that require our attentiveness?
What is our inner vision for our social justice work?
What would it mean to fully experience our social justice work?
What anger can we transform in our community?
Virtues Matter was started by a passionate wife-husband team of social entrepreneurs seeking to positively uplift as many lives as possible. We aim to inspire and empower, to build capacity, strengthen relationships, and help everyone lead lives of passion and purpose.
Virtues Matter believes in a world where people are committed to kindness and respect, strive to be their best, and live with hope, courage, and in unity. We built the Virtues Cards mobile app, an interactive personal and team development tool, to help people identify and develop key virtues skills. We also offer dynamic workshops, online training, and customized programs to help people cultivate these positive qualities of character. To learn more, visit www.virtuesmatter.org.