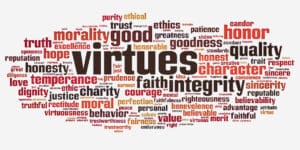 Virtue of the Week focuses on building peaceful and caring communities through understanding and fostering the practice of virtues. The Source supports the Virtues Project and will publish one virtue developed by the project each week.
Modesty
Modesty is a sense of quiet confidence and self-respect, which allows us to enjoy our accomplishments without inflating our self-importance. We have no need to brag or attract attention. We know we are worthy just as we are.
We have a sense of respectful privacy about our bodies. We have reasonable expectations of ourselves. We resist the drive to overdo. Modesty allows us to accept praise with gratitude. We have no need to raise ourselves above others. We share the glory. We are grateful for the gifts we have, and we honor the gifts that others have too.
Quote: "You have a good many little gifts and virtues, but there is no need of parading them, for conceit spoils the finest genius. There is not much danger that  real talent or goodness will be overlooked long,  and the great charm of all power is modesty." – Louisa May Alcott
The Practice of Modesty
I am comfortable being who I am.
I have no need to exaggerate my importance.
I treat my body with respect.
I refuse to overdo.
I share credit for success.
I am simply grateful for my accomplishments.
I am thankful for the gift of Modesty. It reminds me that I am enough.
How are we expecting to show up for our social justice work?
What gifts are we accepting in our community?
Is there any area in our life where we are overdoing something? Where is it? What would it look like if we released it?
How will modesty strengthen our social justice work?
Virtues Matter was started by a passionate wife-husband team of social entrepreneurs seeking to positively uplift as many lives as possible. We aim to inspire and empower, build capacity, strengthen relationships and help everyone lead lives of passion and purpose.
Virtues Matter believes in a world where people are committed to kindness and respect, strive to be their best, and live with hope, courage, and in unity. We built the Virtues Cards mobile app, an interactive personal and team development tool, to help people identify and develop key virtues skills. We also offer dynamic workshops, online training, and customized programs to help people cultivate these positive qualities of character. To learn more, visit www.virtuesmatter.org.