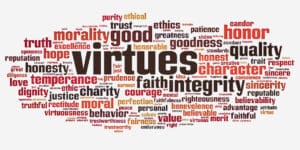 Virtue of the Week focuses on building peaceful and caring communities through understanding and fostering the practice of virtues. The Source supports the Virtues Project and will publish one virtue developed by the project each week.
Prayerfulness
Prayerfulness is a relationship with a power greater than ourselves, One that loves us and knows us intimately. We live in the presence of our Creator, mindful that every act, decision and thought is meaningful. Prayer is quiet reflection that cleanses the mirror of the soul. It is a sacred conversation that opens us to forgiveness, hope and renewed intentions. We listen and receive spiritual guidance. We ask for help, heighten our awareness and watch for it to come. Praying our gratitude keeps us in the flow of Grace.
Quote: "Call to me and I will answer you and show you great and hidden things that you have not known." — Jeremiah 33:3Judiasm
The Practice of Prayerfulness
I spend sacred time each day.
I pray my innermost thoughts, hopes, needs and fears.
I trust, listen and watch for answers.
I continually purify my motives.
I have an attitude of gratitude.
I live with an awareness of Divine presence.
I am thankful for the gift of Prayerfulness. It connects me to Grace.
What does staying the course look like in our community?
What does perseverance look like in your strongest relationships?
How is perseverance celebrated in our community?
What will help us remain steadfast and focused in our social justice work
How do we honor quiet reflection in our community?
Is there any area that we have closed off forgiveness, hope or spiritual guidance? Why? What would it look like to release it?
When do you find it easiest to ask for help? Hardest?
What are our motives for strengthening our social justice work?
Virtues Matter was started by a passionate wife-husband team of social entrepreneurs seeking to positively uplift as many lives as possible. We aim to inspire and empower, to build capacity, strengthen relationships, and help everyone lead lives of passion and purpose.
Virtues Matter believes in a world where people are committed to kindness and respect, strive to be their best, and live with hope, courage, and in unity. We built the Virtues Cards mobile app, an interactive personal and team development tool, to help people identify and develop key virtues skills. We also offer dynamic workshops, online training, and customized programs to help people cultivate these positive qualities of character. To learn more, visit www.virtuesmatter.org.