No one likes to pay for things they're used to getting for free.  That was all too evident at a town meeting at the Legislative Center in Cruz Bay called by the Virgin Islands Waste Management Authority on September 1.
The meeting was one of a series held on all three islands to introduce plans to charge for disposing of waste at the public landfills starting October 1
The plans will not affect residents of the island directly, at least not in the immediate future.  People will still be able to toss bags of household waste in the bins located throughout the island.  But commercial haulers—those that pick up waste from resorts, shopping centers, and construction sites, for example– will now face fees ranging from $31.28 to $65.26 per ton, depending on the type of waste.
Chances are good that the commercial haulers will be passing on their costs to their customers, which could mean price increases on all products and services throughout the Virgin Islands.
[adrotate group="6"]
The Waste Management Authority (VIWMA) is authorized by law to collect "tipping fees" and has made several attempts to do so over the past several years. With recent costly construction of a "wrap and bale" facility at the Anguilla Landfill on St. Croix and improvements at the Bovoni Landfill on St. Thomas, the authority is now increasingly motivated to recoup its expenses.
(The VIWMA built the new facility on St. Croix after the Federal Aviation Commission threatened to close down the Henry E. Rohlson Airport on St. Croix.  Officials feared that birds attracted by the nearby landfill could be sucked into a jet's engine and cause a crash.  For that reason, household waste stored on St. Croix is baled, wrapped in plastic, stacked, and covered at the landfill site.)
Because they are reaching capacity, both landfills are scheduled to be closed by 2020, according to Mario Leonard, director of solid waste for the St. Thomas-St. John District.
St. John does not have a landfill. The Susannaberg Landfill was closed in 2002 following a series of fires that burned for months at a time in the early 1990's.  The site has been converted into a transfer station where waste from St. John is sorted and processed before being hauled to the landfill on St. Thomas.
According to its most recent analyzed study in 2014, the territory spent $10.2 million on solid waste disposal on all three islands.  VIWMA hopes to collect $6.9 million from commercial haulers who unload the waste products at landfills by tipping the backs of their dump trucks—thus the term "tipping fees."   (It is now as common for haulers to bring their loads to the landfills in trailers.)
In order to collect fees, VIWMA has installed computerized weighing systems to measure and record waste left at the landfills on St. Croix and St. Thomas. The authority is planning to install a temporary scale at the Susannaberg Transfer Station on St. John within the next month.  (Further improvements, including new bins, repairs to the compactors, and a new traffic pattern at the site are in the works.)
When the scale is in place, haulers carrying waste on St. John will drive on to a scale as they enter the transfer station on St. John.  From there they will proceed to the tipping floor, a flat, concrete area where the waste material can be dumped and sorted for processing; recyclable materials can be collected and hazardous materials removed.
After a truck has offloaded its haul on the tipping floor, the truck is weighed again, and the fees for the materials offloaded are assessed.  Haulers who make more than ten trips per month will be given charge accounts.  Others may pay by check, credit card, or debit card.  No cash will be accepted.
Some haulers from St. John bring their loads of waste directly to the Bovoni Landfill by choice.  (The rates are the same at all three facilities.)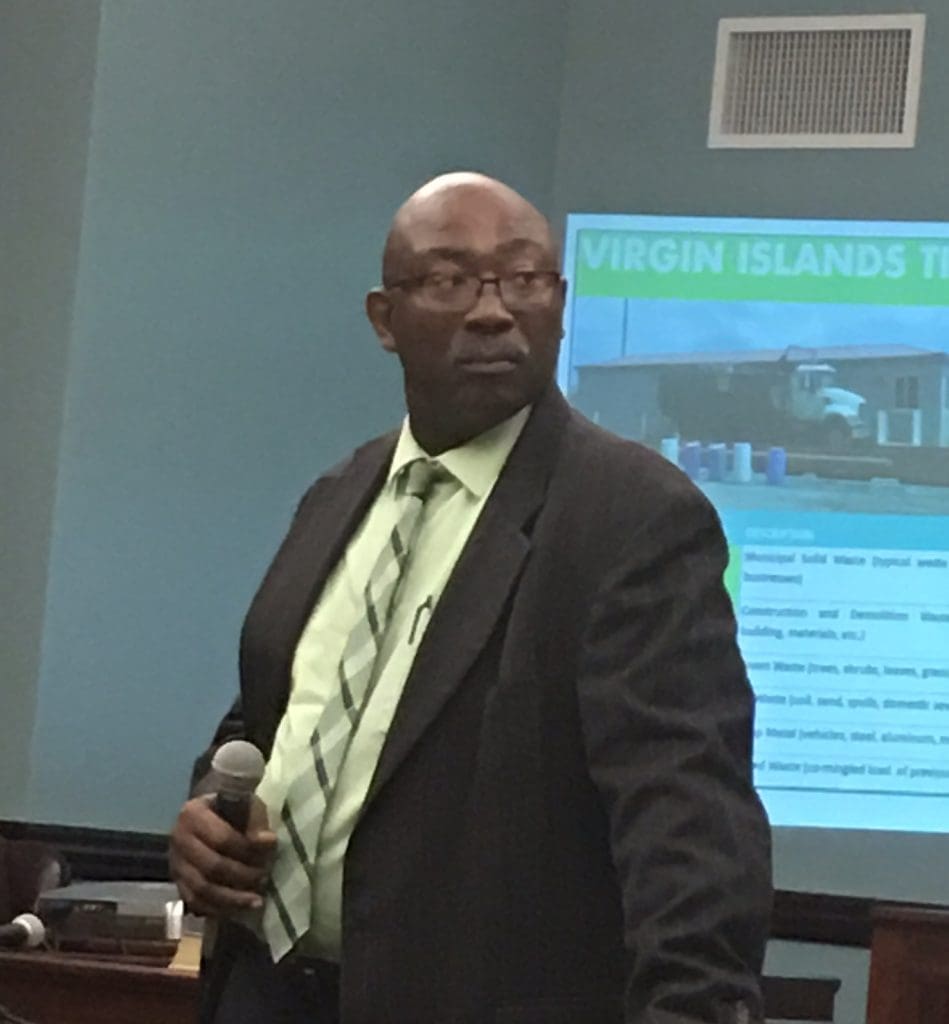 Mario Leonard said that the cost of removing residential waste from bin sites on St. John and transporting the waste to St. Thomas amounts to $1.2 million and is now funded through the St. John Capital Improvement Fund.  VIWMA plans to implement fees for residential customers on all three islands at some point in the future.
Several people attending the meeting questioned the fee scale.  "I don't have a problem with fees.  It's just that you're going from zero to one hundred.  It's sticker shock," said Steven Paris, who has a business that includes excavations and the transport of heavy materials.  Paris estimated that at the proposed rates, disposal of a truckload of waste—a service that used to be free –could cost as much as $1,400.
"The fees are not set in stone," said Steven Aubin, interim executive director of the VIWMA.  "They could change.  We're considering adjusting the $65 rate per ton for concrete. We've heard it from everybody at these meetings.  We're also considering implementing the fees in stages."
Aubin said that the rates will be set by the Public Service Commission and can be adjusted in response to a variety of factors.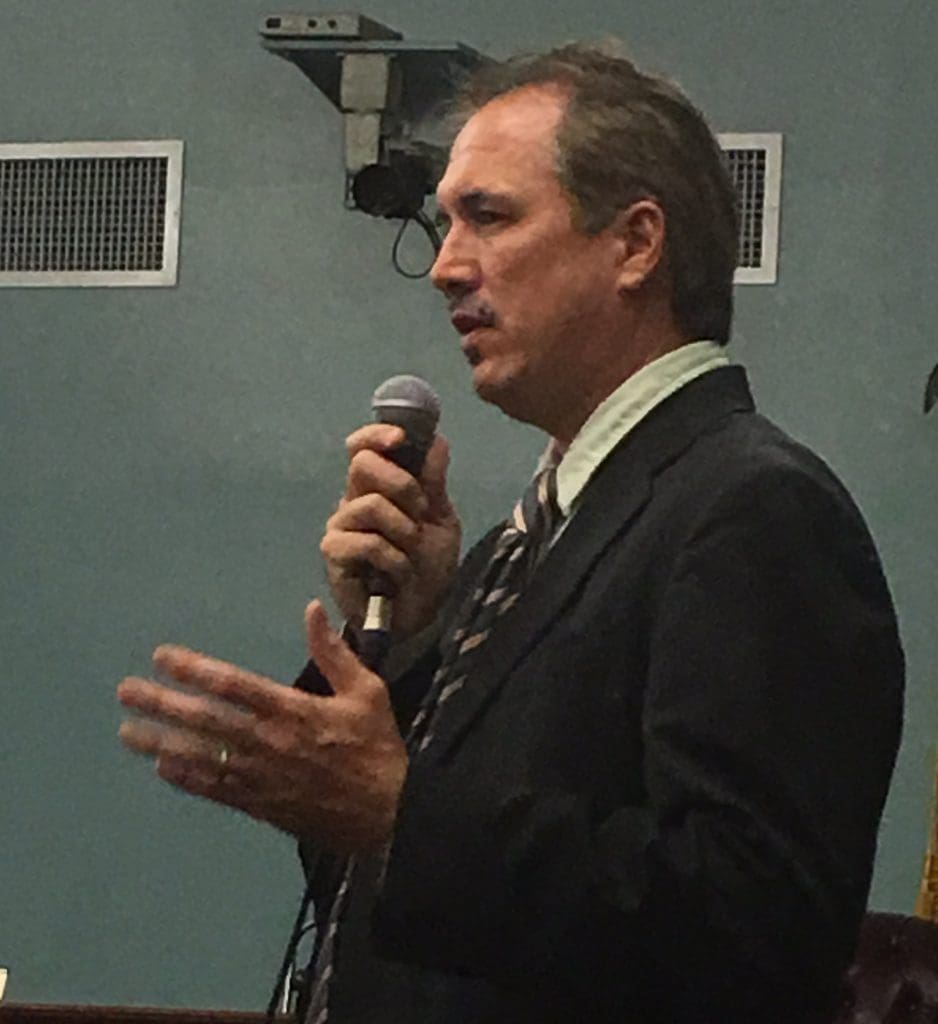 Several people attending the meeting also brought up the increased possibility of illegal dumping from people trying to avoid the fees.  "There's no way you can control the guy who gets up at 2:00 am and throws his trash on the side of the road," said Andrew Penn of Penn Trucking, one of the contractors for VIWMA who picks up household waste at bins sites.
Leonard admitted that VIWMA has a problem with businesses that dispose of their waste in residential trash bins rather than pay a commercial hauler for their services.
"They do it because the system is inefficient," Penn responded.  "We get a lot of blows because of these bins.  The haulers take away the trash and it's spick and span, and the next day it's back to the way it was.  These open bins have to go."
VIWMA has been in the process of removing open bins from St. Thomas and St. Croix and replacing them with "convenience centers." No site has been identified yet for one on St. John.
Elmo Rabsatt questioned VIWMA officials about how community groups will be charged when they do clean ups.  Aubin responded that groups that volunteer for clean-ups can contact the authority for a permit and will not be charged.
"I see many things [with the proposed fees that make me raise my eyebrows," said Kendell Anthony, a commercial hauler.  "It's been 12 years, and VIWMA still has no comprehensive recycling plan."
Aubin said that the Senate was considering three bills that address source separation and recycling.  "It's coming very soon," he said, "and it will bring opportunities for haulers."
Anthony said that over the summer, his business had to absorb the extra costs– including barge fees, Port Authority charges, and labor costs for crew– when the Susannaberg transfer station was limiting its service.
For several weeks over the summer, commercial haulers were unable to offload at the Susannaberg Transfer Station because of a backlog in collection services at the facility.
"Movement was impacted by limited barge service," Kysha Wallace, the acting communications manager at VIWMA, told Tradewinds.  "At one point there was only one barge in service, and it was not taking larger loads like trash until the Coast Guard made special allowances."
As trash piled up throughout the island, VIWMA made the collection at bin sites by its contractor a priority, limiting service at Susannaberg to smaller vehicles.  The barge situation impacted the entire community," Wallace said.
Visit the Virgin Islands Waste Management Authority's website to keep up with tipping fees implementation.