Bob and Sybil Celebrate Their 40 Years of Love for St. John
Mooie's was packed inside and out with music lovers on Tuesday evening as the Lefferts "Let The Good Times Roll!" Whistles and cheers greeted Sybil and her gifted friends as they played and sang old standards.
Sally Smith and Harvey Werbel on keyboard, Les Burnside on bass, Eddie Bruce on guitar with Adriana singing Latin favorites (Eddie even threw in a little RAP) and The Hot Club of Coral Bay making their Cruz Bay debut featuring Ike Eichenberg, Brion Silber, Laurie and Kay Keefe—what a wonderful evening at Mooie's surrounded by Ezio Marsh's murals of old time St. John.
Thank you Sybil and Bob for reminding us of the small-town atmosphere that we love so much. It will never fade away in the midst of over-development if we remember that it is the St. Johnians (visitors and residents) who care about the island and each other.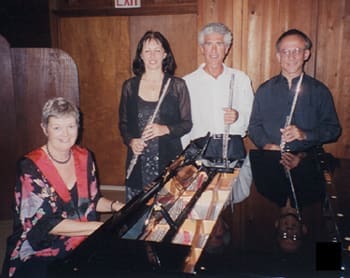 Banzhaf's Classical Concert
Imagine a giant change of tempo the following night at the St. John School of the Arts as Michael presented a very special benefit concert for the school. The rain had stopped, there wasn't a sound from the village, it was the perfect evening for enjoying Michael's flute solos, accompanied by pianist Sally Smith, flute duets with Rich Greengold and trios with Katha Ricciardi.
It didn't take much imagination to sit back and be transported to Carnegie Hall as these fine musicians filled the air with Vivaldi, Debussey, Mozart and Bach.
We at the school are grateful to Michael and his friends, and to the enthusiastic audience for their support. It was such a pleasure to listen to fine classical music played by friends we all know. Michael is planning an annual benefit, perhaps with a flute chorus. Wow!
"Music Man" Brings Blues Festival
This is the man who is constantly creating—the main show featuring James Cotton will be held at the Winston Wells ball park in Cruz Bay on Saturday, March 25, with a series of blues shows all that week.
Thanks to Steve and Helen for dedicating the festival to the art school. We are grateful.
And don't forget the Sunday afternoon jam at The Beach Bar 4 to 7:30 p.m. with the Jazz Islanders. Their rhythms will carry you through the week!
Big Bingo Night at Art School
Celebrate April Fool's night by winning the 50%-50% jackpot. Ronnie "The Pizza Man" Klingsberg is The Bingo Man. It will be a blast, especially if you take a big bundle home with you.
Come early, cash bar and a lot of laughs! Come to the art school on Saturday, April 1 at 7:30 p.m.