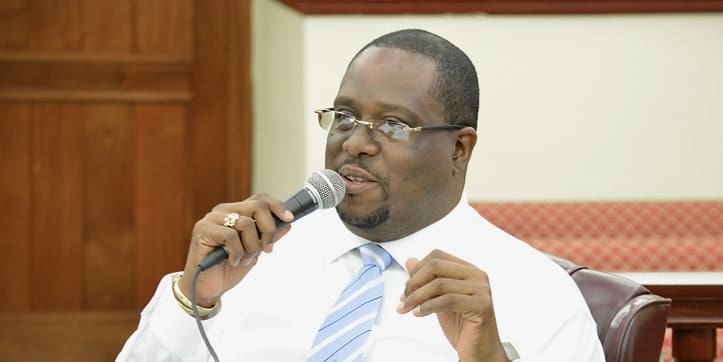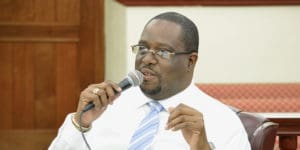 The Source asked every senatorial candidate ten questions, to fairly give every candidate an opportunity to tell our readers about themselves where they stand on some of the most pressing issues of the day. You can see all the candidates' responses and more election news here.
Sen. Kenneth Gittens is an incumbent Democrat running for reelection to represent St. Croix. Born and raised on St. Croix, Gittens joined the V.I. Police Department in 1990. He has a bachelor's and master's in criminal justice administration from Columbia Southern University. He retired from the police department after more than 20 years of service and worked for the U.S. Department of Homeland Security as an internal investigator. He was first elected to the Legislature in 2012.
Here are the responses from Gittens:
What will be your top priority as a legislator and why?
[adrotate group="6"]
Gittens: One of my top priorities this term has been addressing matters related affordable and reliable energy and in the 34th Legislature I will continue to work towards holding the Virgin Islands Water & Power Authority fully accountable. This quality of life issue impacts every single Virgin Islander, as even those "off the grid" face high prices at our supermarkets and elsewhere as a result of the outrageous power bills here in the Virgin Islands. WAPA's unreliable and expensive service is also derailing economic development, particularly here on St. Croix, at a time when economic diversification is especially critical.
The V.I. government had ongoing deficits before the pandemic hit and now faces a sharp loss in revenue due to a significant decrease in tourism. How can the territory avoid a fiscal shortfall that could force cuts to services and government layoffs in order to pay creditors first?
Gittens: I continue to say publicly that the Territory has more of a money management problem than a money problem. I have suggested that we start by addressing all the Government's leases, to include those of our public instrumentalities. The Virgin Islands is paying hundreds of thousands of dollars in rent each month and many of these leases can be renegotiated or canceled as some are literally for underutilized, or even unused, space. In the mean time we should be seeking federal funding to construct Government owned facilities, as well as rehabilitating dilapidated Government owned properties. I have also called for revisiting the Diageo Agreement given the exponential profits Diageo has realized in recent years. We must also form a legal task force to address the matter of the excise and sin taxes – too much money is being left on the table.
How will you help make government more transparent? Earlier this term I sponsored legislation requiring all semi-autonomous agencies to issue detailed quarterly reports, as from what we have learned over the last year from WAPA in particular, is that these instrumentalities have transparency and spending problems and are too often operating as if they are private enterprises. I will advocate for the enforcement of this reporting requirement and insist on greater transparency from all government agencies, to include the Department of Property & Procurement, where the majority of contracts, leases and purchasing is handled.
The V.I. Legislature has on many occasions enacted unfunded mandates, from mandatory swimming classes or the unfunded Durant Tower project in Frederiksted, that never occur due to the lack of funding. Will you vote for mandates that government officials have testified require funding that is not provided in the legislation?
Gittens: No.
The territory has around 120 boards and commissions at present, most of which are unable to make quorums and many, like the Civil Rights Commission, the Maritime Academy Board, the Commission on Caribbean Cooperation and the V.I. Wage Board, have not operated in many years. Would you ever vote to create another board or commission and if so, under what circumstances?
Gittens: I have both legislated and called for the consolidation of various entities to include combining our hospital boards, combining our elections boards, and placing all gaming, to include the VI Lottery, under a restructured Casino Control Commission. We must make a concerted effort to consolidate or eliminate some of these entities. During my tenure as Senate President, I requested that the Legislature's legal team make recommendations in this regard. Unfortunately, that project was not completed and must be revisited.
What would you propose to address the collapse of GERS in light of the $3 billion-plus shortfall and projected exhaustion of all funds between 2020 and 2024?
Gittens: In addition to reforms at GERS, we must find a new, reliable revenue stream. I will propose a departure tax for all non-residents leaving the Territory via our airports. Even a small fee would go a long way toward supporting the system, which simply cannot be allowed to fail. Every single island in the region imposes a tax of this kind -ranging from about $15 to more than $50 – and I do not believe our status as a United States Territory should prevent us from collecting a departure fee of some kind, even if we must call it by another name. I would propose that a portion of this fee be directed towards infrastructure and environmental protection measures, with the remainder going directly to support GERS. 7) Where do you stand on medicinal marijuana and what is the Senate's role in getting it on the market and generating tax revenue? Virgin Islands voters supported the legalization of medicinal marijuana by referendum and studies have long proven that some individuals realize tremendous health benefits from THC, CBD, and other cannabis compounds. The senate has queried and confirmed all individuals sent down to serve on the Cannabis Board and passed additional enabling legislation and funding in order to move our medicinal marijuana program forward, so it is unclear what more the Legislature can do in this regard. At this point, the Executive Branch must act.
What fuels violent crime in the territory and what should the government, nonprofit organizations and residents do to help alleviate it?
Gittens: Much crime is a result of a lack of opportunity, poverty, and a loss of a strong family and community structure. This is the reason why I continue to advocate for strong, community-based policing. Our officers must get back on the streets and in the neighborhoods getting to know the people they are sworn to serve and protect, to include those individuals who are problematic. The community-based policing I have advocated for will help rebuild a sense of trust with residents, who continue to be very hesitant to report crimes. As it stands now, most citizens only come in contact with law enforcement when a problem arises. I have been successful in pushing the measure for a new St. Croix police station forward and have been adamant about the need to include space in this new building for community meetings and positive interaction and engagement with our police officers.
Climate change is a growing threat to Virgin Islanders with a myriad of effects ranging from an increase in tropical storms to more severe health issues as a result of warming temperatures. What types of policies will you support to educate the community on the risks of climate change and to increase the territory's preparation and mitigation efforts?
Gittens: This is one of the reasons why I have advocated for our new government facilities to be built to a higher standard. We must anticipate more severe weather in the years ahead and with, proper planning, we can harden our infrastructure so that it is much easier for us to recover from the devastation of a major storm. It is particularly important that our electrical grid be built to withstand a significant windstorm. There are certainly areas of the island where the new composite poles have been placed, but they have yet to be tested. As WAPA's operations become more stable, we must direct money toward burying more of our power lines.
Why do you want to be a Virgin Islands legislator and why should voters choose you over other candidates?
Gittens: I have dedicated my life to public service, first as a law enforcement officer and now as a Senator. This term I have focused on accountability and improving the quality of life for all Virgin Islanders – public and private sector workers, consumers, seniors, students, and families. I have worked especially hard to expose and curtail wasteful practices and conflicts of interest found in many of our government and semi-autonomous agencies, to include the Virgin Islands Water & Power Authority. I have sponsored legislation, along with the support of other colleagues, to increase the qualifications necessary to serve on both the WAPA Board and the Public Services Commission, as well as to create a Ratepayer's Bill of Rights to assure Virgin Islands consumers basic protections. I am also the sponsor of Act 8327, which provides emergency paid leave to our frontline healthcare workers, first responders and other public sector employees in the event they are exposed to the coronavirus. Each day I continue to work to address a variety of health and safety issues, both great and small – from ensuring the cleanup of the La Reine Fish Market to directing the removal of abandoned vehicles near our schools and derelict vessels in our harbors. You can continue to count on me to help move our islands ahead with assertive ethical standards, a dedication to progress, and the best interest of the people always at heart.