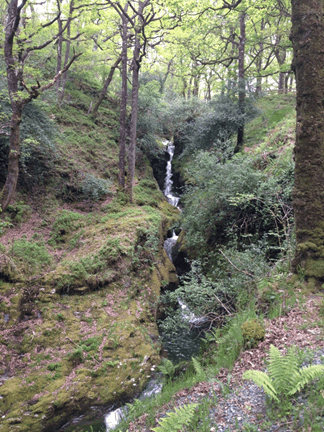 Third installment of the Tradewinds' "Young Authors" series. Interested in being featured as the next young author, please email stjohntradewinds@gmail.com.

By Scout
Age: 14
I woke up in a beautiful garden. There were twisting trees with moss growing on them, millions of flowers that looked as if they all had been set according to color, and large stones with glistening crystals growing upon them. And then everything that had happened came back to me. The quest, the forest, and the dancers.
First things first. I told myself. You need to get back on track. Although… why should I even help Collin? I could just try to find my way home. Okay, I thought, maybe if I climb one of these trees, I can see where I am. I found a sturdy looking tree, and began to ascend. I got to the top relatively quickly. On it I saw a Siamese cat perching like an eagle, and grinning as grotesquely as a chimpanzee. Yet, this grin looked oddly familiar.
"Hello little pussy cat." I said, trying to coax it into my arms so that I could return it safely to the ground.
"I don't need your help!" said the cat and started laughing evilly.  Yes, the cat.
"Stop laughing!" I told it sharply. "I think you could learn a thing or two about manners! Well… If you won't let me help you, then you should at least help me. Do you know where I am?"
"You are at the Jasmine Orchard. Quite a nice place if I say so myself," replied the cat.
"Do you know where I can find Corbath's cave?"
"Certainly," said the cat. "It is a fortnight's walk from here. But, of course there is always the shortcut. Just seven lefts and then walk straight and then you will see a large genip tree.  Tap it 14 times and then spin 21 times, and while you are spinning say the name of your destination."
"Thank you kitty," I replied. And I descended steadily down the tree.