Okay, I'll admit, this article is not about sustainable energy. But it is about sustainable living. Not in the carbon footprint sense but as in wellness of health sustainable living !
As most of us know, if you do not qualify for Medicare or Medicaid, and you do not have health insurance through an employer, there are almost no health insurance options available to us here in the Virgin Islands. And even for those with insurance, treatment on island can still be expensive, often requiring a long wait to see a doctor or a trip to St Thomas.
Last week, suffering from a bad earache, I visited the new Island Health and Wellness Center located in Palm Plaza, by the Westin.
I called ahead and asked if I could do a quick walk-in, and they said yes. I drove on over and walked in. Andi Vacharat, the receptionist and one of the co-founders of this wonderful new medical treatment facility, greeted me and told me I was their first walk-in!
[adrotate group="6"]
I then met the other co-founder, nurse practitioner Sandy Colasacco. After I filled out the necessary paperwork, Sandy led me into the examination room where she took my vital stats and inquired about my earache. She examined my ear, found it a bit inflamed, and prescribed some ear drop medication. This all took about 10 minutes! I paid my $50 fee and was on my way. Pretty painless and pretty cheap if you ask me.
Sandy and Andi have worked hard to make this small clinic a reality on St John. About a year ago, they passed out questionnaire forms to the public to see if the need was there and how they could address it (you can read the survey results on the clinic's website). They then applied for grants, took many special courses, gone through all the government hurdles and regulations, and invested their time, money, and energy to offer an affordable health care option for St John. Dr. Marilyn Nutter is also part of the staff as a collaborating physician.
Island Health and Wellness Center is a non-profit organization, and St John is very fortunate to have the support of many donors who have made this clinic a reality.
For more information you can go to their web site at islandhealthcenter.org, or call them at 340-714-7240. Oh yes, and my ear ache did clear up very quickly. Thank you, ladies!
For a greener tomorrow,
Dan Boyd
Lovango Cay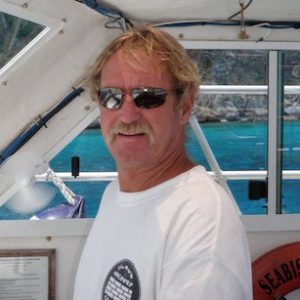 Dan Boyd of Island Solar is a Virgin Islands Energy Office authorized vendor. For more information, call Boyd on his cell phone at 340-626-9685 or by email at islandsolarvi@gmail.com.