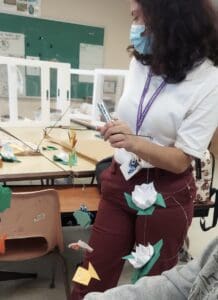 "Youth Art Month" opens at Crucian Heritage And Nature Tourism in historic downtown Frederiksted Saturday, March 19, 5 p.m. to 8 p.m., and will continue through April 16. The annual event occurs nationwide. Locally it captures and displays the artistry of the U.S. Virgin Islands youth in several genres.
Youth Art Month, initially called Children's Art Month, was founded in 1961 by the Crayon WaterColor & Craft Institute Inc., the predecessor of the Art & Creative Materials Institute Inc. in cooperation with the National Art Education Association. It was renamed in 1969 to include secondary art students.
The history of Youth Art Month has worked its way through years and events and families and students to make its presence visible to what is now celebrated locally since 2006, promoting art education in schools and paying tribute to art students as they share their work with the community.
St. Croix Central High School Fine Arts Department Chairperson Niarus Walker founded the V.I. Youth Art Month. The program was a private collaboration between the schools and other organizations that focus on the arts to celebrate secondary school students. There is a need for support in the lives of students and art education in the schools, Walker said.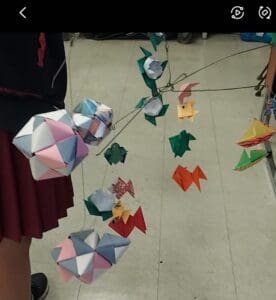 Maria "Irieah" Stiles came on board as a participating art teacher shortly after Walker founded the art education advocacy initiative. The two worked together coordinating until Stiles took over the reins completely as coordinator/curator and added St. Thomas and St. John in 2018. The Virgin Islands Children's Museum invites the public to its Student Art Exhibit at Buccaneer Mall this March.
In a conversation with the Source, Walker spoke candidly about art as a subject that augments the core subjects in the curriculum. "In the arts is where all the subject matters come to roost. In art we use the sciences, we talk about history, we use math, we read, we analyze, and we use critical thinking skills," said Walker
"It's not about making pretty pictures," explained Walker. "Some of my students are not always happy about the art they have made, but I guarantee you they have learned something. The community needs to understand that art helps students with decision-making skills."
Walker quoted the late Elliott Eisner, who was a professor of Art and Education at the Stanford Graduate School of Education, saying, "Art helps students to take creative risks.  The arts teach children that problems can have more than one solution and that questions can have more than one answer."
"In art, students are not afraid to make a mistake. School systems penalize children for making mistakes instead of helping to turn that mistake into something good and positive. But in the arts, a mistake can be what propels art to the next level. It helps the student to make decisions," Walker said.
Walker spoke of an incident where a student spilled red paint on her artwork and saw it
as a disaster. The student wanted to give up, but Walker told her to change that into something and make it part of her work. It was a "happy accident" that changed the student's work and made it even better. "That is what the arts can do in building self-confidence," Walker said.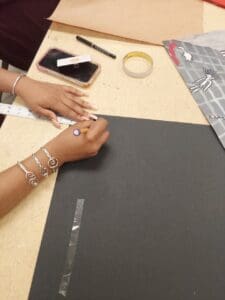 Students had been online for so long during the COVID-19 pandemic that Walker was not so interested in their technique as she was in them expressing themselves and being able to communicate visually. They were not allowed to put any words in the pictures. She did have them write about it afterward. So, as the community reads their written words, they will see what they got out of it, why they did what they did. It's important that the viewer understands the whole point of the students' art, Walker said.
"Strong arts, strong schools. The arts are always keeping their heads above water. Art for art's sake is important. It doesn't mean you have to make a diagram for science. Yes, it could be. But that same scientific diagram can be used to express a socio-emotional concept. When we did physics in my class, did we know what the physics theory was … no," said Walker.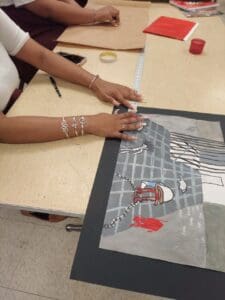 "But in art we learn how to create a mobile and learn how to balance each object. We learned where the balance point was. What was the weight at the end of the object we were trying to balance. The students learn that. We didn't figure out a mathematical equation. While we were doing it, we were learning. And they had a good time. They had fun. Yet, art isn't just about having fun. We cover all of the other core subjects. This is where they come together and they have meaning," said Walker.
Walker believes, "When you set up a child in an education system where they are terrified of failing, you are setting them up to fail. When you are afraid of failing, you don't try and by default, you fail."
Schools, organizations, and individual youth artists will be represented at Youth Art Month, including:
St. Croix Central High School
ACT OUT Theatre & Social Justice Camp
St. Croix Educational Complex High School
Lew Muckle Elementary School
Mystical Home School
Maria Banwaree Art Studio
Good Hope Country Day School
St. Mary's Catholic School
United Caribbean Union
University of the Virgin Islands
Music in Motion Dance Company
I AM David Hamilton Jackson Project
CMCArts
Pearl B. Larsen School K-8
For more information and to schedule a school group tour:
Youth Art Month St. Croix, 340-643-6183
Virgin Islands Children's Museum, 340-643-0366