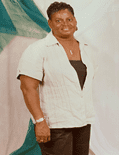 Yvette Myrna Walters died at her residence on St. Thomas on Aug. 23. She was 64 years old.
She was preceded in death by her parents: Ionie Walters and Nathaniel Woods.
Yvette left to mourn her sons: Leroy and Shermel Osborne on St. Kitts, and Shamoy David in New Jersey; daughters: Jahmana Walters on St. Kitts and Tamara Walters in Tampa, Fla.; grandchildren: Veisha David, Shamara Bannis and Tamisha Athill; great-grand daughter, Daveisha Woods; and brothers: Nathaniel Freeman in Canada, Calvin Freeman in Anguilla, John Freeman on St. Thomas, Franklin Maynard in N.Y., Oliver Freeman on St. Kitts and Charles Walters on St. Kitts.
She is also survived by sisters: Irene and Yvonne Walters, Carol Williams and Syllvene Henry, all on St. Kitts; 10 nieces; 5 nephews; 3 great nieces; 1 great nephew; longtime partner, Robert "Dude" David; special friend Apha Maynard; friends: Eraine Duncan and Violet Pince on St. Kitts, the entire staff at Ranger American Security and the entire congregation at the Kingdom Life Church.
The viewing will take place at 9 a.m. followed by funeral services at 10 a.m., Friday, Sept. 10, at Kingdom Life Church. Interment will be at Eastern Cemetery. Arrangements are entrusted to Turnbull's Funeral Home.