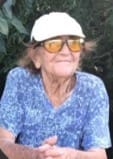 The family of Yvonne Clemence Ledee of St. Thomas regrets to announce her passing on Monday, June 27, at the age of 90.
Yvonne was born on St. Barthelemy on March 24, 1932, to Alcide and Josephine Clemence Ledee. She was one of five children.
She is preceded in death by her brothers: Philibert Ledee, Jean Batiste Ledee, Louis Ledee and Joseph Ledee; sisters-in-law: Anne Marthe Laplace-Ledee and Claudy Almore-Ledee.
Yvonne is survived by her sister-in-law, Naomi Ledee; nephews: Thierry Ledee, Felix Ledee, Louis Lopez and Fred Ledee; nieces: Margolaine Ledee-Lopez, Shirley Querrard-Ledee, Chantale Ledee, Lydia Ledee, Corine Ledee and Ruth John Baptist; great nieces: Nicole Perry, Stacy Ledee and Fiona Andrew; great nephew, Thomas Ledee; as well as other family and friends too numerous to mention.
The church services will be held at 9:30 a.m., Friday, July 8, at Our Lady of Perpetual Help Parish. Interment: Cremation at St. Barthelemy, FWI.