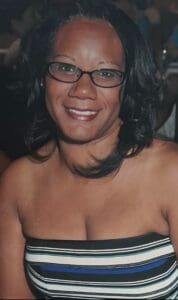 Yvonne Monica Thomas, 54, died May 10, on St. Croix, U.S. Virgin Islands. Yvonne was born on St. Thomas, U.S.V.I. on Dec 3, 1967, to Warren Alston Thomas and Ruth Alicia Thomas.
Her education begun at George Washington Elementary School (currently known as Evelyn Marcelli Elementary School), but later, she transitioned to New York, where she lived and attended a Catholic school. She graduated from George Washington High School in 1986 and then graduated cum laude in May 2002 from John Jay College of Criminal Justice with a Bachelor of Science. Upon returning to St. Thomas, Yvonne attended the University of the Virgin Islands and obtained a Master of Arts in Education in May 2005. Then continuing her education, she obtained a Master of Science in Education Law July 2012 from Nova Southeastern University located in Fort Lauderdale, Fla.
Monica, as she was called, held numerous jobs in the community: V.I. Bureau of Internal Revenue, VI Department of Education, All Saints Cathedral School (former educator and principal), V.I. Department of Human Services and V.I. Department of Health as a program manager.
She was a caring, loving, generous and compassionate woman. As an avid reader from a young age, she read thousands of books over the years. She also loved to bake, travel, go to the beach and spend quality time with her family.
As a devoted child of God Monica, enjoyed working with children and was involved for years with the Missionettes and Children's Church programs.
Monica was survived by her mother, Ruth Van Holten; father, Warren Alston Thomas; and stepfather, Almando Van Holten; sisters: Yvette Hodge-Brown and Charlotte Thomas; brothers: Derek Van Holten, Dean Van Holten and Craig Thomas; aunts: Norma Thomas, Patrica Thomas-Robinson, Lorraine Thomas, Eslyn Dewindt, Marjorie Dewindt and Stephanie Vanterpool; uncles: George Thomas, Lief Thomas, Burt Thomas, Alvin Thomas, Victor Plaskett, Wayne Thomas and Leroy Robinson; and nieces: Jamila Brown, Tinesha Brown, Tinequa Brown, Mia Van Holten, Nickelle Van Holten and Jordin Thomas.
She is also survived by nephews: Jeffrey Brown II, Jaden Van Holten and Kameron Thomas; and Anna's Fancy No. 18 For Life Cousins: Neville Robinson, Norma Robinson, Nicole Byron, Nathalie Hughes-Erskine, Dionne Nickeo, Donald Dewindt, Danielle Smith, Ayanna Thomas, Asana Thomas, Jomo Thomas, Altheia Davis, Doris England-Farrell, Anthony Fleming, Deseri Hector, Natasha Freeman-Lanclos, Nyshia Thomas-Brooks, Delroy Thomas, Carema Thomas-Swan, Carshema Thomas, Tiffany Thomas, Carl Van Beverhoudt, Mark Thomas, Carla Thomas, Bryan Thomas, Kim Thomas, Simone Thomas, Burton Francis, Dale Francis and Vance Francis.
other survivors include cousins: Dwayne Francis, Dana Francis, Donna Francis, Yvette Thomas, Papi Thomas, Quincy Thomas, Pamela Thomas, Denise Thomas and Sandra Thomas; sister-in-law, Jacqueline E. Van Holten; brother-in-law, Jeffrey P. Brown; special friends: Adona Fleming and family, Marlene Plaskett, Mr. and Mrs. Alanzo Brady, Rita Smith and family, Vernita Joseph, Dr. Stephen Okiye and family, Dr. Hilary Woodson, Valerie Mills, Mr. and Mrs. Stanley Fleming, Kurt Hendricks, Rebecca and Sammie, Hugo Hodge Sr. and family, The family at Discount Car Rental, the MCH family, the Donadelle family, and the Brown family.
The first viewing will be held from 4-6 p.m., Friday, June 3, at Turnbull's Funeral Home. The second viewing will be held from 9-10:30 a.m., followed by a funeral service at 10:30 a.m., Saturday, June 4 at Frederick Lutheran Church.
The family requests that everyone wear festive colors, and a face covering is required.