Friends of Virgin Islands National Park's 13th annual Earth Day celebration will take place in Franklin Powell Park on Friday, April 22. Friends puts together the annual environmental fair for St. John school students each year. The event's focus is on learning how to work and live sustainably in the Virgin Islands.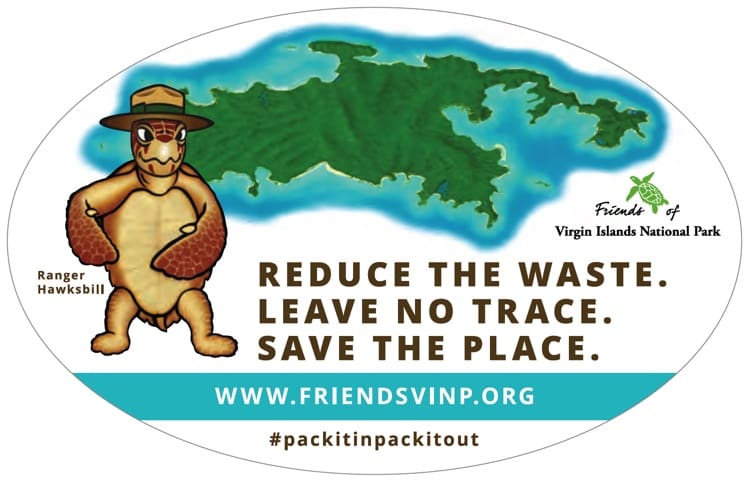 Celebrations throughout the week include a community tree giveaway, a seminar on coral reef protection, a Cruz Bay trash pickup, and a book signing. This year's theme suggested by Gifft Hill School's Honor Society is: Reduce The Waste. Leave No Trace. Save The Place.
"Earth Day is a celebration of the beauty and wonder our world holds as well as a very real reminder of the challenges our planet, our island, and our park face when it comes to natural resource protection and sustainability," said Tonia Lovejoy, Executive Director of Friends. "The particular joy of the Earth Day Fair is the opportunity to excite our youth about issues as far-ranging as recycling, trash pickup, planting, turtle and reef protection, and more. Their engagement and the passion and support of some 23 organizations and businesses in the activities planned throughout the week is much reason for hope. Together we can make difference in our small corner of this beautiful world."
The Earth Day Fair kicks off with a Litter Stomp Parade led by VI Waste
Management's Litter Critter, and includes the announcement of the winners of an Earth Day poster competition, a book giveaway, and booths on coral reef protection, Cruz Bay history, recycling, and face painting.
Earth Day is made possible thanks to our partners and sponsors:  Liberty Foundation, Virgin Islands Waste Management Authority, Therapy Works, USVI Sports, Park & Recreation, USVI Tourism, Island Green Living, and Virgin Islands National Park.
EARTH WEEK EVENT SCHEDULE
WEDNESDAY APRIL 20
Annual Tree Giveaway | 8 AM to 9:30 AM | NPS Visitor Center pavilion | 600
trees available on a first-come, first-served basis.
Virtual Seminar | 12 PM to 12:45 PM | Reef Smart Is Reef Safe | Katie Day
(Surfrider Foundation) & Jeff Miller (Formerly NPS) talk about the challenges and opportunities related to coral reef protection.
Poster Competition submissions are due.
FRIDAY APRIL 22 | EARTH DAY
Earth Day Fair | 9 AM to 2 PM | Franklin Powell Park

9 AM Festival opens.  Booths include recycling, birds, coral life, fruit
tree planting, face painting, and more!
11 AM Poster Contest Judging
11:30 AM Litter Stomp Parade around the Park
12 PM Sanitation Workers Appreciation Lunch
2 PM Festival closes
SATURDAY APRIL 23
Cruz Bay Trash Pickup | 9 AM | NPS Visitor Center pavilion
Kayden Richards Photography Book Signing | Bajo El Sol Gallery | 4 PM
Visit the Friends Earth Day page on the website for the Earth Week schedule, a list of the booths and participating organizations, and more at https://friendsvinp.org/earth-day/.