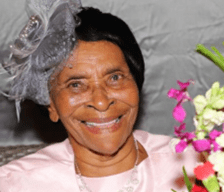 Relatives and friends are advised that Ann Frances Peters was called home to be with the LORD on Dec. 13 at her home on St. Thomas, U.S. Virgin Islands, at the age of 93.  Mother Ann Peters was born on the Isle of Montserrat on July 16, 1928.
Ann was preceded in death by her parents: Samuel and Elizabeth Lee of Montserrat; her husband, Augustus "Gus" William George Peters, formerly of Dominica, St. Kitts and St. Thomas.
She is survived by her sons: Alexander and Cyril Peters; daughters: Esther, Rose, Martinette, Myrtle, Palmin and Sybilla Peters; adopted daughters: Corene King and Janiece Hill; grandsons: Tevje Maillard, Cyril Peters Jr. and Alexander Peters ll; granddaughter, Destiny-Anh Peters; great-granddaughter, Alexandria Peters; daughters-in-law: Diann and Alexandra Peters; granddaughter-in-law: Jennifer Woodruff; nephews: Peter Daley and Alfred Greenaway; nieces: Janet Daley and Meryl Greenaway; great nephews: Rohan Daley, Drago Johnson, Simon Riley and Thomas Silver.
She is also survived by great nieces: Petranella Cameron, Jenessa Greenaway, Evelyn Lee, Olivette and Sylvia Johnson, and Jessica Silver; great-great nephew, Noah Silver; great-great nieces: Andrea Lee and Ella Silver; and godchildren: Averil Williams and Annesa Gayle; and Bishop Earl and Lady Grace Harrison, Jeremiah Harrison, Bishop Glenville and Lady Erica Thompson, Pastor Lucia Woods, Bishop John Roberts and family, Pastor George Bess, Pastor Bernaby and Minister Deborah Joseph, Pastor Agnolia Martin, Reverend Doriel Connor, Earl and Patricia Pinney, and Isidore Wiltshire.
Other survivors include special friends: Adina Harrigan and family, Marilyn Carr, Berthe Warner, Joe Chalwell, Glenville Todd, Valentine Baptiste, Lillian Calbourne, Lorenzo Claxton, Donovan and Arlene Gayle, Edris Hill, Mavis Caine, Brother and Sister James Nibbs, William Rawlins, Robert Semper, Harriett Hamilton, Dennis Richardson, Venetta Osborne and family, Elaine Mercer, Stephanie King, Gertrude Duncan, the Congregation families of Mount Zion Church of God and Kingdom Life international Christian Center; as well as many other relatives and friends too numerous to mention. Special mention includes loving pooches: Pepper and Dexter.
Relatives and friends are respectfully invited to attend a first viewing from 4-6 p.m., Friday, Jan. 7, 2022, at Turnbull's Funeral Home and Crematory Services.  A second viewing will be held at 8:30 a.m., Saturday, Jan. 8, 2022, at Mt. Zion Church of God, followed at 9:30 a.m. by Mother Peter's Celebration of Life service. Interment will be at Western Cemetery No. 1.
Funeral arrangements are under the care of Turnbull's Funeral Home and Crematory Services.
All COVID-19 protocols will be observed.
Family and friends may offer their support by sharing a special memory, photo or message by going to turnbullsfuneralhomevi@yahoo.com.