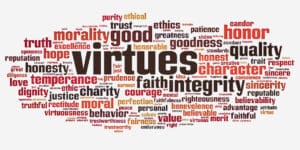 Virtue of the Week focuses on building peaceful and caring communities through understanding and fostering the practice of virtues. The Source supports the Virtues Project and will publish one virtue developed by the project each week.
Endurance
Endurance is our ability to withstand adversity and hardship. We practice perseverance and patience when obstacles arise, open to the lessons bring. We don't give up or feel hopeless about ourselves. We hold on. Endurance hones our character and seasons our souls. Weathering the inevitable challenges in our relationships deepens trust and loyalty. It makes love abiding and strong. The early navigators who plotted their course with nothing but the stars became strong, confident sailors. When trouble comes, endurance gives us the strength to stay the course.
Quote: "Endurance is not just the ability to endure a hard thing, but to turn it into glory."   — William Barclay
The Practice of Endurance
I find the strength to live through adversity.
I seek the lessons in hardships.
I do not let troubles keep me down.
I accept the challenges love requires.
I have lasting relationships.
I gain confidence by not giving up.
I am thankful for the gift of Endurance. It fortifies my will.
Questions for Discussion
In our social justice work, what does holding on look like?
What helps you endure through hardships and adversity?
How have your strongest relationships endured?
What challenges are we willing to accept in terms of our social justice work?
Virtues Matter was started by a passionate wife-husband team of social entrepreneurs seeking to positively uplift as many lives as possible. We aim to inspire and empower, to build capacity, strengthen relationships, and help everyone lead lives of passion and purpose.
Virtues Matter believes in a world where people are committed to kindness and respect, strive to be their best, and live with hope, courage, and in unity. We built the Virtues Cards mobile app, an interactive personal and team development tool, to help people identify and develop key virtues skills. We also offer dynamic workshops, online training, and customized programs to help people cultivate these positive qualities of character. To learn more, visit www.virtuesmatter.org.