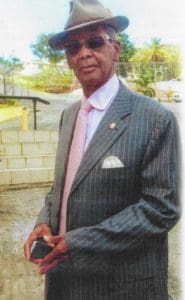 Bishop Amos Carty Sr. died on Feb. 15 at the age of 82 at his residence.
He is survived by his son, Amos W. Carty Jr. Esq.; daughter, Cherri N. Carty; daughter-in-law, Verna T. Carty; grandsons: Amos W. Carty III and Amorie V. Carty; sisters: Precious A. Carty, and Roslin R. Vanterpool and family; brothers: Maxwell D. Carty and family, and Joseph V. Carty and family.
He is also survived by the children and grandchildren of the late Hopeful H. Carty, Hannah B. Cart-Laws and Marmion A. Carty.
Other survivors include special friends: Bishop and Mrs. Adrian L. Varlack Sr., Ernest Knight, the Knight and Vessup families, Veda Cognette and the Hodge family, Emily C. George, Lorna George and the George family, Bishop and Mrs. Kenneth M. Benjamin Sr. and family, Bishop and Mrs. Carswell A. Leonard, The Honorable Brenda J. Hollar, Mr. and Mrs. Eyeston Austin, Mr. and Mrs. Dolston Samuel, Bishop Dr. and Mrs. Melroy Meade, Bishop and Mrs. Brice H. Thompson and family, Mr. and Mrs. Elwin Frett and family, Ms. Josephine Carty, Ms. Joyce Commissiong, Ms. Edna Brooks, Ms. Vadis Springette and family, Ms. Cleone Creque and family, Ms. Bernadine Lloyd, the Lloyd, Coker and Petty families, Ms. Ruth E. Frett, Ms. Sherel Glasgow, Ms. Cassandra Hedrington, Mr. and Mrs. David Gordon and family, Ms. Sharon Gordon, Ms. Majorie D. Clarke, Deacon and Mrs. Rudolph McBean.
Relatives and friends are respectfully invited to attend the first viewing from 5-7 p.m., Friday, March 18, at Celestial Chapel of Dan Hurley Home for Funerals.
The second viewing will take place at 9 a.m. followed by a funeral service at 10 a.m., Saturday, March 19, at Church of God of Prophecy. Interment will be at Western Cemetery No. 2.
All COVID-19 protocols will be observed.
For online condolences and directions, please visit our website at www.hurleydavisfuneralhome.com