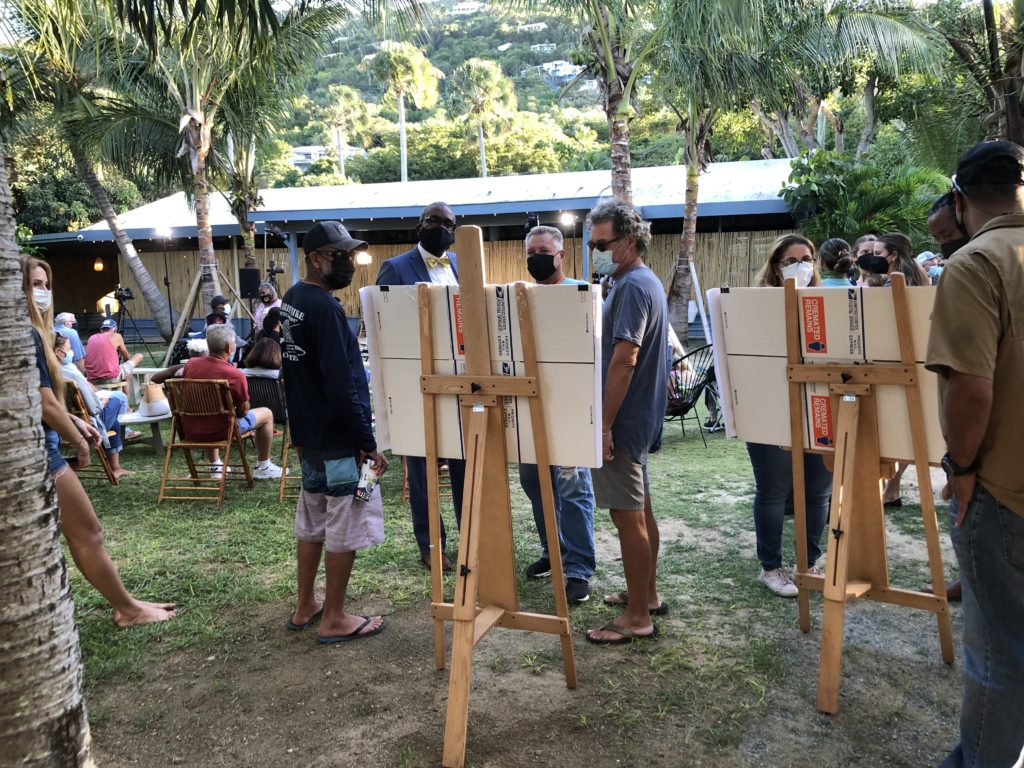 North Side residents did not hold back Tuesday night at a town hall meeting with the governor that was billed as an opportunity to learn about the new boat ramp planned for Hull Bay.
Residents voiced concern at plans that call for the ramp project to go out to bid in March and begin construction in the summer – hurricane season – with no guarantee a temporary ramp will be put in place to accommodate the many North Side fishers who make their living from the sea.
Some questioned whether a new boat ramp design is needed at all, at times yelling that the new launch should just replicate the old.
And while the plans call for improved parking on a quarter acre at the west end of the bay to help accommodate 12 to 15 boat trailers, some voiced anger that parking is scarce for locals since a food truck opened last month in conjunction with two villas and six cottage vacation rentals constructed across from the beach, with no requirement that the restaurant provide its own parking because it is grandfathered under long-ago zoning laws.
The ramp project has been 10 years in the waiting, with funding finally allocated by the V.I. Legislature in 2021. Plans call for the new ramp to be 27 feet longer than the existing structure, to enable boaters to launch on a gentler slope and into deeper water than the current 2½ to 3 feet, said Department of Planning and Natural Resources Commissioner Jean-Pierre Oriol.
Oriol attended the town hall along with Lt. Gov. Tregenza Roach, Public Works Commissioner Derek Gabriel, V.I. Police Commissioner Ray Martinez, and St. Thomas-Water Island Administrator Avery Lewis. More than 200 residents filled the grassy courtyard at The Hideaway, where the meeting was held.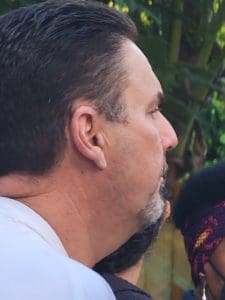 "You've given a timeline of summer, and you've stated that the ramp will be shut down to use. If you look out into that bay – there's a lot of boats in that bay and summer is hurricane season," said Robert Greaux. "So you're pretty much telling a lot of the guys here that have got their boats in that bay that they've got to either pull their boat out and not fish for the time frame that this ramp is being built, or leave their boat in the water and take a chance to have to rush to pull their boat out if a storm is on the way," he said.
"They have to go all the way around to the other side of the island to pull a boat, to bring it all the way back up to the North Side again," said Greaux, who said that many of the trailers are fine for short hauls, but not up to that journey.
While a temporary ramp is an option, and funding can be put towards that, said Oriol, "what I think we were going to do is plan on scheduling this properly so we're not creating an impact, particularly during the more active portions of the storm season."
To which Greaux replied, after hurricane season comes ground sea season in Hull Bay.
"You have very volatile seas here. You have times where it's last minute, you run down after work, you're pulling your boat out of the water because the ground sea is building. You don't want your boat staying here in some of these ground seas that come through, because you won't have a boat the next day," said Greaux.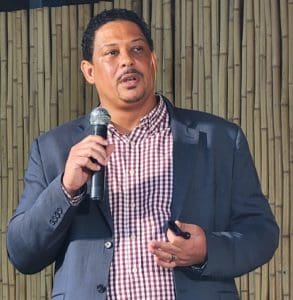 "We agree with you 100 percent," said Oriol. "If you look at the renderings you will see how much armoring we're putting around the ramp itself. … We're very aware of the ground seas in the area," he said, referring to the official plans erected on nearby easels for people to view.
While Oriol also assured the crowd that all environmental studies and reviews have been completed by his department, and permits issued by the Army Corps of Engineers, resident Joseph Berry said a longer ramp will change the flow of the water – and destroy the beach.
"Looking at the map, extending a dock that high is going to change the water flow coming through the beach. On a west swell the water channels a certain way. On an east swell, the water travels the other way. I see the sand getting stuck in one corner and the other side going into a pond," said Berry. "There needs to be water flow. It can't be just a dock straight out. It's going to end up like Mandahl, and it's going to be half a beach left and the rest is going to be rock."
Bryan later in the meeting acknowledged the issue is a genuine concern and would be considered as the project is finalized.
Regarding parking, and whether spaces will be designated for boat trailers, "our goal is to create ample parking space for multiple users, including the launching of vessels," said Oriol, which riled the crowd.
A former boatyard at the bay was shut down when the vacation villas and cottages were constructed on the property adjoining the former Hull Bay Hideaway restaurant, which is now home to the food truck.
"Is it for the restaurant?" asked Randy LaPlace.
"We're trying to increase the parking area," said Oriol.
"I want you to elaborate that it's for us. That's what I want. For us. For the people on the North Side who launch their boat every day, who go fishing and everything," said LaPlace.
"It's a public parking space," said Oriol.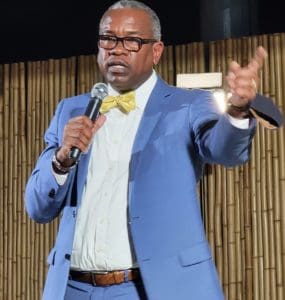 "No good deed goes unpunished," said Bryan. "We're building the parking because when I came down here, they told me it was taken away by the construction that was going on, and people needed someplace to park, so that's why we're doing it. … Of course, people are going to park there, but it's primarily for the fishermen. Monday morning, Sunday morning, when you guys going fishing, there ain't going to be nobody in the parking lot," he said.
But still, Crystal Bryan wanted to know why the food truck and vacation rentals were not required to provide their own parking.
"So to finish the thought, we currently have some issues with parking that we never had before," said Bryan, to applause from the crowd. "When I was a little girl growing up, the parking for this establishment was here," she said, pointing to the side of The Hideaway restaurant area. "Where is the parking for this establishment," she asked.
"Primarily outside," said Oriol.
"What is the purpose of this project? Is it for this establishment or for us," she asked, pointing to the villas that now front the road across from the beach.
"I heard this, the buzz about this. This has been in design for 10 years. There was never enough money to do it. The people asked me to do it. And I went, found the money, I went to the Legislature, we appropriated money to do it, for the fishermen," said Bryan, who said the current Hideaway property owner, Lee Steiner, did not even own the land at the time.
"The rumor mill is always the rumor mill, but we do this for the people. If other people use it, whether they're coming to the restaurant, we can't control that. We're just trying to make it better. Right now it ain't good at all. People parking in the road," said Bryan.
Rattling off a laundry list of projects throughout the territory since federal money has become available through Irma and Maria disaster funding, and COVID-19 economic relief, Bryan said "we just want the place to get back to where we can be proud of our Virgin Islands. It got nothing to do with anybody and their business. This is for the people," which drew a round of applause from the crowd.
Still, questions persisted about the design of the ramp, and how it might change the beach, as well as parking requirements for the food truck, villas and cottages.
"I think the concern that we're hearing, is that every business that you open, one of the requirements is parking. That is the standard here," said Annette Etienne. "Where is the parking for the new construction that they have actually put in place here?"
In fact, the villas and cottages are on multiple parcels that are zoned residential, and are considered single-family homes, said Oriol, with appropriate parking spaces for such under the law.
"It's not a home, it's a business," said Etienne. "You're not really answering the question. We're saying to you, this is a business, and when I open a business I need parking. Don't tell me that I can park on the road."
"We didn't come down here to debate the zoning," said Bryan, but added that many homes in the territory incorporate two or three apartments, and everybody parks on the road. A lot of people are running Airbnbs out of their homes, with no parking requirements, he said.
Those are businesses too, he said, and a conversation is ongoing with the Department of Licensing and Consumer Affairs about whether residential neighborhoods are zoned for businesses, and whether Airbnb apartments need individual hotel licenses because they are accommodating guests.
"That's a discussion that we are having. And there are people who are going to be very offended when we start to tell people you can't have an Airbnb in your house, you can have a rental, but it must be long-term, it can't be short-term, and every one of those things are going to need a business license," said Bryan, to applause.
"I think it's a community conversation that we have to have because you can't do it for one person. It has to be for everybody. The laws have to apply equally," he said.