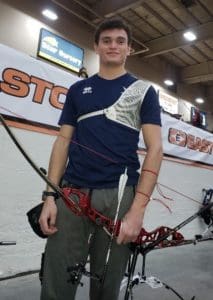 After finishing third at the Lancaster Classic last weekend, Nicholas D'Amour again did the Virgin Islands proud, reaching the podium again, with a second-place finish at The Vegas Shoot 2022, this past weekend in Las Vegas, Nevada.
D'Amour finished second out of 30 elite archers from around the World in the Championship Recurve Male Division.
Championship Recurve Male
Position — Target
Athlete – of Country
Fri.  – Sat. – Sun. and Total — 10/ X
— 154A
ELLISON Brady of U.S.-Arizona
300/ 1 … 298/ 2 … 298/ 2 and 896 — 27/ 59
— 154B
D'AMOUR Nicholas of Virgin Islands, U.S.
295/ 4 …298/ 1 …298/ 1 … and 891 — 24/ 57
— 154C
CHIRAULT Thomas of France
296/ 3…296/ 3…296/ 3 and 888 — 29/ 49
4. —155A
WIESER Felix of Germany
296/ 2…293/ 8…295/ 5 and 884 — 25/ 49
5. — 154D
WIJLER Steve of Netherlands
294/ 7…296/ 4…293/ 8 and 883 — 32/ 41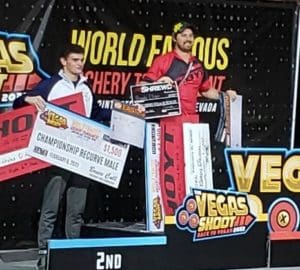 All top 10 finishers are Olympians. Many are multiple time Olympians. In the three-day tournament in Las Vegas, D'Amour finished fourth on day one and first on days two and three.  This was his first time in the Championship Division, and he nearly shot perfectly.  Out of a possible perfect score of 900, he only missed the 10 ring nine times, scoring an 891.  Nicholas beat Brady Ellison, the World number one, two out of three days.  Although their scores were tied, Nicholas out-scored Ellison in the number of times he hit the x-ring on days two and three.
The Vegas Shoot is the largest and most prestigious indoor archery tournament in the World. The event brings together nearly 4,000 archers from around the Globe ranging from beginner archers to Olympic champions, senior, youth, compound or recurve. The three-day competition featured the traditional 3-spot 20-yard Vegas Round that made this tournament famous.
In his Division, Championship-Male Recurve, D'Amour competed against 30 of the top archers in the world. Archers collected elite ranking points towards qualifying for the Indoor Archery World Series Finals, which were held on Saturday night at The Vegas Shoot.
The top 16 archers in each category – compound men, compound women, recurve men and recurve women shot for the titles. D'Amour finished 4th in the World Elite Rankings in the Indoor World Series for 2022, and he finished 9th in the elimination round.
D'Amour will now turn his attention to the World Cup Series.  He will now transition from indoor to outdoor and from 18 meters to 70 meters. Prior to Stage I of the World Cup in Antalya, Turkey, he will go to Madrid, Spain, to train with the Spanish Olympic team.  He will have one international competition, the 2022 Kahraman Bagatir Spring Arrows Archery Tournament, a World-ranking event, which will be held on April 6-10, 2022, in Antalya, Turkey, prior to the start of the World Cup Series.