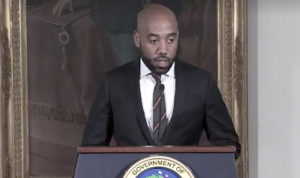 During the weekly briefing on Monday, April 24, Government House Communications Director Richard Motta Jr. announced that the Bureau of Internal Revenue and the Department of Finance are distributing $10 million in income tax refunds.
Director Motta said the agencies are distributing 3,247 checks to residents that comprise refunds for tax years 2021 and prior for all properly filed taxes up to March 14, 2022.
According to the Bureau of Internal Revenue (BIR):
2,025 checks totaling $5,093,845 are for tax year 2021.
581 checks totaling $2,318,483 are for tax year 2020.
372 checks totaling $1,080,465 are for tax year 2019.
269 checks totaling $707,205 are for tax years 2018 and previous years
Motta also said the BIR has launched its online excise tax portal.
"This is part of the bureau's larger effort to streamline excise tax operations and to bring online services, mainly the effort to move toward online income tax filing," Motta said.
The new excise tax portal is available at www.bir.vi.gov.