Pictured above: The Dancing Rooster, in Coral Bay next to Pickles.
Photo courtesy of Amy Roberts.
As the Winter Season begins on St. John, it's time to take an overview of all the changes in the business community throughout the island.
Since the end of the summer, nearly two dozen restaurants and shops have opened, closed, or changed hands.   We at Tradewinds are doing our best to keep the list up to date, but chances are good that something new will have sprung up by the time you read this.
We're organizing this overview into several categories: restaurants, retail stores, watersports shops, and "other."  Here's the fourth installment.
[adrotate group="6"]
PART 4: CORAL BAY SHOPPING
Paul Sabers, the former owner of Wharfside Village in Cruz Bay, bought the Voyages building on Rt. 107 and immediately set to work rehabilitating the former upscale restaurant and inn.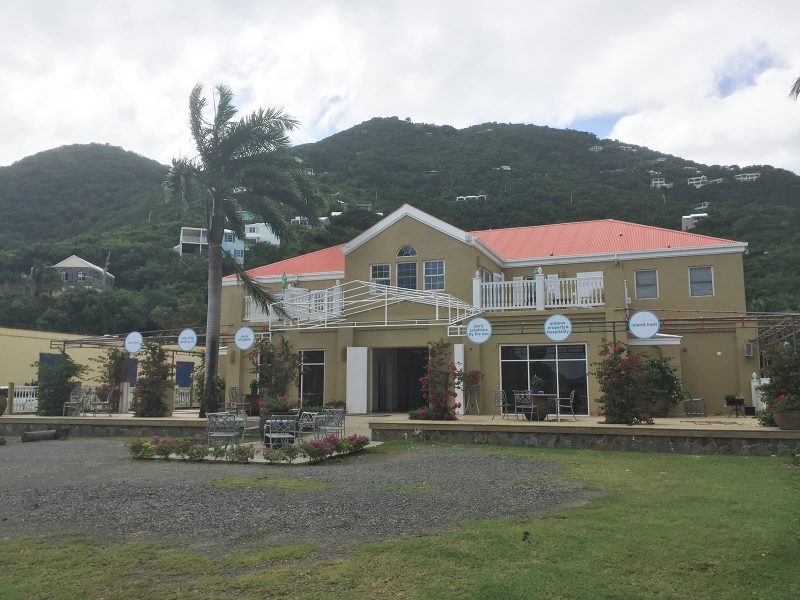 Now called Isola, "the concept is mixed use," according to Rosanne Lloyd, one of the property managers.  "There's a lot going on in St. John, and we want to be an active place."
Roseanne and her husband Lloyd own and operate Antares Property and Hospitality (located on site) and have been in charge of leasing the space for a restaurant, several retail shops, and two fully-furnished upstairs apartments.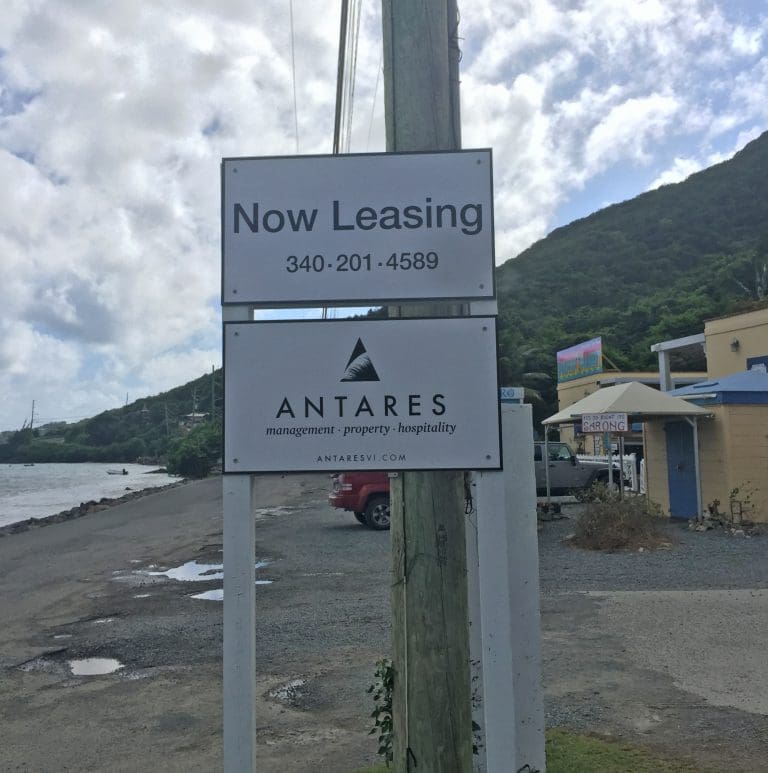 Wayne Lloyd managed Concordia Eco-Resort for seven years before he and Rosanne also opened Island Host Concierge, an agency that books day trips, spa services, and baby equipment rentals.
Most of the building, including the apartments, has been leased, but two retail spaces are still available.  As was mentioned in the restaurant section of our Changes in the Retail Scene series, Bruce David expects to open a contemporary Asian restaurant in January.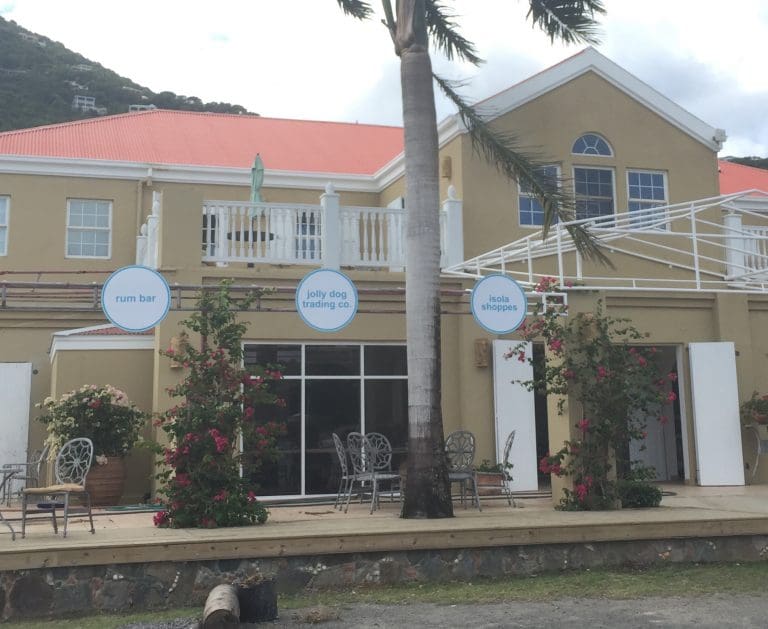 One new tenant is long-time tee-shirt purveyor Jeff Donnelly of Jolly Dog.  He is opening an additional store — "We're not closing our flagship store at Skinny Legs," he is quick to explain.  "We've been there 20 years, but the space there is limited."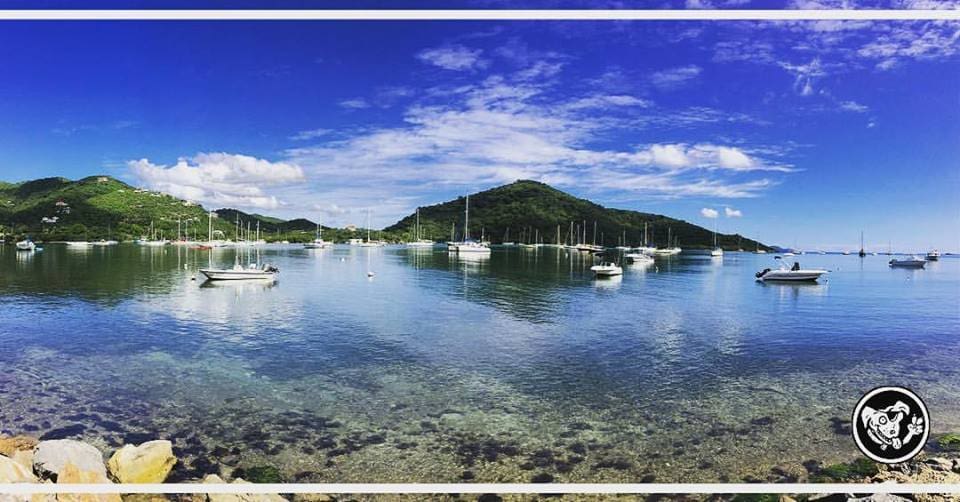 At the new shop, which will also be called Jolly Dog, Donnelly plans to bring in "fresh new lines of clothing of the same good quality."
Another new Isola tenant, Janet Keisler of Jan's Creations by the Sea, is also a veteran Coral Bay retailer.  She'll be selling her hand-crafted jewelry at the new location.
It's pretty much impossible to drive towards Salt Pond Bay without noticing a container painted bright yellow and orange that's a new shop called The Dancing Rooster.  Located near Pickles, the store features the creations of Mark "Marko" Harvath and Mark Horgan.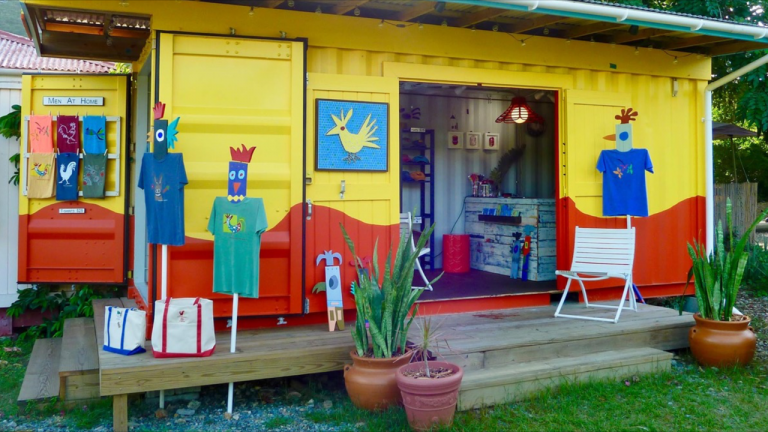 The two men were the original owners of the M & M Donkey Diner (now the Indigo Grill) for several years starting in around 2003.  Artists at heart, Harvath and Horgan have developed a line of tee-shirt, tanks, totes and hats, many of them featuring roosters–pretty common creatures in that location–and thus the name. Since they worked at a home studio to develop their designs, their clothing line is called MAH for "Men at Home," which also happens to be both their initials.
Their printed tee-shirts are made in St. Thomas, and their embroidered tee-shirts are made in Coral Bay, "So we're trying to keep it local in that regard," Harvath.  The shop, open now seven days a week from 10:00 am till 4:00 pm, also contains work by other St. John artists.
Another new addition adjacent to Pickles is the latest venture of Crystal D'Abbraccio and Mermaid Swim VI, Mermaid Cove. With a background in dance education and her deep admiration of the ocean, Crystal started Mermaid Swim VI in 2014 to share her passion with others.  She offers her world famous Mermaid Experience daily throughout the Virgin Islands.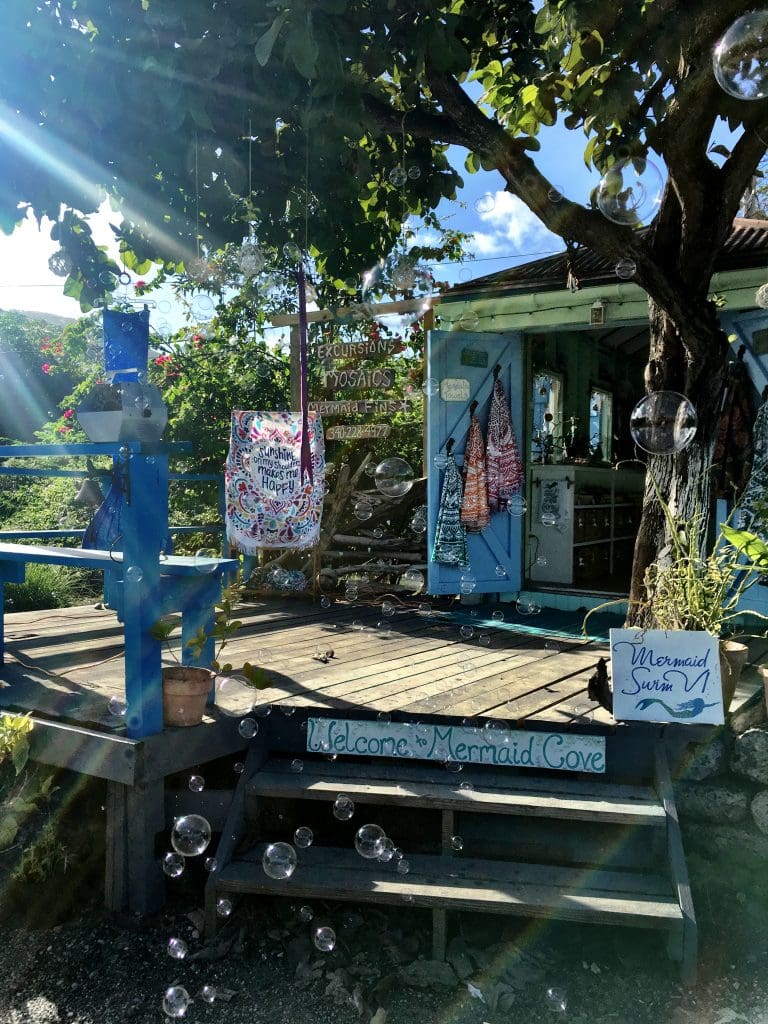 The retail shop was open and ready for the Coral Bay Bizarre Bazaar in mid December 2016. It features local art, handmade jewelry, dinglehoppers and all things mermaid. The shop's bright and lively decorations will certainly grab your eye passing Pickles. The shop is open from 11:00am to 5:00pm with weekend hours during peak season. Mermaid Excursions are offered daily at 9:00am and 4:30pm. For special occasions, please contact Crystal directly at 340-228-4977 or visit www.mermaidswimvi.com.