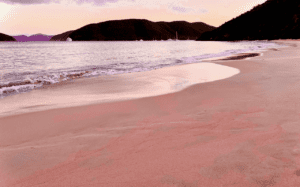 As a 70-year-old who has not camped in decades, the prospect of camping can be daunting. And bringing in tow a 4-year-old granddaughter doesn't make it any easier for her grandparents. But, it can be fun.
My wife and I moved to St. Thomas in 2019 to be with our son, his wife and their daughter. So, the opportunity to take our granddaughter on an adventure at the newly opened Cinnamon Bay Beach and Campground could not be ignored. Our granddaughter loves to go on adventures, and camping on St. John did not disappoint. 
My wife made the arrangements online only to find out the two-person eco-tent really means two people. Even a small grandchild counts as one person. With no regrets, we opted for one of the few remaining eco-tents that can accommodate four people. Some people might call it glamping with the largest camping tent I have ever been in, complete with a queen-size bed, hard wood floor, a second bedroom with bunk beds, a ceiling fan and a floor fan, electrical outlets, two Adirondack chairs, a picnic table with cooler, propane stove, charcoal grill, basic kitchen utensils, plates, pots and pans, but it was still camping for us.
The grounds were immaculate, but there was sand everywhere, so we will bring a doormat for our feet before entering the tent next time. A concrete walkway led us most of the way to our tent, and the free-to-use two-wheel carts at the camp headquarters made it easy to transport much of the stuff we did not need to bring.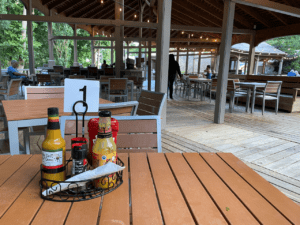 A nice restaurant with good food for breakfast and dinner helped out with meals. A food truck serves lunch. The cookstove items are adequate, but next time I will bring my chef's knife and fry pan. We didn't try out the new charcoal grill. 
The camp store sells T-shirts, bug spray and snack foods. The store has basic food items like bread, pancake mix, box food items, but it is probably best to bring your main entree meal items if you are going to be camp cooking. The store also has ice and charcoal, but if you are a big charcoal chef then bring your own.
A very small trash can in our tent seemed out of place, but I was told bigger trash cans mean more trash. Trash bins, though, are located conveniently throughout the campground. Park service attendants kept the place orderly and were kind and helpful.
Proximity to restrooms was good, and the bathrooms are better than average camp facilities, but the outdoor showers will wake you up in the morning. I prefer to take the shower in the afternoon when the sun is beating down.
Our tent was advertised as "Oceanside," but we did not have a view of the water, which was only a few steps away. We did find one tent that has a view of the bay, but I forget what number it was. We were in tent T-8.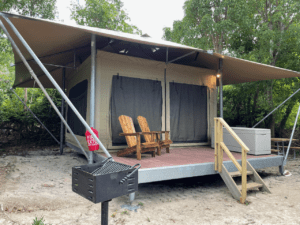 We were close enough to the beach, though, that we could hear the pounding waves crash all night, along with more than a few nocturnal creatures providing a background serenade that was a little louder the first night. The second night was much quieter.
As we got out of the car in the parking lot we were greeted by three small, white-tailed deer who didn't seem to mind our presence until our granddaughter started chasing them. Mongoose and hermit crabs were among some of the other residents we encountered during our stay.
The beach is probably the nicest one I have seen in the Virgin Islands. It is also the longest one on St. John. I had the beach all to myself just before the sun rose, but before too long, campers and others started to trickle in throughout the morning. Not as many of them said "Good morning" as I often hear on my morning walks along the new waterfront in Charlotte Amalie. But, everyone was polite and friendly. Our granddaughter easily found new friends to play with, and a friend from St. Thomas came to visit on Saturday.
If you like long, quiet walks along a truly beautiful beach, Cinnamon Bay provides a nice one. There are ruins nearby to explore and trails to walk. 
We will definitely do this adventure again. But we won't need to take a cooler as one is provided, and we took too much food. We will remember to take something for our grandchild though because there was no kids menu. If your child will eat prime rib or fish for dinner, you're good. If not, you will have to bring something for her to eat.