Stanley Selengut overlooking Drunk Bay in the Virgin Islands National Park. Photo courtesy of St. John Tradewinds. [hr gap="1″]
Things should remain pretty much as they are now through the upcoming season at the Concordia Eco-Resort located on the southeast tip of St. John, but with new ownership, big changes are in the works.
Concordia was built in the early 1990's by Stanley Selengut who, as the developer of Maho Bay Campground in the 1970's, brought the term "eco-tourism" into the public conversation on St. John.
Preserving the environment has always been foremost on his mind, so Selengut "was only willing to transfer ownership of Concordia to someone of like mind who would continue his mission," said Jack Zakim, Selengut's personal attorney.
[adrotate group="6"]
"The plan is not to expand but to rehabilitate Concordia. It's 30 years old, and it's tired and has a lot of deferred maintenance issues," said Zakim, a St. John homeowner who met Selengut 20 years ago. Much of Concordia was built with defective lumber that was sold on St. John and must be removed, Zakim explained.
"We had several offers we felt weren't a good fit for Stanley or for the island," said Zakim, but after years of negotiations, Selengut finally signed a deal in February.  Now that the deal has "gone hard" and non-disclosure restrictions have been lifted, Zakim announced LaVie would become the new owner within the next few weeks.
LaVie's president and founder is Holland Duell who is based in Charleston, South Carolina.  Duell grew up there in the hospitality industry, working at his family boutique resort, the Inn at Middleton Place.  Duell met Selengut 20 years ago when Duell was leading an outdoor program in a blackwater cypress swamp in South Carolina. (Photo caption: Holland Duell, president and founder of LaVie. St. John Tradewinds photo by Amy Roberts).
"Stanley invited me to stay in one of the first five eco-tents built in Concordia, which was really pushing environmental technology then.  It's been a life-long dream to continue his vision with new technology," said Duell.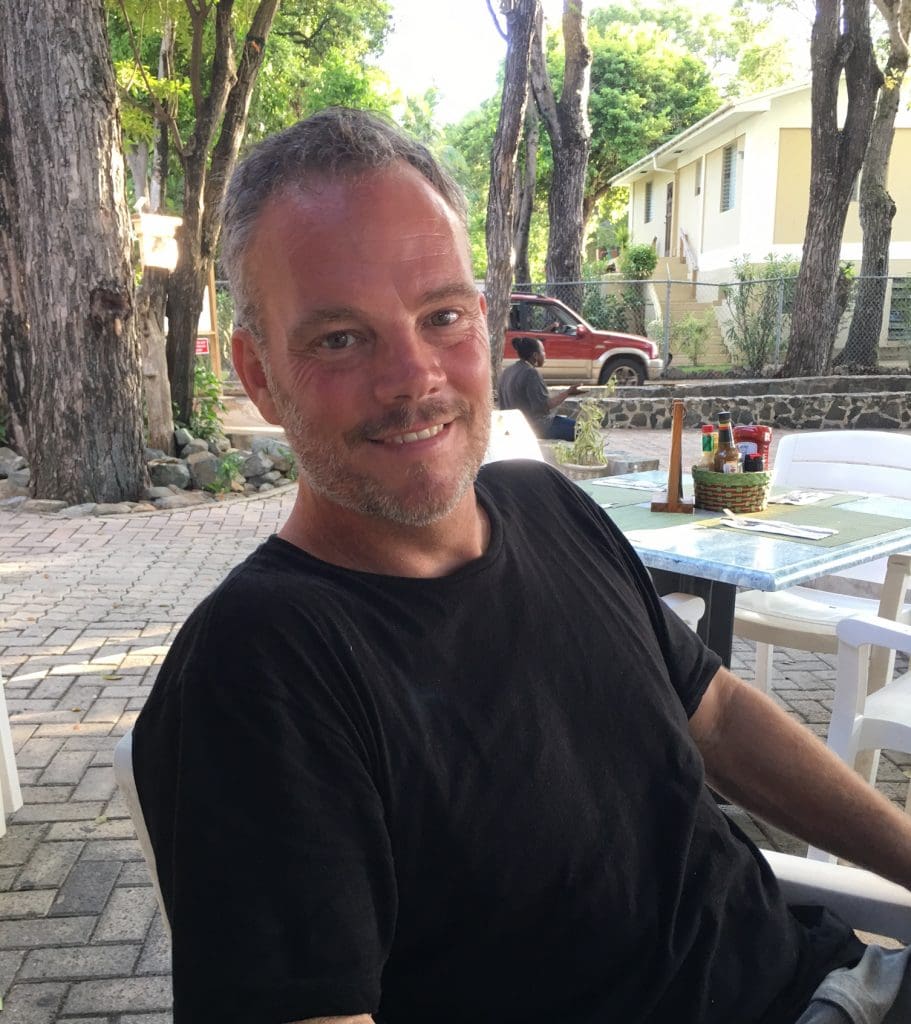 Duell has partnered with William McDonough, an architect committed to sustainable design who has served as dean of the School of Architecture at the University of Virginia and has held positions at universities including Stanford, Yale, and Cornell.
McDonough is the author of several groundbreaking books including Cradle to Cradle: Remaking the Way We Make Things (2002) and The Upcycle: Beyond Sustainability—Designing for Abundance (2013).
Under McDonough's Cradle to Cradle concept, all waste can be converted to something reusable or returned to the land in a beneficial form. (Check out his TED Talk from 2005: Cradle to Cradle Design.)
Back in the 1980's, when Selengut realized that he would be unable to extend the lease for the land on which Maho Bay Campground was built past 2014, he purchased more than 50 acres of land on one of the most remote parts of St. John for Concordia.  He set aside 20 acres for the resort.
Concordia's original concept was similar to Maho Bay Campground's–guest accommodations in canvas-like platform tents connected by walkways that would result in minimal disturbance to the natural vegetation.  He implemented sustainable technology, including solar energy and compostable toilets.
Over time, Concordia grew to include 25 eco-tents and 17 resort-style studios, with family-friendly prices ranging from $195 to $285 per night.  All of this, however, will be torn down when LaVie begins construction. .
In addition to the 20 acres of the resort, LaVie is also purchasing 17 acres of adjacent property owned by Selengut which will be used to build private homes designed by William McDonough.
LaVie's new plan for Concordia keeps very much to the same footprint, with "in the range of 40 units," Duell said.  The resort's provisional design (which was outlined in a brochure leaked on social media several weeks ago) is true to the concept shared by the new owners, but is bound to change. "We have much to figure out," he said.   If the permitting process goes as anticipated, LaVie will open in late 2018.
The new plan calls for guest units built with green roofs — roofs that are planted with species from the existing environment that attract pollinators.  "A living roof provides insulation and is better to look at," said Duell.
When Selengut first conceptualized Concordia, he acknowledged that providing water, energy, and sewage disposal would be major challenges.  Concordia is located on one of the driest parts of the island, and supplying enough water for the resort as planned will require truly innovative technology.  "Aside from catchment, we're looking at solar desalination plants and companies that use reverse osmosis and gravity feed systems," Duell said.
Selengut steadfastly resisted air conditioning in his resorts, but Duell said LaVie' units will feature amenities including "climate control powered by renewable energy, so that people can [enjoy] anything they expect in their daily environment.  We want it to be a showcase for new technology, but we're not marketing the resort as 'eco.'  We want to be an example, but low key in terms of education."
Duell plans to expand Concordia's wellness program and "begin with the people who are there to make a living."  He plans to support local agriculture and supplement food supplies with an onsite greenhouse.  He's bringing in Dr. Rebekah Chapman, a professor from Georgia State's Odum School of Ecology, as a consultant.
The resort will offer a robust program of activities for children so that parents of vacationing families can find some time for themselves.  (Duell is married and has a two-year-old daughter.) The provisional plan calls for an area for families separate from an area for adults.
Amenities include a line of environmentally safe soaps, shampoos and sunscreens that are manufactured by All Good Products, a company developed by Duell's sister.
Concordia's upgrade will inevitably lead to higher room rates.  "I don't know what the price point will be yet," said Duell.  "We want to provide for the people who are here and earn a living," he said, indicating that satisfied workers make better hosts.
The resort's new manager is Karen Taylor who has had more than 25 years working at resorts in Fiji. With all the changes coming, some of Concordia's staff members have resigned, including manager Adrian Davis who recently took a job with Redwood Parks Co. to oversee operations at Cinnamon Bay Campground and Trunk Bay.
Duell chose the name LaVie (French for "the Life") in honor of his grandfather who was French and had a "go-go-go appreciation of food, culture, and the natural world."  His grandfather would always walk the six flights of stairs up to his apartment while others took the elevator, Duell said.  With more than 900 stairs onsite at Concordia, the tribute is fitting.