Pictured above: The LO-PRO 327 concrete plant at St. John Concrete.
All photos courtesy of Amy Roberts.
Last summer if you had asked the typical St. John contractor what he wanted for Christmas, he would have said a concrete plant on St. John.
That's because construction on the island was brought to a standstill last July when barge service between St. Thomas and St. John was cut to a minimum as a result of mechanical breakdowns, delays in Coast Guard inspections, and legal mishaps.
All three barge companies were affected, and delivery of concrete, which was manufactured on St. Thomas, became practically non-existent. As many as 15 construction projects were halted, according to some estimates. Click here to read Tradewinds' coverage of the concrete supply halt back in July 2016.
[adrotate group="6"]
Now it looks like contractors are getting their wish, though it's taken until mid-January for their dream to come true.
Landscaper Adam Cook and developer Tom Buttermore have teamed up to launch St. John Concrete. The company has invested over $1 million to bring in a state-of-the-art plant which can manufacture enough concrete to meet all the contractors' needs and customize products to the contractors' specifications.
St. John Concrete is located on Centerline Road at the site of a company that bore the same name until it closed down in the wake of the 2008-2009 Recession.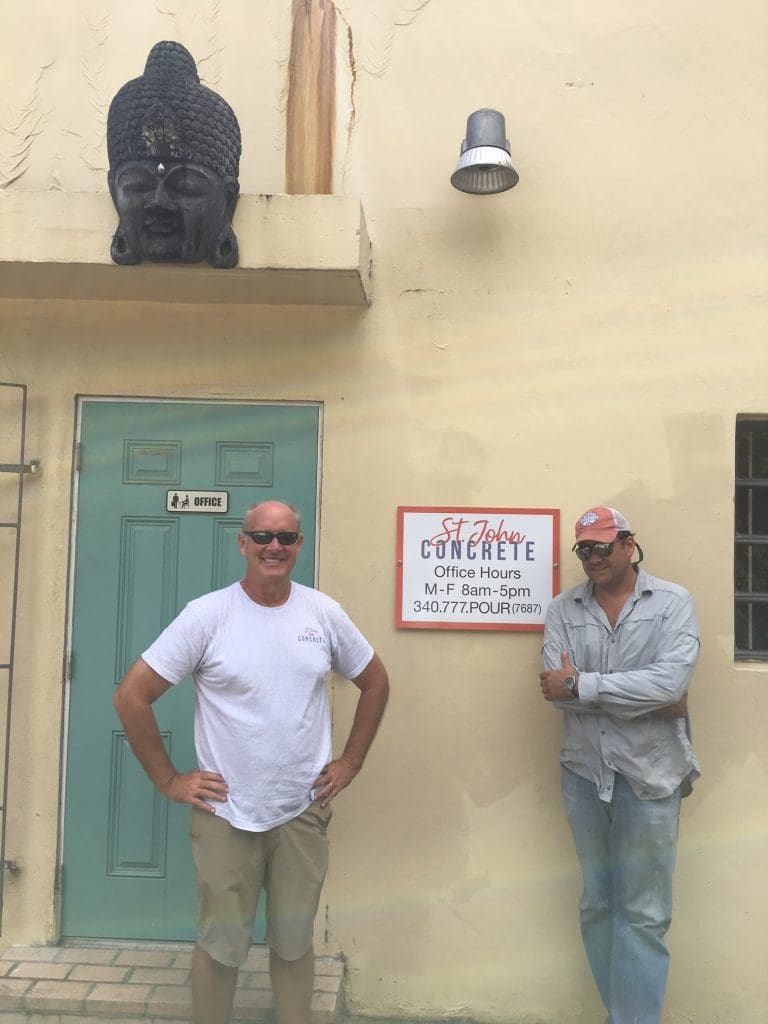 Six years ago Cook leased that property and set up Botanica Home and Garden, a landscaping, furniture, and garden supply business.
Cook said he had no intention of starting a concrete manufacturing business until he was approached by a number of local contractors.  "My business was doing well. I'm a landscaper; this is my yard," he said, gesturing to indicate the one-acre site.
But the contractors were persistent.  "It's the only piece of property on St. John currently zoned for a concrete plant," said Cook.
He began counting up the number of people in the construction industry affected by the concrete shortage.  "Two hundred and fifty people out of work.  It affected builders, contractors, landscapers, villa managers—the entire food chain. I had a nice thing going, but I realized St. John needed this, and I could put it together."
Cook mentioned the situation to Buttermore, a veteran of the high tech industry with extensive experience in finance. Buttermore, too, was having problems procuring concrete to complete his own development, a six-unit villa complex on Bordeaux Mountain.
Together they calculated the space of the site and considered the prospects. Cook met with St. John builders and consulted with Jim Sturgess of Majestic, once the largest concrete company on the island.
In August, Cook, who has a background in engineering, began to take the idea seriously.  He spent the next several months flying all over the Midwest to meet with manufacturers, visit batch plants, and attend pourings.
"He got a Ph.D.," said Buttermore with a slight grin.
The more they looked at concrete production options, the more they became convinced that purchasing state-of-the-art technology was the way to go.  They decided to purchase a LO-PRO 327, a high-efficiency plant manufactured by CON-E-CO that can produce up to 200 cubic yards per hour.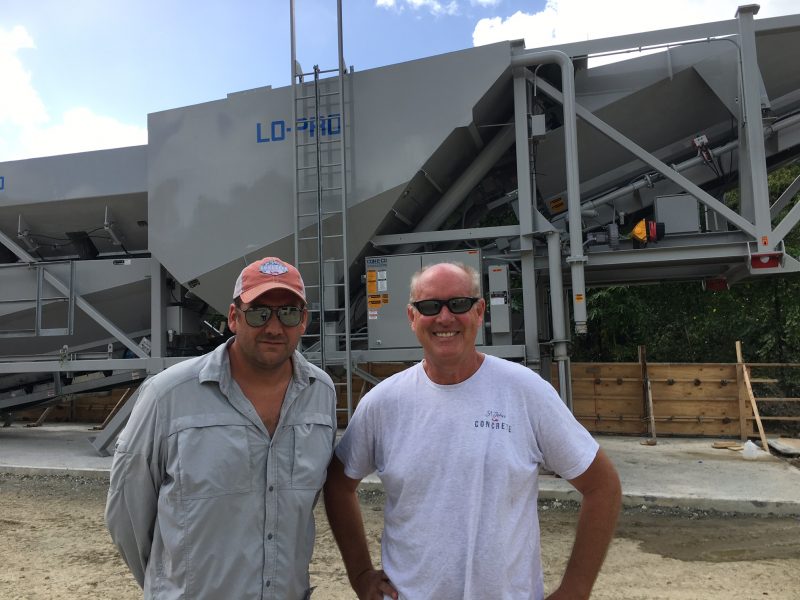 "We're able to do precise mixes," said Buttermore.  "When you make concrete, it's more than sand, cement, and aggregate. It's a recipe.  To get the highest quality requires precision."  Buttermore said clients would be able to tell that their product was superior.  "There's a difference between a meal prepared at McDonald's and a meal prepared at ZoZo's," he added.
Cook said what intrigued him about the project was the science behind the manufacture of concrete to get the desired stability, compression, and quality.
"To bring the kind of science we're applying is almost unheard of in most of the Caribbean," said Buttermore.  He mentioned one other plant with similar capabilities located on St. Kitts.
St. John Concrete will follow a business plan very different from that of Heavy Materials, the St. Thomas concrete company that has supplied St. John builders since the two on-island plants closed down several years ago.
In October 2015, Heavy Materials was purchased by U.S. Concrete, the largest concrete manufacturer in the United States.   Heavy Materials owns the quarries from which it gets materials as well as the manufacturing facilities and delivery trucks.
"We're not looking to vertically integrate,' said Buttermore.   We plan to use local businesses, truckers, barges. The Caribbean was built by small guys who worked hard and built their businesses.  We want to support the entrepreneurs in the community." St. John Concrete expects to employ a total of eight people, including Cook and Buttermore, once the plant is fully operational.
When asked where they intend to get their raw materials, Buttermore smiled and said, "Not from St. Thomas."  He added his company has made arrangements with ten quarries around the Caribbean and South America.
Cook said when word got out that they planned to open a concrete plant, people from other islands showed up at his door bearing bags of sand, samples of what they wanted to sell.
St. John Concrete has purchased five trucks that are specially designed to move loads of concrete up and down the steep hills of St. John without spills. Using their own fleet, they'll be able to deliver the concrete when it's "fresh" and avoid the use of chemicals that keep the concrete from hardening until it's ready to be poured.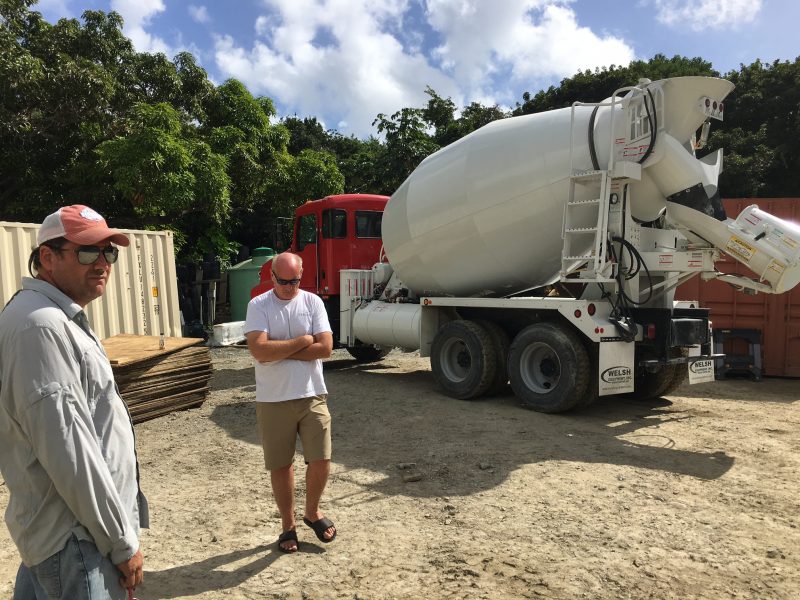 The company has enjoyed thinking up clever tag lines for four of the trucks:  "Keep left, pour right"; "Made fresh daily"; USVI slab of approval; and "Get a load of this!"
Perhaps the most challenging aspect of launching the company was getting the LO-PRO 327 from the barge that delivered it to Cruz Bay up to the company's site almost three miles away.  The LO-PRO weighs 44,000 lbs. when it's empty and measures 61 feet in length.
The process took four and a half hours. "I can see why no one else attempted this," said Cook.
Editor's note: Tradewinds made two attempts to obtain comments from Kurt Nose, the general manager and regional vice-president of Heavy Materials, but did not receive a response.