Protestors gather in Frank Powell Park.
All photos courtesy of Amy Roberts.
More than 200 residents and visitors of St. John attended the Cruz Bay Women's March which began at the Freedom Statue in Frank Powell Park across from the ferry dock at 12:00 noon on Saturday, January 21.
The march was one of the more than 600 "sister marches" being held in support of the Washington D.C. Women's March which drew more than 500,000 participants.
"The Women's March in Washington will send a bold message to our new government on their first day in office, and the world, that women's rights are human rights," according to the Washington DC's march's website. https://www.womensmarch.com/.
As of Wednesday afternoon, more than 673 sister marches were being organized in places as far away as Accra, Ghana; Tbilisi, Georgia; Yangon, Burma; and Sydney, Australia.
In the Caribbean, marches were also planned for St. Thomas, St. Croix, St. Kitts, Vieques, and the Cayman Islands.  The march on St. Thomas began at 10:30 at the Yacht Haven Grande shopping center on Long Bay Road in Charlotte Amalie.  The St. Croix march began at the Library and Fort Bandstand in Christiansted at 10:00 am.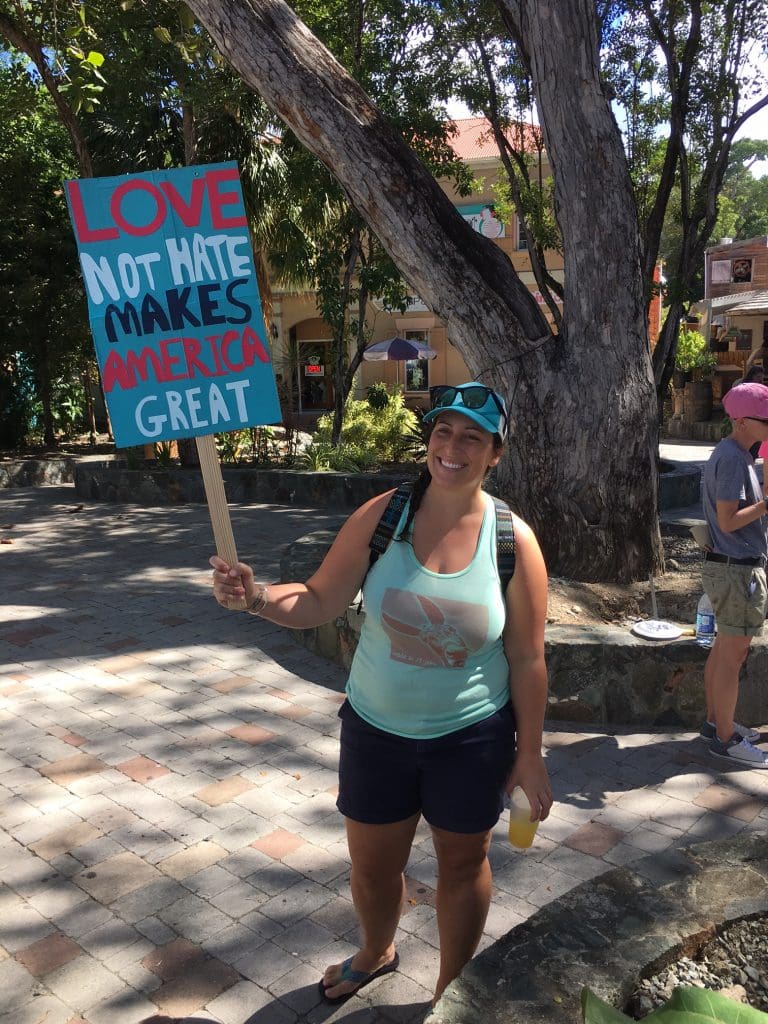 Although it is called the Women's March, the entire community was invited to participate. "We're inviting men, children, dogs, whoever wants to come," said Erin Lieb, one of the march's organizers. "It's for anyone who's felt disenfranchised throughout the year—immigrants, African Americans, people with disabilities.  It's a message for human rights," she said.
Lieb said she decided to try to organize the march after talking to her mother, who was participating in the march in Washington, and saw the topic spring up on social media.  "This is my first election cycle as a citizen in the Virgin Islands.  I was living in California, where I was pretty politically active, and I felt depressed that I couldn't participate in the national elections," she said.
As word about the sister marches spread on social media, Lieb said people kept asking her, "If you hear of anything here, let me know." She decided to register with the national march organizers and posted an announcement about the Cruz Bay march on January 8.  Since then, "The amount of support affirms that it is needed here," she said.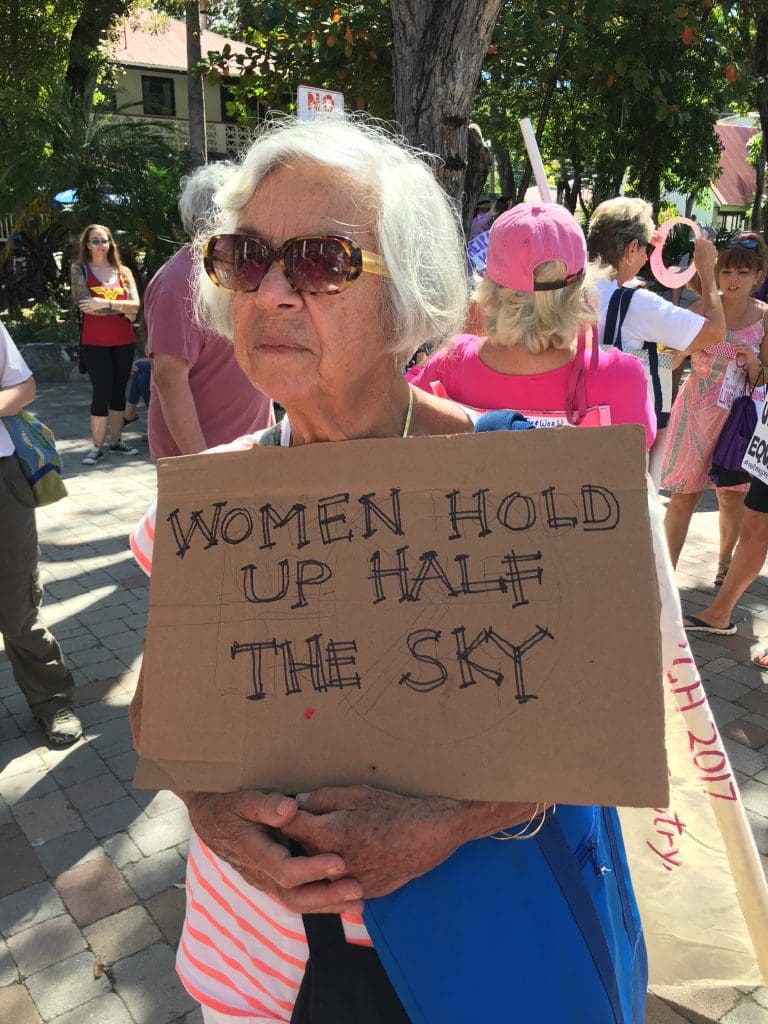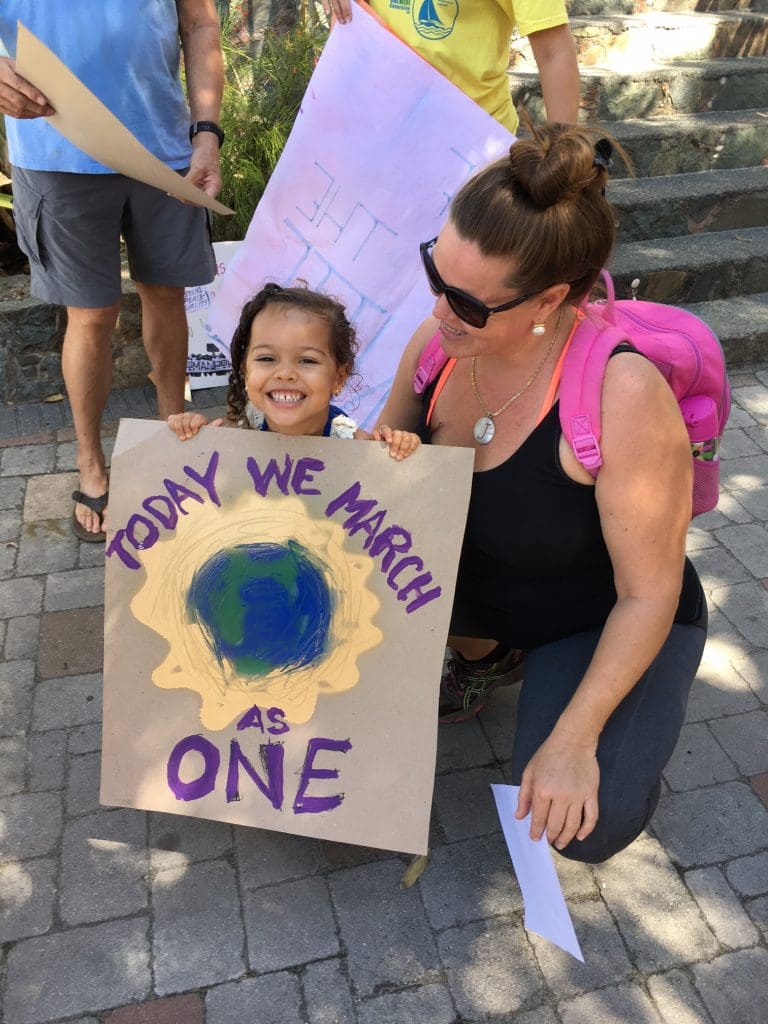 Marchers walked from the Freedom Statue down towards Mongoose Junction, then made a loop near the National Park ball, then turned back to the Frank Powell Park.
In preparation for the march in Cruz Bay, nearly a dozen women—and one man– met in Pickles in Coral Bay on Tuesday to make Caribbean pink hats.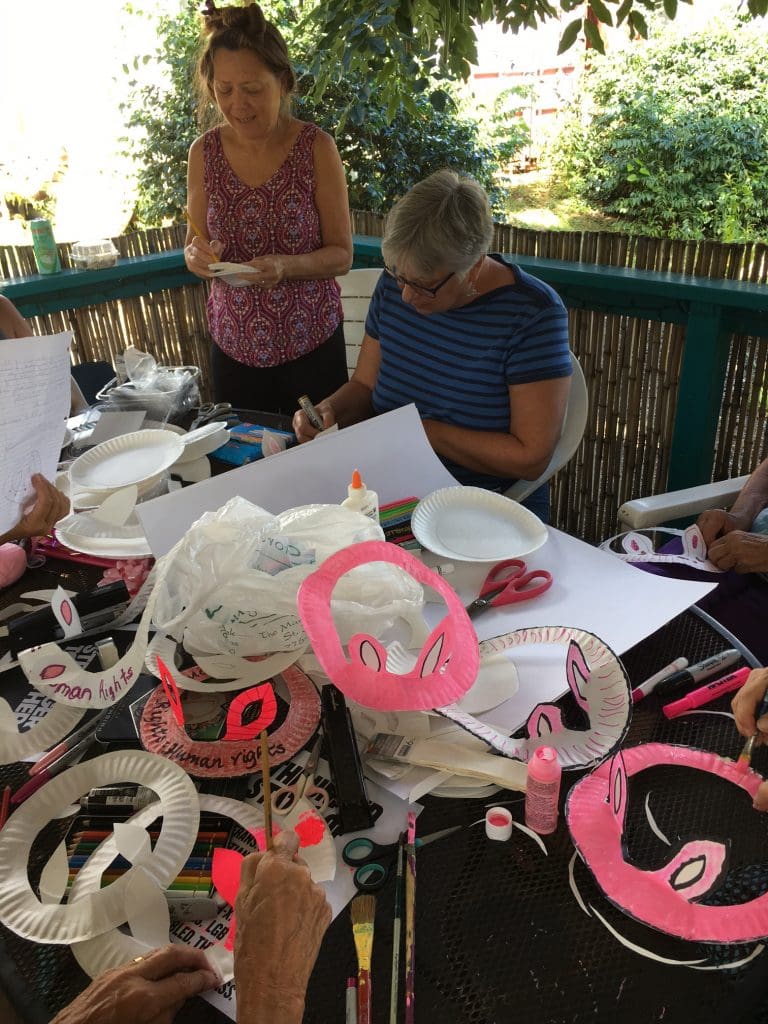 The hat project was started by a group of women who planned to attend the march in Washington, DC. Concerned about staying warm in the freezing temperatures, they began knitting pink hats out of wool with little cat ears, a reference to a leaked video in which Donald Trump spoke about grabbing women's genitals.
St. John resident Susan Silverman, an avid knitter, knitted a hat following the directions posted on the hat project's website and donated the hat to the marchers in Washington. "Being able to knit something for the movement cheered me up," she said.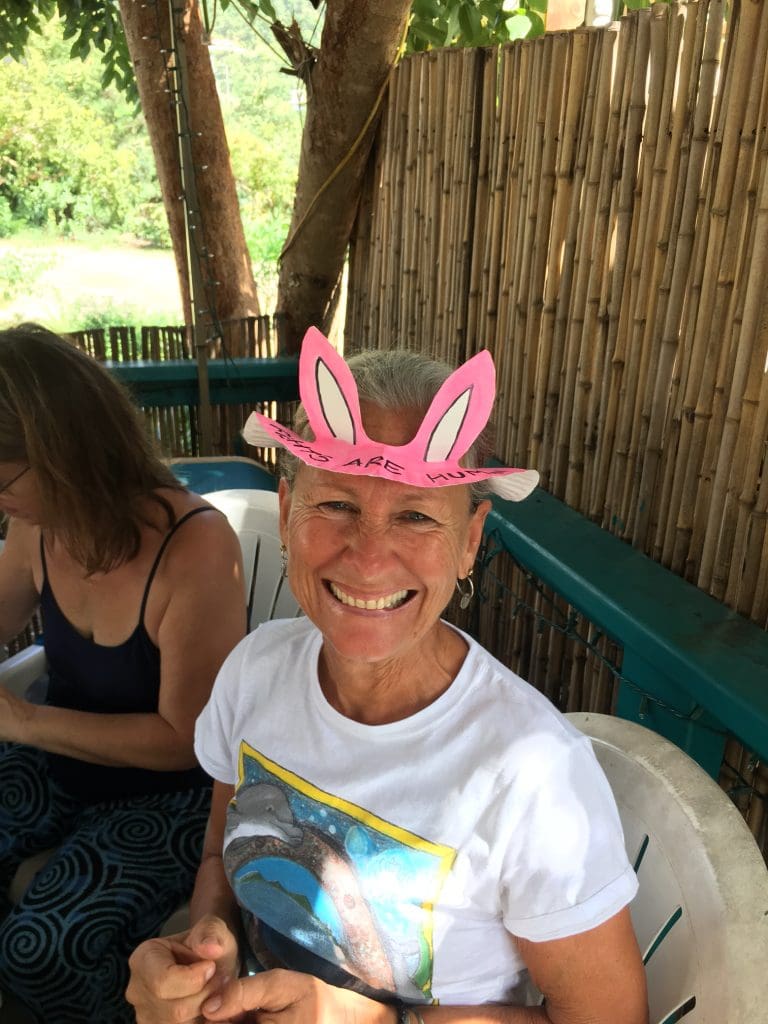 When she heard about the march planned for Cruz Bay, Silverman decided a tropical hat was needed.  Working with a design created by artist Viki Brown, she sent out a Facebook posting, and gathered nearly a dozen women– and one man– to make visors out of paper plates.
They decorated them with cats' ears and whimsical touches, including whiskers made from pipe cleaners.  Most are painted in shades of pink and are emblazoned with slogans such as "Women's rights are human rights."
In keeping with the march's guidelines, the group was conscious of writing positive messages on the hats.  "Is it too negative to draw an orange circle with a slash across it?' one participant asked.
Although many people who participated would not have voted for Donald Trump, the march was organized to raise awareness of issues that affect all people regardless of their political affiliation. Lieb said that access to health care, domestic violence, and immigration are issues that particularly resonate in the Virgin Islands as well as across the nation.
"It's not about who voted for whom (or who we would have voted for if we could), it's about coming together as an under represented population and having our voices heard," said Lieb prior to the march.  "I want to make it clear that Trump supporters are welcome and invited.  That is exactly what we need to have– more conversations one on one– and realize we are not that different after all."
For more photos, check out the Women's March public page on Facebook.