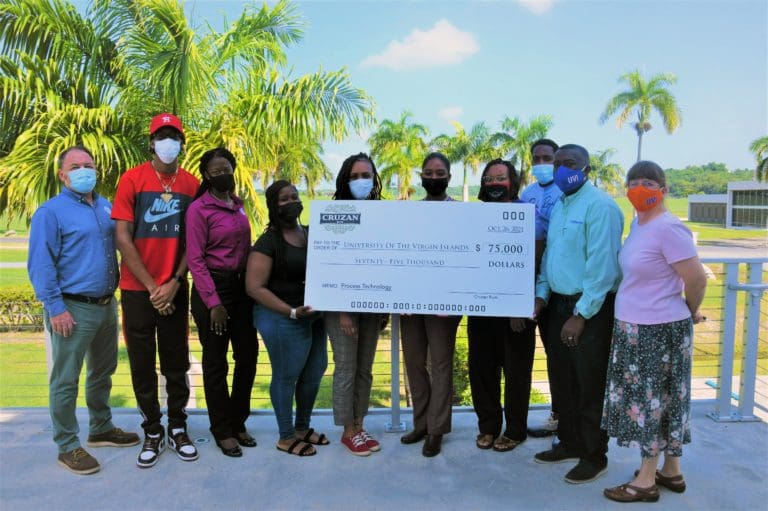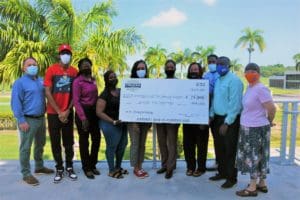 University of the Virgin Islands students enrolled in the Process Technology program will soon have access to advanced virtual reality and intelligent learning tools that will prepare them for real-world work environments thanks to a $75,000 donation from Cruzan Rum.
Louis Houle, Cruzan Rum Plant general manager, was on hand to present the gift to Dr. Michelle Peterson, Ph.D., dean of the College of Science and Mathematics, and Victoria Henry, Ph.D., assistant professor of Process Technology, on Tuesday, Oct. 26, at the Research and Technology Park on the Albert A. Sheen Campus on St. Croix.
"We are proud to continue our partnership with the University of the Virgin Islands by providing support for future leaders of the Virgin Islands community," said Houle. "As part of our Proof Positive sustainability strategy, we are excited that the donation will be used to support UVI's Process Technology program and educate the next generation of professionals for our industry."
"We are thankful Cruzan Rum is investing in the future of UVI students and by doing so, adding to the workforce development of the Virgin Islands. Through this generous donation, students enrolled in the Process Technology Program will be better prepared to launch their careers and fulfill their dreams. Cruzan Rum has supported this University for several years and their continued support shows how they are embracing a vision of student support and institutional transformation," said UVI President David Hall, Ph.D.
In partnership with Honeywell International Inc., the donation will support the development of a virtual simulation laboratory allowing students to gain simulated field experience, bridging the gap between classroom lectures and industrial field experiences. "The College of Science and Mathematics is thrilled and grateful for this donation to enhance and extend instruction in process technology," said Peterson. "The students in this program will benefit from this cutting-edge instruction technology."
Before the simulation lab can be fully implemented, Process Technology faculty and Honeywell software engineers will meet to develop learning modules and create 3D replicas of those modules. "With these 3D replicas, students will have a visual aid to supplement what they are learning in the classroom," said Henry.
"The simulated laboratory will deploy advanced technologies, including virtual reality and intelligent wearables, to connect classroom instruction with field industrial experiences, thus making students better prepared for the workforce," Henry said.
UVI offers the Associate of Applied Science in Process Technology degree on the Sheen Campus. Process technicians have the skills and knowledge to startup, operate, shut down, analyze and troubleshoot industrial processes. These professionals are employed in process industries that include rum distilleries, power generation, water and wastewater treatment, oil and gas, food and beverage, and pharmaceuticals. The skills developed as a process technician are transferable to many other industries.
For more information about the Process Technology Program, visit www.uvi.edu or email pr@uvi.edu.